Enjoying winter in the Sleeping Bear Dunes National Lakeshore is best done in company.
Sharing the experience of the outdoors bonds families and friends together, leads us to meet new people, enriches our learning, and keeps us safe as we recreate in ever-changing weather conditions; these advantages of recreating in guided and group activities are apparent during snowshoeing.
GUIDED SNOWSHOEING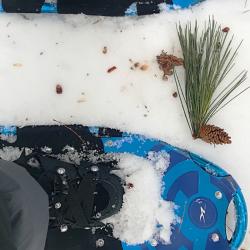 The origins of snowshoeing are ancient; snowshoes were developed thousands of years ago and used extensively by First Nations people. Snowshoeing was, and for some, continues to be, a utilitarian practice that also reflects living in harmony with nature.
In general, today, snowshoeing is considered an entry-level activity that can be enjoyed by people of many ages and physical abilities. Yet, fastening the bindings at the toe and heel requires some physical flexibility. And though snowshoeing falls are low-impact, folks should be able to rise from the ground.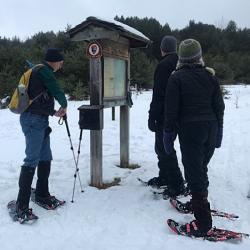 Participants of a late January guided snowshoeing event found these challenges to be manageable—and even fun—when others were present to assist. In celebration of the 50th anniversary of the land's designation as a national park, Kerry Kelly of Friends of Sleeping Bear Dunes led the group along a stretch of the Bay View Trail, assisting with gear and providing information about the land.
"I would have never gone on my own; the hills would have scared me off. But it was actually navigable," reported Cheryl (Ann Arbor, MI), who was visiting the National Lakeshore with husband Rod. Others in the group agreed that they felt confidence in attempting a new activity, assured that the guide knew the trail and that others would be there to offer help if need-be.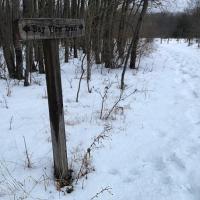 In addition to safety, educational enrichment is another benefit to guided snowshoeing. Grace (Farmington Hills, MI), age ten, expressed that she enjoyed "how we stopped and talked; I learned about the soil and the buildings we saw from the trail." Her parents, Andrew and Emily, agreed that snowshoeing is a great activity for the family.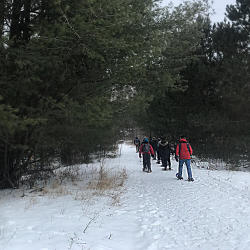 Social comradery among participants also characterizes group activities at the National Lakeshore. Ginger, a volunteer Bark Ranger and Empire, MI resident, stated that it felt gratifying "Just being outside and meeting a bunch of people." Many enjoying the area feel that the special qualities of this land bring people together.
UPCOMING GUIDED SNOWSHOEING EVENTS
This season's ranger-led snowshoeing events hosted by the National Park Service are filling up quickly, with many outings already reserved to capacity.
The Friends of Sleeping Bear Dunes also host guided snowshoeing event periodically.
Friends of Sleeping Bear Dunes, an organization that is largely a volunteer effort, perform many important services for our national park and its visitors, including maintenance of another excellent trail for snowshoeing, the Sleeping Bear Heritage Trail.
The Friends regularly update their Facebook page with trail information and upcoming events. Events are also listed on their website.
SELF-GUIDED SNOWSHOEING
If guided snowshoeing events are not available during your stay, the benefits of safety and social comradery can also be derived through snowshoeing with family and friends, old and new.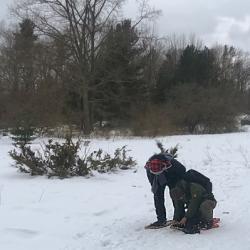 Snowshoeing in company, we point out animal tracks and wildlife sightings, call attention to interesting plant life, and work together to stay on the right trail. We tell stories, share our knowledge, reflect quietly or ask questions about the land and its history. We help each other up when we fall.
Educational benefits of snowshoeing may also be attained in lieu of a guide. Extensive information about the Sleeping Bear Dunes National Lakeshore can be acquired at little to no cost.
Visit the Philip A. Hart Visitors Center (Empire) for maps and general information
Read interpretive signage on trails
Use the NPS website for Sleeping Bear Dunes National Lakeshore for trail, biology, and historical information
Check local bookstores for field guides and laminated pamphlets for animal track and plant identification
ETIQUETTE, PARK PASS
Please leave ski trails intact; snowshoe/hike around ski tracks
Anyone parking within the National Lakeshore must display a Park Pass in their vehicle.
During the winter season, purchase your Park Pass at the Visitors Center.
EQUIPMENT RENTAL, WINTER CLOTHING
Within the National Lakeshore (in my opinion), the best and most comprehensive place to rent winter recreational gear is Coastal, located in Glen Arbor. Here, customers can rent snowshoes, cross-country skis, and fat tire bikes.
Coastal, operated by Crystal River Outfitters Recreational District, is open year-round and carries a thorough selection of quality winter clothing available for purchase.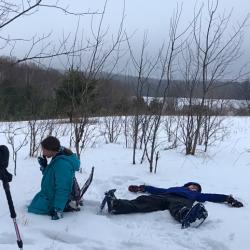 Gear and clothing for people of all ages-- from infants to seniors-- are featured at the store.
Excellent customer service performed by its knowledgeable staff of passionate local people makes this shop stand out.
General Manager Linette Rouzer explains: "The staff are invested in the area. They are aware of the changing conditions and, accordingly, make helpful recommendations. We want help you plan your trip!"
Customers at Coastal are encouraged to ask questions and tell staff about themselves; Coastal is intent on equipping customers with items that will be useful-- for experiences within the National Lakeshore-- and for whatever climate is home to the customer.
Ultimately, Coastal works to promote safe outdoor recreation and great experiences for the whole family.
SUGGESTIONS from the WRITER
Wear a brightly colored clothing item to increase your visibility for other recreators, vehicles. Sidewalks clear in warm months may be snow-covered during winter.
Charge cell phones before recreating; be aware of sunset time. Always carry water.
Practice winter weather awareness; local forecasts alert us to severe weather; snowshoers and skiers appreciate snowfall forecasts. Snowshoes are most useful during snowfall events.