Philip A. Hart Visitor's Center
The Philip A. Hart Visitor's Center located about 22 miles west of Traverse City on the edge of the Village of Empire, is an interesting and informative stop for new visitors to the park. The Visitor Center has a large relief map of Sleeping Bear Dunes, fascinating interpretive displays and an enjoyable movie along with brochures and maps. Collectively, they provide a wealth of information on the natural and human history of the area. Rangers and volunteers are available to answer your questions.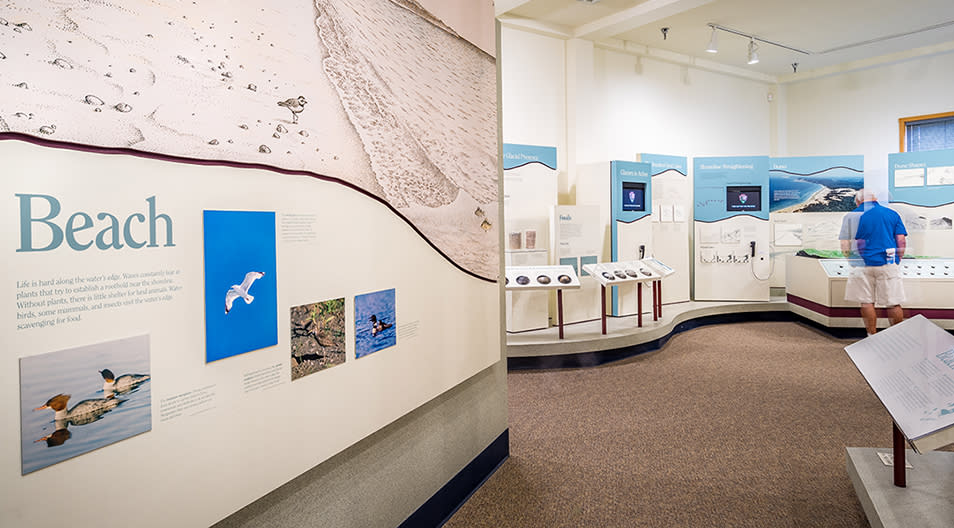 While most of the information available at the Visitor Center is free, a relatively small number of publications and other items are offered for sale. A larger selection of such items along with shirts, hats, postcards, books, videos and nature games are available at the Dune Center Book Store , which is located at the base of the Dune Climb, at the Glen Haven General Store and at a number of the privately owned shops in the area.
The Visitor's Center operates from  9:00 to 4:00pm everyday, except Thanksgiving, Christmas, and New Years Day.
Address: 9922 W Front St, Empire, MI 49630
Phone: 231.326.4700 ext. 5010
Frequently mentioned favorites include the Dune Climb, Pierce Stocking Scenic Drive, Glen Haven Maritime Museum and Life Saving…
A good part of the history of our area relates, as you would expect, to the water and vessels plying it. A part of that history deals…
The Sleeping Bear Dunes National Lakeshore is located in the northwest corner of Michigan's Lower Peninsula, about 25 miles west…
The hills, dunes, valleys, shoreline, small lakes, and streams which you'll see throughout the area were formed by the powerful…
Everyone knows the magic of summer in Northern Michigan… the days on the beach, the nights around a campfire. What could be…
Want to discover hidden vistas, dig into the natural history of the dunes, or learn about local wildlife? Sleeping Bear Dunes tours…