Manitou Islands
Just a short boat ride from Leeland, you'll find North and South Manitou islands.
A part of the national lakeshore, these spectacular wildlife refuges are perfect for bird watchers, hikers, campers, or anyone who enjoys a good view. North Manitou Island hosts a historic village; South Manitou has the historic lighthouse and keepers' quarters, but is otherwise completely devoted to wildlife. Ferries leave from Leland and are operated by Manitou Transit.
Manitou Passage Underwater Preserve

History Of The Manitou Passage 
With 16 shipwrecks and seven docks, the Manitou Passage Underwater Preserve offers divers two centuries of history of life in, on and under the Manitou Passage. The most popular dive sites are the wrecks of the Francisco Morozan, Walter Frost, and Alva Bradley; the remains of docks on North Manitou at Crescent City and Pickard's Landing; and, the remains of docks at Platte Bay, Empire, Glen Haven, Port Oneida, and Good Harbor.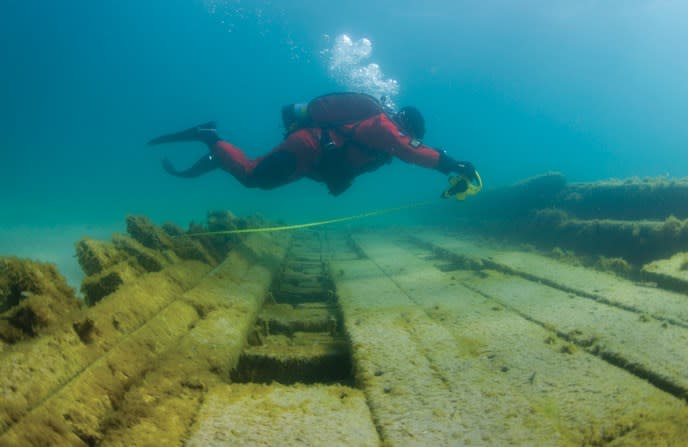 The Morozan was a package freighter which ran aground at the south end of South Manitou Island in December, 1960 in extreme storm conditions. Much of the Morozan is above water and the portion which is submerged is easily accessible in no more than 15 feet of water. A few hundred yards to the south of the Morozan is the wreck of the Walter Frost. The Frost, a wooden steamer, ran aground in 1905. Although partially broken up by Morozan, large portions of the hull, machinery, and boilers remain at a depth of about 10-14 feet. In 20-27 feet of water between the lighthouse locals call "The Crib" and the south end of North Manitou, lie the remains of the Alva Bradley. Interestingly, the rigging from this ship lies about 200 yards northeast of the hull.
Ruins of the docks which one welcomed ships and cargo are popular not only because of their marine history but also because they attract schools of fish.
For more information, visit www.michiganpreserves.org.
The Manitou Passage Underwater Preserve offers divers a variety of Lake Michigan attractions - from historic dock ruins to fascinating shipwrecks of two centuries. Visit www.mupc.net to uncover the historic treasures under the waters of the Manitou Passage and all of Michigan's Underwater Preserves. 
Shipwrecks Of Lake Michigan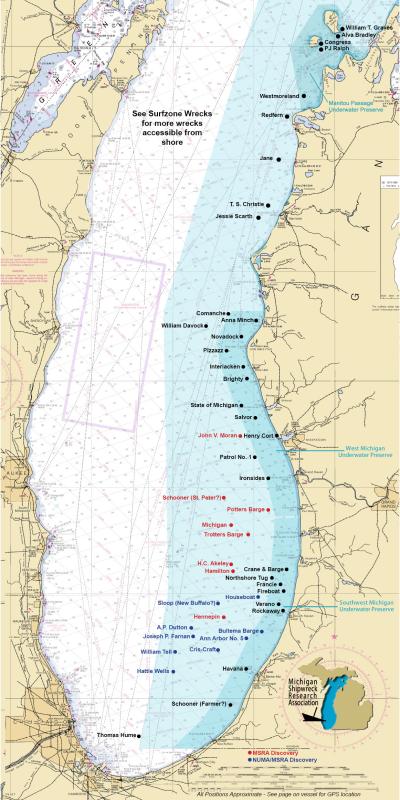 Compliments of  Michigan Shipwrecks Research Association.
Area Highlights
For boaters, both power and sail, the combination of Lake Michigan and 26 inalnd lakes…
The portion of Lake Michigan east of the Manitou Islands from Frankfort to Northport is…
A truly unique aspect about this area is the shopping. Off of every little side street and…
Northern Michigan is known for world-class natural resources and small-town charm. With…
There are plenty of things that should appeal to most little ones around here…