Come heart of winter, Leelanau County dining rooms glow with the energy of a culinary travel adventure. Here are a few ways Leelanau's most creative chefs are going global with special meals both memorable—and affordable.
By Kim Schneider | Foodie 
Sunday Suppers, Northport
Come winter Sundays, the staff at The Tribune in Northport push all the restaurant's tables together—some round, others oblong—to make one Thanksgiving-style table for 20. Guests filter in, picking up a wine glass along the way, then settle at the group table or one of the coveted seats along the open kitchen to be transported by taste and story to spots around the globe.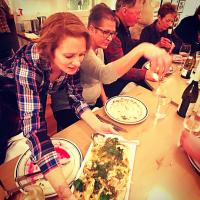 This night, Scandinavia is on the menu. Chefs who've harkened to their roots and family recipes for this night's offerings, preview the menu with the pronounciation help of Ian, a local Swedish student whom they joke is a live Google Translate. Ian reads offerings like rågbrod (fresh rye bread), Torsk med pepparrot (a crispy skinned Atlantic salmon with herbs) and Köttbullar (elk meatballs served with mustard cream and lingonberries) while owner/chef Eric Allchin does the describing. At meal's end, Allchin and his co-chefs Paul Carlson and Noah Carlson chat with guests who freely offer up applause, feedback and requests. An upcoming French-themed dinner featuring boullabaise came from diner requests, the Southern comfort food theme from the availability of fresh crawfish for the Etoufette. Though closed in February, the suppers will resume in March, and the chefs say they can't wait.
"We try things we like to cook, and it's nice, but it's nice to get out of your comfort zone," Allchin said. "We're always learning different flavor combinations, things we can use for othe projects. Northport's a very classic town, so with the day stuff, we keep it pretty simple." But come Sunday night, the world's in town. With the day stuff, we keep it pretty simple." Not so on winter Sundays like this one, curiosity—not classic—reigns.
A Supper Club with Stories, Glen Arbor
Ten years into owning Blu, Randy and Mari Chamberlain wanted a new idea for bringing in winter business, one that offered value but didn't involve just discounting the restaurant's high end brand. Each March, they'd closed to travel. What about creating menus, they thought, inspired by those adventures?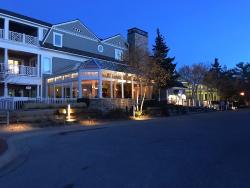 They named it the Sleeping Bear Supper Club and hoped to fill a table or two. But when they published the travel-inpired menus last winter, they filled—the entire restaurant—and for every event day of the season. This year, they have openings still, but don't wait long. "Paris" on Valentine's Day filled instantly (so they added a second night). There are chances still to sample the Piedmont region of Northern Italy, Barcelona, New Orleans—$40 for four chef menu courses.
A self-described introvert, Chamberlain says he was surprised by his ease at introducing menus that evolved from travels and sharing stories that went with them. Diners increasingly like the combination of food and travel they're seeing on travel channels, chef says, the chance to get creative in months when local produce isn't as colorful and available. On Santa Fe night, guests got to enjoy a chocolate tequila baba (cake) and also listen to the time Chef Randy was passing through and wanted the score of a Detroit Lions game he couldn't find on the radio. He stopped for gas in the mountains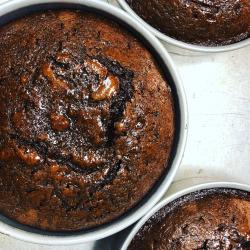 and asked the clerk: 'How are the Lions doing?'
"'The lions,' the clerk replied, not looking up. 'The lions are in the mountains!'"
Global Cookbooks, Brought to Life: Suttons Bay
If January's cravings falls along the lines of Russian-inspired chicken and lemon pate en croute, February's a lobster taco followed by tequila and orange truffles, or you think (as I do) that every March should include Yasai Tempure or pork belly with ginger, then you'll want to head to cozy bistro-style Martha's Leelanau Table in downtown Suttons Bay.
Martha's winter cookbook series is going into its sixth year, running Wednesday to Sunday evening every other week in January, February and March. This year's lineup is decidedly international with features like the cookbook Morimoto featuring recipes created by the popular Iron Chef; Mexican street food from the pages of "Death by Burrito" and French country cuisine from the Bordeaux region. The international flair is no accident given Martha's avocation: leading small groups on food-focused trips around the world each spring and fall.
Chef Martha picks two books for the series and lets her staff pick the others. Delving into new recipes keeps winter more interesting for chefs (and customers), she says, and new addition to the menu are a frequent byproduct. As she notes, "There are always some winners in the group!"