It's opening day of the Glen Arbor Farmer's Market, and Anne Cunningham is standing behind a a display of ripe and tasty bounty from her TLC Farms in Suttons Bay.
By Kim Schneider | Foodie
One bin holds a collection of deep red heirloom tomatoes, another those with a more pinkish cast and still another tomatoes of a golden variety she claims might be among the sweetest I've tasted (and she'd be right). There are tomatoes still green, too, that match the bags of basil and lettuce that round out the display.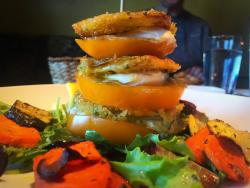 If the combination looks oddly familiar, it's because this very mix inspired my dinner choice the previous night at Martha's Leelanau Table. The "fried green tomato" stack I'd only just savored was created with TLC tomatoes and greens layered with Burrata cheese, all topped with TLC's basil in a house-made vinaigrette.
Things that ripen at the same time, artistically presented by market vendors, often inspire what's on her restaurant menu, says Owner/Chef Martha Ryan and other county chefs. And those chefs are the shoppers, Vanderbosch notes, most likely to pick up a tomato and sniff, snap off the end of the asparagus stalk to test its freshness, or ask enough questions to get the produce picked even hours earlier. It's by using all their senses that chefs learn the Bibb would make the perfect base for a signature salad—as it's used at La Becasse, the beefsteak tomatoes a great topping for burgers at The Cove.
How can you shop like a chef  now that local farm markets are in full swing?
Buy what appeals, then play your own version of "Chopped"
Randy Chamberlain, chef owner of Glen Arbor's stunning lakefront restaurant Blu, sometimes (maybe even often) doesn't know what he's going to make with what he buys until he starts dinner prep for the night—much as he'll let what's fresh and in season inspire dinner choices at home or a special gift creation for a table or two. He writes a new restaurant menu daily, and for good reason.
"By the time I get up, I usually have a few emails and text messages from farmers this time of year. I might not even know if a chef says "We've got fennel" what I'm going to do with it, but I love it. I'm going to say, "'Yeah. Bring me 10 pounds.' By afternoon, I probably have an idea of what we're going to do with it. I like to see everything in my kitchen before I decide what I'll do. I like to have my hands on it—taste it, smell it, touch it—and I start connecting the dots, say let's make this with that. It's a very spontaneous interaction of the ingredients."
Do a comparative sampling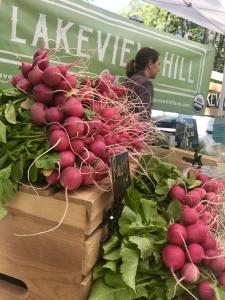 While it's important to build relationships with farmers, you may still want to shop around—and by vegetable. Madeleine Vedel, a private caterer, part-time sous chef at Martha's and purveyor of international food tours and cooking classes, suggests that even home shoppers visit at least five vendors and see which—based on their terroir, your  palate—is your favorite asparagus, beans, radishes, cucumbers, you name it. "There's a wide range of flavors even to vegetables, and it's fun to do the research. I'll have my green bean guy, my broccoli person."
Know that what grows together goes together
"The saying goes, and it's very true, that the ingredients that grow at the same time often go together," Chamberlain says. "During summer, when the tomatoes are here, we also have celery and peppers and onions. It's the best time of year to make gazpacho, but I wouldn't make it right now (when those items aren't ripe). I'm going to make something else. . . . For example, strawberries just came out. I got in edible flowers. I got in some cheese. I can make a strawberry flower salad and add that cheese and put lemon juice and olive oil on it. It's going to be wonderful."
Shop by color and texture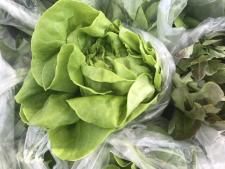 A good home cook may not be able to visualize a flavor profile as well as a professional chef, but they can think texture and color, Chamberlain said. If you want to make a salad, don't buy only green ingredients. To add red, buy red onions and radicchio and add other colors with fruit. Then think texture. "As I walk by tables, I'll say, 'That's beautiful. Will it work with what I want to make? Sometimes I don't know, and I'll just buy things because they're beautiful. At the very least, I'm going to enjoy that one ingredient by itself."
Know how to store what you buy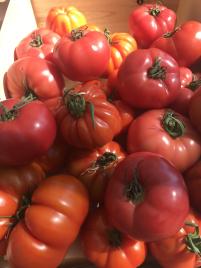 Green and leafy, it goes in the refrigerator, Vedel says. Zucchini, squash and tomatoes, you leave out. Root vegetables? Store those in the dark.
 Ask whatever you're wondering and feel free to ask for a taste
"At the market, if I see something and I'm skeptical, I might say, 'How do you have tomatoes already?" Chamberlain said. "A lot of farmers are starting or finishing vegetables in a greenhouse, so I'll ask, 'Can I try one?" That usually ends up in a sale for a farmer, who is motivated to sell the perishable items they've loaded up and brought to market. "I'll pick up a piece of raw asparagus and bite it—with permission!"
Sniff, Snap, and be Inspired

You'll find Leelanau markets spread throughout the week during the summer months.  On Tuesday, Glen Arbor hosts its market, 9am to 1pm, behind the Glen Arbor Township Hall on Western Ave.  Leland's market follows every Thursday in the parking lot of the Bluebird on River Street.  Northport holds its weekly market on Fridays on Bay Street across from the marina, and two county markets are held on Saturdays.  Suttons Bay market, like Northport's, come with a water view.  You'll find that one from 9am to 1pm, near the intersection of M22 and M204, or, head to Empire and pair the trip with a day at the beach.  That market is held next to the post office on Front Street.