How does a Leelanau County farmer spend the winter months? For 9 Beans Rows' Nic Welty, it's about "lasagna gardening." Yes, you read that right.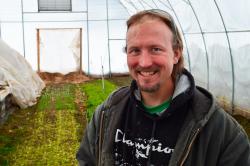 For Welty, winter in northern Michigan means a multitude of responsibilities both on his property and in the surrounding community.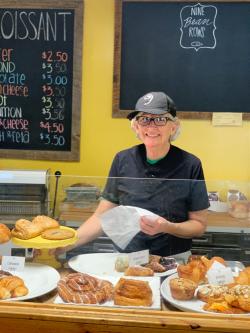 Since starting a CSA program at Black Star Farms with his wife Jen in 2008, Welty's mission has grown to a myriad of operations. In addition to the no-till farmstead and a recent expansion of their artisan bakery just west of Suttons Bay, the Weltys have been involved with starting the Michigan Farm Cooperative and a farm-to-school grant for Leelanau County Public Schools, to name a few.
Welty is an entrepreneur at heart and passionate about his product. He keeps busy with payroll and the recruitment of summer help, while also designing hoop houses statewide. There are no shortages of opportunities to lean on his business background, but his true passion lies in biology and growing delicious vegetables that flourish in organic, no-till beds.
What is organic no-till agriculture, and how does it make a difference?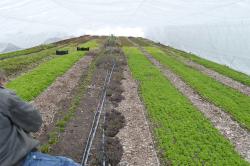 Mimicking the rich soil of a forest floor, the layered earth creates an environment that is packed with microorganisms that contribute to growth. 
Also known as "lasagna gardening," each layer is allowed to decompose naturally on top of the last. Fresh crops are allowed to germinate over winter, and the process renews each spring. Additions of compost and manure create the nutrients that the soil needs to grow big leafy plants and delicious vegetables. By not plowing the fields each season, that culture continues to develop over time, undisturbed.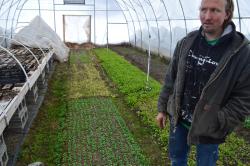 Organic no-till agriculture flourished after World War II in part because of a global shortage in chemical fertilizers. It reduces labor, fuel, and irrigation costs while also sequestering carbon into the earth and reducing soil erosion.
Experience the flavor in person, or at any of the year-round farmers markets in our area: https://www.thevillagetc.com/farmers_market.html
UPDATES:
9 Bean Rows' Spring CSA shares are full and starts on the week of March 28th (some recent adjustments to the pick up locations are listed on their social media pages, and an option for 2-week extension of their winter share has been offered fro $80.
3/23/2020 Facebook Page Post
With the new executive order in place, we just want to reassure everyone that we WILL remain open at the bakery during our regular hours. We fall under the category of restaurants in the executive order with carryout and delivery services, and we'll have plenty of healthy greens and fresh-baked bread for you!
However, we are implementing some changes:
- Beginning tomorrow, we will be allowing only 2 customers in the bakery at a time.
- We encourage you to call ahead to place your order
(231-271-6658).
- We have curbside service in place and will bring your order out to your car!
For up-to-date product and service information, follow 9 Bean Rows on Facebook.