For lovers of leafy greens, nothing beats a Caesar Salad — especially one made with a homemade dressing. Here's the scoop on finding great local greens this winter along with a cool trick for growing your own on the window sill from salvaged scraps.
Anchovy filets, egg yolk, garlic and Dijon mustard puréed with olive oil, lemon juice, pepper and parmesan cheese is a time-honored combination found in nearly every dining establishment worthy of linen table cloths and napkins.
It's equally revered by many chefs at home. But with romaine lettuce from California again making the headlines because of E. Coli contamination, what other options exist for residents of northern Michigan in the midst of winter?
Fortunately, there are a number of certified organic farmers growing year-round varieties of greens in Leelanau County, including 9 Bean Rows, Birch Point Farms, Loma Farms, and others that are open seasonally, Lakeview Hill Farm and Second Spring Farm.
Sold through weekly CSA shares (community supported agriculture) and at farmer's markets this winter, these locally harvested greens provide a healthy alternative to supermarket kinds that have traveled across America to grace our dinner table. In addition to romaine, many farms specialize in mixed spring greens, pea shoots, or a specialty genre of tiny gems known as microgreens. Harvested early, these little rock stars are nutrient-packed and make a welcome addition to a variety of gourmet dishes, not just salads. They're visually stunning despite their small size and pack a flavorful punch. Use them on top of any sauce or as a compliment to starchy dishes like risotto.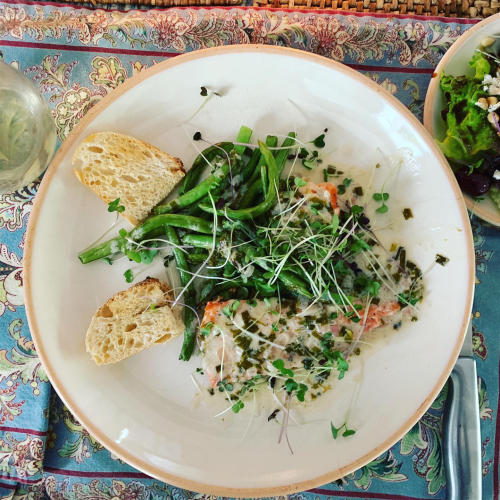 [photo: "Microgreens from Green Morning Farm" photo courtesy of Mike Dudek (author)]
Interested in growing your own romaine at home? Try growing you own leafy shoots from the cut end of a romaine head.
It's remarkably easy: all you need to do is let them rest in a glass with a half inch of water and place in a sunny area. Change the water every day or so to keep it fresh, and you will be rewarded in about two weeks with freshly sprouting leaves of romaine lettuce. Some indoor gardeners then prefer to replant their rooted lettuce into a container with potting soil. Come spring, they'll be ready to transplant into your outdoor garden beds.
Check out this step-by-step video showing the technique in action.
This trick works well for other vegetables, such as green onion bulbs and celery, putting to good use scraps otherwise bound for the waste bin and is a fun way to have fresh greens within reach on your kitchen's window sill all winter long.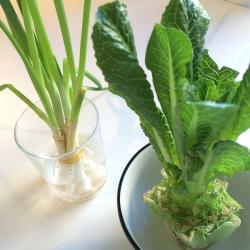 [Photo: "Who's the Devil's Lettuce Now?" photo courtesy of https://growerflow.com/]