Enjoy Sleeping Bear Dunes National Lakeshore with canine companions: cooling temperatures, decreased activity favorable to dogs for trails, beaches, and pet-friendly towns.
With subtly, the mild touch of September begins to cool the bright splendor of August. Mist in the morning and blazing sunsets in the evening compel us to acknowledge that we sit on the cusp of a new season.
Cooler temperatures and decreased activity in the Sleeping Bear Dune National Lakeshore mean favorable conditions for our canine friends. Dogs and the people who love them utilize this time to get out and enjoy our National Park.
Big dogs, little dogs! Brown, tan, black and brindled dogs with scruffy coats and curly coats, tails all a-wagging, peep from cottage windows and hang out of trucks with sloppy smiles. Local dogs and visiting dogs bounce through waves, careening along the Lakeshore, owners in tow; and dogs nap under shade trees with tuckered children.
Like their human counterparts, each individual dog has its own particular preferences and needs. Whatever your dog's size, age, energy level or physical ability, pet-friendly options for activities abound within the National Lakeshore.  
TRAILS
Pyramid Point and Empire Bluff trails can be enjoyed by human and canine alike.  At each location, the effort of a somewhat steep climb yields incredible views of Lake Michigan.
This week, hiking Empire Bluff suited Georgia, whose family reported that, at two years old, Georgia is very high-energy and a bit rambunctious; but she's being a good girl on the trails.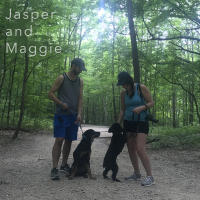 Jasper, at eight months old, is much younger than his friend Maggie, eight years. But both were able to share experience of the climb at Pyramid Point. The pair road-tripped from Ohio to the National Lakeshore with their humans, who reported that the dogs felt most comfortable hiking trails that weren't crowded.  
After hiking, check for ticks; and brush off any seeds from pets to prevent the spread of invasive plant species. Always bring water-- and know your pet's limits.
BEACHES
At pet-friendly Empire Village Beach Park, the waters beckon retrievers, labs, and other dogs who love to swim.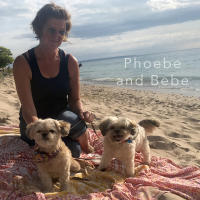 You probably won't see little Phoebe, age twelve, and Bebe, fifteen, braving the waves of Lake Michigan; relaxing under a shade tent and hanging out with their people is their style.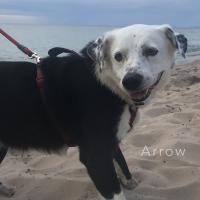 When at the beach, Arrow, age nine, will venture into the water, but prefers to "wade". Arrow's person expressed, "He loves it up here!"; Arrow is ecstatic about shoreline and trail walks in the National Lakeshore.
Where else are dogs permitted to be on the beach?
For information about trails and beaches, referring to the National Park Service is the best way to know where dogs are permitted. Check here for a list (and map) of beaches allowing dogs, a list of "no pet areas", and rules and regulations via National Park Service.
Please note, where dogs are permitted on trails and beaches may change seasonally, to protect wildlife, in consideration of cross-country ski trails, etc. Please look for signage at trailheads and beaches.
TOWNS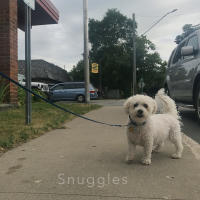 The beach life isn't for everybody. Snuggles, age twelve, does not enjoy being on sand. But you'll see her proudly stroll the sidewalks of the streets in her hometown, Empire. "Almost everyone in Empire seems to have a dog," explains Snuggles' person. "It's a very pet-friendly place."
"Pet-friendly" was also used by a Homestead staff member to describe Glen Arbor, where many dogs in town accompany their people for stroll with ice cream and meals at restaurant dog-friendly outside dining areas.
Note: Please call ahead to restaurants and businesses to confirm dog accessibility. Pet policies can change seasonally or otherwise.; I cannot speak officially on behalf of the following. These are suggestions for Glen Arbor businesses to contact about dog accessibility.
As Phoebe and Bebe's person said, "Animals bring us such comfort!" For many, time at the trails, beaches and towns of National Lakeshore is best when shared with their canine companions.  
We hope to see your tails on the trails this season!
"Completing the Symphony"
Poem by Holly N. Wright
8/15/19, Pyramid Point
The tap-tap, tap-tap the sound of
Your steps keeping pace with mine,
The clink and chime of tags,
Your quiet wuffling as you scent the trail,
Complete the symphony of the world I hear as we walk.
The sweet music of crickets singing in stereo, unseen,
Reverberating buzz of cicada;
Rustle of breeze tossing leaves of birch and maple; and
Raucous cry of raven leaping to flight,
Stir my soul and soothe my mind.
But the symphony is complete
And my heart is most full
When you are walking with me.