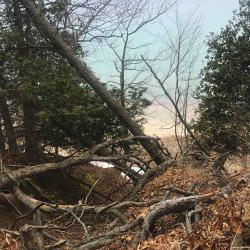 April sees the landscapes of the Sleeping Bear Dunes National Lakeshore dramatically transformed; ice-locked shorelines and soils, so recently blanketed under deep snow, shed their winter gems to transition into a new year of growth and productivity. The world feels increasingly active and full of gathering momentum, as non-human and the human species alike return to the region and prepare for the lively season ahead.  
By Holly N. Wright | National Park Enthusiast
Sandhill Crane
The Sandhill Crane has returned to the National Lakeshore. This large, migratory bird is an ancient species. The "earliest Sandhill Crane fossil" is estimated to be 2.5 million years old, according to the Cornell Lab of Ornithology. In A Sand County Almanac, Aldo Leopold wrote: "…our appreciation of the crane grows with the slow unraveling of earthly history. His tribe…stems out of the remote Eocene. The other members of the fauna in which he originated are long since entombed within the hills. He is the symbol of our unattainable past, of that incredible sweep of millennia… Their annual return is the ticking of the geologic clock."
Loud, resonant calls announce the arrival of the cranes, who are often sighted as mating pairs. In his most recent post, "Trail Genius" writer Paul Baumbusch describes a location in the National Lakeshore favored by Sandhill Cranes.
Piping Plover
The much more petit (but equally captivating) Piping Plover is another greatly-anticipated April arrival. According to NPS , "the highest concentration of Piping Plovers in the Great Lakes occurs at Sleeping Bear Dunes National Lakeshore"! These small, white shorebirds blend into the landscape; the Piping Plover is most visible when in motion; orange/yellow legs swiftly carry this bird across sand and gravel. Piping Plovers are endangered; please give space.
Resource suggestions for beginning birdwatchers in the National Lakeshore are included in my previous post.
Recreation Conditions Update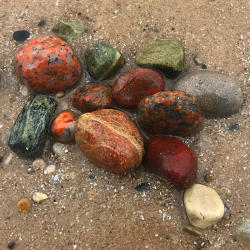 The melting of ice along shorelines means nesting sites for Piping Plovers and, for people, the opportunity to once again enjoy beach-walking. While (given cold water temperatures) most of us won't be swimming yet, a wide array of stones may be observed along certain stretches of shoreline; granite, deep green basalt veined with quartz, or fossils like Petoskey stones and Favosite fossil. Please be advised: federal law prohibits the removal of stones and minerals from the National Lakeshore.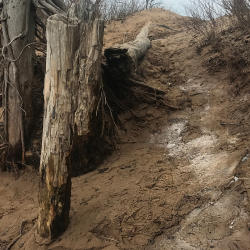 Trail conditions (in my opinion) are becoming increasingly accessible and, overall, passable: some scattered patches of ice and snow (the last hold-outs from this winter of record-setting snowfall ) continue to diminish, though a few slippery/ wet spots may be encountered on some trails, including sections of the Heritage Trail. Pierce Stocking Scenic Drive will open once snow and ice are clear.
Daily temperatures are beginning to warm. However, prepare for possible cold, rain and snow events; dress in layers and check local forecasts. Speaking solely to personal experience, mosquitoes have not yet ramped up; ticks, however, are on the move.
Let's go outside! The experience of feeling the sun's warmth seep into the collar of your jacket while the "peepers" chime brightly from all sides—well, it feels pretty damn good. April is a wonderful month to celebrate our National Parks.
Where can I learn about other upcoming events? Seasonal NPS staff will begin providing interpretive services in late May to work with school groups through the end of the school year, then daily programs open to the public will begin—you just need your Park Pass!
The best place to learn about upcoming events is the calendar on the NPS Sleeping Bear Dunes National Lakeshore website; their Facebook page also features a calendar.
The National Park Service produces a newspaper in hard copy and PDF format. Hard copies can be picked up at the Visitors Center; PDFs can be requested online.
National Park Week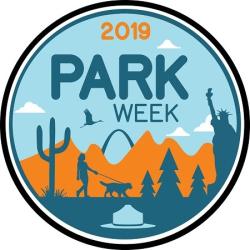 April 20-28 is National Park Week, 2019 ()! Themed days will be featured country-wide. National Park visitors can get involved via social media; Twitter, Facebook and Instagram.
Saturday, April 20: Entrance fees waived, Junior Ranger Day
Sunday, April 21: Military and Veterans Recognition Day
Monday, April 22: Earth Day
Tuesday, April 23: Transportation Tuesday, Trivia Tuesday 
Wednesday, April 24: Wild Wednesday
Thursday, April 25: Throwback Thursday
Friday, April 26: Friendship Friday
Saturday, April 27: BARK Ranger Day
Sunday, April 28: Park Rx Day 
In preparation for National Park Week and the season ahead, here's What to Know about the National Park Pass:
When should I display my Park Pass? If you park to recreate anywhere within the National Lakeshore (including the Heritage Trail and locations that do not feature entrance booths), please be prepared to display your National Park Pass in your vehicle.
Where can I purchase a Park Pass?
Year-round: Philip A. Hart Visitors Center;  The Homestead; Online
Seasonally: Dune Climb and Pierce Stocking entrance booths
How is my Park Pass fee used? Your Park Pass fee helps support park operations and care of Sleeping Bear Dunes National Lakeshore.
Thank you for your enjoyment and support of the Sleeping Bear Dunes National Lakeshore!