If your idea of bliss is staring at a campfire instead of a television, hiking in big woods with spotty mobile phone coverage, or kayaking along miles of desolate Lake Michigan shoreline, then the Manitou Islands will feel like paradise. Ferrying people to and from the islands for the day or an overnight is what the good folks at Manitou Island Transit do. Just make sure you're prepared for the ride.
By Bob Butz | Adventurist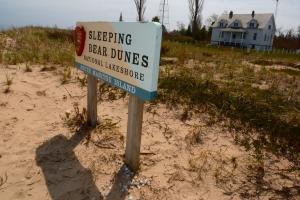 Only about eight to 12 frigid miles of Lake Michigan separate North and South Manitou islands from shore.  But to go there for the day and, definitely for an overnight, is to disconnect from the modern world.  And, of course, that's part of the lore that draws thousands of Sleeping Bear's most adventurous visitors every year.  A handful charter private boats and—because nothing really says you can't—some have even attempted to cross the Manitou Passage by kayak, most leading to stories like this. 
For the rest of us, there's Leland's Manitou Island Transit.
SOME IMPORTANT PLANNING LINKS
There's plenty of information out there about planning a daytrip or an overnight to North or South Manitou, like this list of considerations from the National Park Service.
Manitou Island Transit has their own planning website page with information on everything from round-trip ticket prices ($42 adult/$21 kids 12 and under) to considerations when heading to the island with camping gear and kayaks. Click here.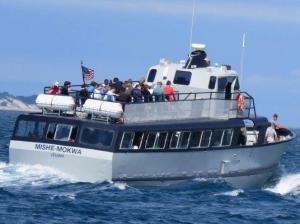 BOOK EARLY
The third week of May kicks off regular summer ferry service to North and South Manitou Islands with at least two scheduled trips for day-visitors and overnight campers after Memorial Day. Manitou Island Transit also offers shoreline cruises every evening. Weather permitting, these 1.5-hour tours of the Sleeping Bear Dunes coastline depart at 6:30 PM and provide a cash bar and beautiful sunset views of Good Harbor Bay and Pyramid Point.
Regardless of what kind of trip you seek, the importance of booking early can't be overstated.  Trip Advisory has plenty of reviews from disappointed vacationers who waited to book tickets only to discover summer dates sold out.
MORE PLANNING LINKS
A trip across the Manitou Passage takes about 1.5 hours by ferry. You can take a daytrip to North or South Manitou Island and do a wagon tour, tour lighthouses, old settlements and graveyards, and be back to Leland Harbor in time for one of The Cove's famous Chubby Marys or cocktails and dinner at the Bluebird Restaurant & Tavern.
Or you can overnight camp on both the North or South islands, kayak in turquois water as far as the eye can see, hike for miles without ever cutting the same trail, and, at night, behold a night sky filled with the entire galaxy of stars.
Check out Manitou Island Transit's Facebook page and hit the "like" button for other information, reviews, or to connect and ask questions of past ferry passengers.