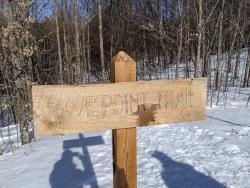 The thought of sweet, sweet summertime always elicits a yearning for soft grass beneath your bare feet, the warmth of the sun on your shoulders, a perfectly chilled glass of Michigan crafted Pinot Grigio or cider—and if you can escape from the office for a trip up north—a blissful escape to the lake and vineyard-filled playground we locals call NOMI.
Want to know what else the locals do? It may come as shock if you're envisioning the northern Mitten as a hunkered-down, blizzardy wasteland, but those who live here year-round lace up our winter bootstraps and enjoy all over again the many things that dot our special region, now covered in a blanket of fluffy snow.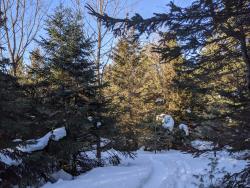 True, the roads take a bit defter maneuvering and the temps can dip quite low, but the beauty of living inside a glistening snow globe, where you can make your way through the still, wintery landscape by snowmobile, skis, or snowshoes is about as magical as it gets. And if you want to pair your wintery fun with some vino, well, as luck has it, there are many enjoyable ways to do that too. One local favorite? Snowshoeing the vines!
Here's a walk through one of my favorites to get you started.
Snowshoeing Rove Estate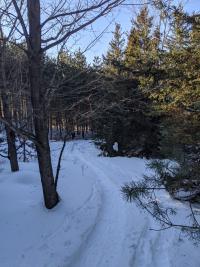 Rove Estate is a natural pick for a few key reasons: Tasty wine and a fantastic location. Rove is nestled right off W-72, so you don't need to veer off the main, paved roads if your vehicle (or nerves) can't handle it. It makes a great stop on your way to or from Traverse City as well as a midway entry point to many of the Leelanau wineries.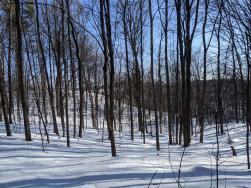 Rove's snowshoeing tour is self-guided, a nice option for those who prefer to explore at their own pace, stop and smell the pine trees, and feel like they have a little elbow space. To boot, Rove's relaxed setup means you don't have to show up at a specific time and stay in pace with strangers.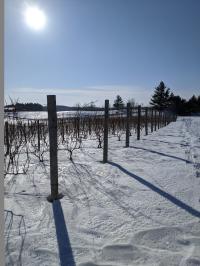 Rove Point Trail heads north from the winery's wooded back property, winding through a maze of fir and deciduous trees. The hike itself is under half a mile—the perfect distance to get your heart rate up, breath in the crisp air, and enjoy the experience of snowshoeing without a lot of hassle. For these reasons, it's a great trail for first-timers, novices, and those wanting to experience a taste of snowshoeing in 30 minutes or less before settling into a glass of wine from the comforts of the tasting room (or a roaring fire pit on the deck). Plus, you can always do another loop or two if you want to get some more steps in.
Navigating Rove's Trails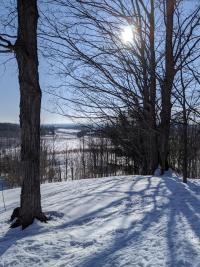 There are multiple options near the beginning of the trail: be prepared to dead-end if your inner compass steers you west (or left) first, though the beautiful curves through the snowcapped pines is worth the detour.
The trail itself is neatly groomed to the point where you could wear snow or hiking boots if you want. Like their gorgeous property, the trail has some elevation to it, so bring your balance or some snowshoe sticks along. Along the way, you'll be treated to expansive views of the pristine Leelanau countryside, complete with a quaint red barn nestled in the valley below. When you reach the peak, you have the option of taking the more traditional, wooded route back to your starting point or hiking down a tree-cleared slope that gives gorgeous views of W-72 and the vines below. You'll also get close-up access to the vineyards, which are just as exquisite covered in snow as they are grapes.
Next stop: Wine straight ahead!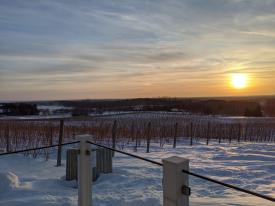 Rove is one of many wineries that offer snowshoeing. Here are some other local favs:
45 North Recreational Trail: Snowshoe, ski, or fat bike this 3-mile trail, courtesy of 45 North Vineyard & Winery. PS: it connects to Blustone Winery.
Black Star Farms: Three scenic miles of snowshoeing, XC skiing or fat biking bliss await you at Black Star Farms Winery in Suttons Bay.
Bluestone Trail: A 1.5-mile trail at Blustone Vineyard with panoramic hilltop views. Bonus: it connects to 45 North.
Two K Farms: Snowshoe through the Riesling vines on Two K's beautiful farm and winery, with majestic bay views.