It's wintertime in northern Michigan wine country, and though you might be fooled into thinking that the wine scene hibernates for the season, au contraire!
By Erin Rose | Libation Lover
While the vines keep warm under freshly fallen snow, things stay pretty toasty in the tasting rooms as well, where the sights and sounds of pouring Cabernet Francs, Pinot Noirs, and whites - yes, whites, abound. If you pine for those refreshing summer wines in the winter season, whites from along the Traverse Wine Coast are totally drinkable in winter time - and not just oaky chardonnays.
Here's what to try this winter season while you're out and about exploring the Sleeping Bear Dunes and the surrounding Leelanau Peninsula:
Crisp Whites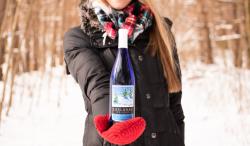 Photo Credit: Leelanau Cellars
Leelanau Cellars' Winter White. This winter crisper is in a league of its own for a reason. If you could capture the essence of winter in a bottle, this would pretty much be it. Take one sip and you'll immediately wonder if pine needles, icicles, and peppermint sticks aren't twirling around inside. Intrigued? If you love or occasionally take on a semi-sweet wine, make sure to check this one off on your tasting list from Leelanau Wine Cellars. PS: It's their top seller!
Dry Riesling.  Riesling is a naturally crisp choice because of its high acidity levels, though the residual sugar that many Rieslings contain can be off-putting to a lot of people, including yours truly. That's why as a wine drinker who only occasionally tolerates sweeter wine (mostly on desperate nights when my chocolate stash is depleted), I was shocked when I first tried Dry Riesling.
It's crisp, it's refreshing, and it's unexpectedly not sweet. As my friend (and Shady Lane Cellars tasty room manager) Lindy K shares, a well-done Dry Riesling like Shady Lane's is the perfect accoutrement to yummy winter comfort foods or flavorful and spicy ethnic foods.

Shady Lane Cellars is a must tasting room visit in any season - but I must say there is something truly enchanting about this place in the winter months...especially if you're a sucker for barns like I am! When you tire of gaping at this pear-colored gem, enjoy their cozy outdoor fireplace that overlooks the vineyards.
Warm-up Whites
Laurentide is THE place to head for lucious white wine. If you're not into oaked Chardonnay, check out the Emergence White or let their knowledgeable tasting room staff make a few suggestions. Photo Credit: Laurentide.
Gewürztraminer. This fragrant white wine, which loosely translates to "spice wine" in German, is an obvious pick not just because we grow it here on the peninsula so well, but because it pairs perfectly with just the kinds of foods you crave in winter time—warm, flavorful and a little (or a lot) spicy. While you're out tasting, pick up a bottle or two of your favorite and keep on hand for a bitterly cold night back at home that calls for takeout Asian or Indian food with a little punch to it.
Chardonnay. Admittedly, I have not quite developed a palate for Chardonnay that isn't unoaked, so I turned to Susan Braymer, who along with her husband Bill, owns Laurentide Winery, an unassuming boutique winery in Lake Leelanau known for its award-winning whites. Says Susan, "I'd pop our Reserve Chardonnay, perfectly oaked and redolent of pears and vanillin. Don't forget the Marvin Gaye. For a dreary, soul-sucking winter Wednesday when the sun forgot to rise over Michigan and comfort food is essential, pour a giant glass of Emergence White blend, our semi-dry blend of Chardonnay, Riesling and Pinot Gris and let butter, cream, and Laurentide wine do their magic."
Bubbles and snow make quite the pair - no ice bucket needed!
Photo Credit: Shady Lane Cellars
I have to admit that I never would've considered that of all the delicious varietals of wine along the Traverse Wine Coast, I'd go so ga-ga for the sparkling variety. It's pretty hard to leave Mawby Winery without something in a paper bag (or in my case, a case), but beyond this fun-loving tasting room known exclusively for its fizz, there's a lot of delicious bubbly being produced on Leelanau Peninsula—bubbles that are way too good to be put off until summer!
First, there's Winter White Bubbly, a bubblified version of Leelanau Cellars' Winter White that will take your tastebuds for a ski trip. Even if you dislike their traditional Winter White or you're not into sparklers, give this one a try—the carbonation tempers the sweetness, and I promise this winterized bubbly is a fantastic way to take the sting out of your limbs after a hitting up the dunes for hiking or skiing.
Many of the bubblies you'll find along the wine trail here are these incredibly lovely sparkling Rieslings. Though they vary in sweetness, keep in mind that the sparkling vinification process (aka carbonating) can intensify a wine's perceived acidity, so even a sweeter Riesling will taste dryer when "sparklified". My personal favs right now: Shady Lane's Sparkling Dry Riesling, Mawby's Blanc de Blanc, and Boathouse Bubbly from Boathouse Vineyards. 
_______________________
Try out some whites on a winter wine tour! Most tasting rooms are open for winter tours, and because they're less packed, you're sure to get a more intimate experience where you can feel more comfortable to linger and explore. My word of advice is don't be shy! These guys are about as down to earth as it gets. They live (and love) to talk wine and will be more than obliged to steer you in the right direction to find the best whites for your palette. Don't be surprised if you end up conversing with a winemaker him (or her) self.
If you're looking for something extra special, check out these upcoming special events for wine touring paired with food, snow and more!
Snowshoe Sundays at Rove Estate - Sundays through March 3, 2019 
Sips & Soups at participating Leelanau Peninsula wineries - Saturday Jan 12  
Snowshoes Vines & Wines - Saturday afternoons through March 16 plus additional dates. 
Taste the Passion  at participating Leelanau Peninsula wineries - Saturday, Feb 9 & Sunday, Feb 10