Leland Sidewalk Sales is back and so is the Port Oneida Fair. From a reenactment of a Sleeping Bear shipwreck rescue to a rare opportunity to stay on North Manitou while helping to preserve some of the island's most unique structures—here's a shortlist of favorite, local happenings and August events you don't want to miss.
Free Sleeping Bear Dunes Summer Ranger Programs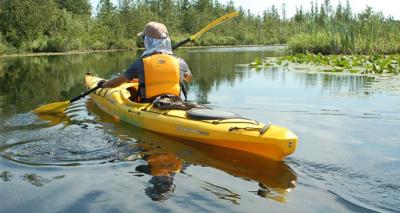 [source: nps.com]
Summer ranger programs at Sleeping Bear Dunes National Lakeshore include daytime and nighttime activities, as well as excursions in the woods and waters at the Lakeshore.
Popular programs from last summer, such as ranger-led kayak/canoe tours and group bicycling on the Sleeping Bear Heritage Trail, are back this year. New programs include coffee (or other morning beverage) and conversations with a ranger, social media-oriented "Post It" programs and Instameets, and ranger-guided twilight treks.
These programs are free with a park pass and open to all visitors. Ranger-guided programs are offered daily. In addition to daytime bike rides, evening rides will also be offered this year, with stops to enjoy some stargazing. Both the bike and canoe/kayak trips require reservations. Visitors are required to bring their own canoe/kayak/bicycle or rent one from a local outfitter. Call 231-326-4700 ext. 5005 to make a reservation for a float trip or bike ride; numbers are limited.
As in prior years, there will be a series of evening campground programs, kids' pop-can fishing, weekly firings of the USLSS Lyle Gun, and "Heroes of the Storm," the popular reenactment of a shipwreck rescue of the U.S. Life-Saving Service (USLSS). For a complete list of August programs, check the park's events calendar by clicking here.
Leland Sidewalk Sales
August 11th and 12th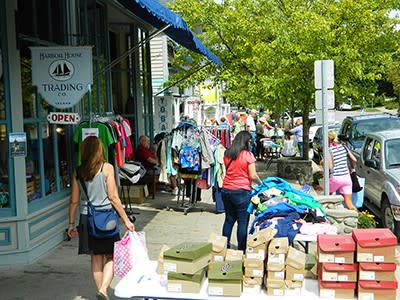 [source: lelandmi.com]
The annual Leland Sidewalk Sale is always a great time to take advantage of deep, end-of-summer discounts on local crafts, art, clothing and Leland/Fishtown souvenirs. Plan to hit the beach before or after you shop, and of course have lunch or dinner at one of Leland's many dining and specialty food establishments. Click here for more information, including a partial list of participating Leland businesses. 
Port Oneida Fair
August 12th and 13th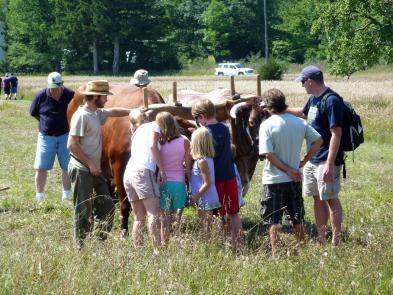 [source: nps.com]
Each year near the beginning of August, you can take a step back in time at the Port Oneida Fair and experience life as it was in the late 1800s and early 1900s. Imagine the life of the pioneers as you help bale hay or watch a broom-maker at work. Learn about spinning, basket weaving, soap making, butter making, candle dipping, and fur trapping. Listen as park rangers and local history experts share the area's history. Watch as teams of oxen and horses cut, load, and haul hay and artists and craftsmen demonstrate their skills.
The fair is held at six of the historic farmsteads in Port Oneida. Each farm has a variety of artists, crafts, food, and activities for visitors. Click on the farm names below to see what's happening at each farm. A shuttle bus runs between the farms on a regular schedule during the fair, so you can park your car and easily get around to the different venues. Click here for directions and all 2016 Port Oneida Fair information.
Glen Arbor Arts Association August Kids Classes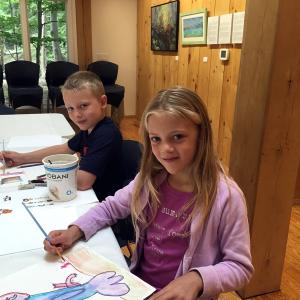 [source: visitglenarbor.com]
The Glen Arbor Art Association's Young People's Art Studio focuses on students' creative potential. The GAAA's experienced artist-instructors skilled at bringing out the natural creativity of young people and guiding them in finding their own self-expression. Classes are designed to provide the basics of art learning and to encourage the development of young artists.
August classes include workshops on storytelling and performance, clay sculpting, drawing, painting and more. Pre-registration is required. GAAA recommends registering at least two business days prior to any class you plan to attend. Head over to www.glenarborart.org, or call 231-334-6112.
Volunteer Preservation Project – North Manitou Island
August 18th thru 28th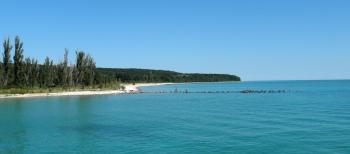 [source: visitglenarbor.com]
The folks over at Preserve Historic Sleeping Bear are planning their eighth trip to North Manitou this August to work on preservation projects on Cottage Row, a series of 1800s-era resort cottages sitting along the bluff overlooking Lake Michigan. Participating volunteers come for a minimum of three nights or more and have opportunities for hiking and seeing beautiful sunsets while they work to preserve some of the unique structures found on the island. Reservations fill up quickly and preference is given to previous volunteers. Ferry and housing on the island is provided. Click here for a volunteer signup form, or head over to the PHSB website (click here) for more information.