Cabin fever setting in yet? Long-range spring weather predictions for 2017 can be summed up in a word—average. Here's what that means for everyone planning a spring vacation in and around the Sleeping Bear Dunes. Read on.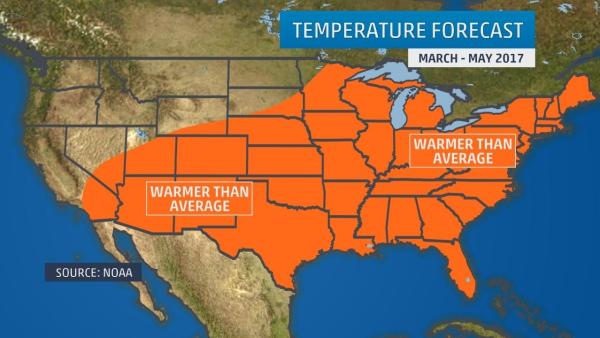 [source: weather.com]
Over the years, long-range forecasts by The Old Farmer's Almanac have proven to be right as many times as they are wrong. But it's still the first place a lot of people look because, unlike the experts, Almanac writers aren't afraid to go out on a limb.
The Almanac is currently calling for sporadic snow showers and cold to remain persistent through the end of March and the first week of April. Periods of rain and snow are expected to persist into the mid-month with temperatures warming just in time for the opening day of the Michigan trout season (April 27th).  One can only hope.
Click here to read the entire week-to-week Almanac forecast for March and April. 
April Showers
Most people in the business of predicting weather with tell you that—despite living in an age of satellite data and computer models—accurately predicting the weather beyond two weeks in the future is pretty much a crapshoot. But that doesn't stop them from trying.
The National Weather Service Climate Prediction Center is calling for above-normal levels of spring rain to fall in the region in April. But they more hedge their bets when it comes to temperatures, calling for "above-, below- or near-normal seasonal mean temperatures" over the next two months. 
[banner source: umich.edu]