Located due west of the Glen Haven beach and boat museum, Sleeping Bear Point Trail offers hikers a wonderful mix of sunny coastal scenery, shady forests, semi-secluded beach access and—as Bob Butz discovered—a very real chance of getting lost if you hazard to tackle the trail without a GPS.
Every year, you read stories coming out of the Sleeping Bear Dunes about visitors getting themselves in trouble to the point of needing rescue. Some of these are inexperienced kayakers who capsize on Lake Michigan or get caught in sudden storms. Others are visitors who disregard clear warning signs like this one at places like Pyramid Point and Pierce Stocking Drive…
 [source: mlive.com]
 Back in 2014, a surprising national park study found that the Sleeping Bear Dunes ranked 13th out of 100 parks, lakeshores and recreation areas for search and rescue operations. That year, there 47 search and rescue operations conducted to aid 61 people at the Lakeshore—higher than Olympic, Glacier and Yellowstone National Park. You can read the MLive story by clicking here.
 When piping plovers are on their nests in spring and summer, you will find signs at the trailhead banning pets (namely "dogs") on Sleeping Bear Point Trail. What you won't see are any signs that suggest—not even remotely—that you could get lost.
 I know what you're thinking: How hard is it to stay on the trail? Well, let me tell you.
 Everything was going fine, at first. Sleeping Bear Point Trail is a 2.8-mile loop with a spur trail that leads to Lake Michigan roughly .5-miles from the trailhead, west of the Glen Haven Boat Museum, at the end of Sleeping Bear Dunes Road. Except for the beginning and end portions of the trail that winds through a beautiful woodsy mix of pine, cedar, maple and birch, the trail cuts through a lunar-like landscape of rolling dunes covered with grasses, shrubs, wildflowers like this…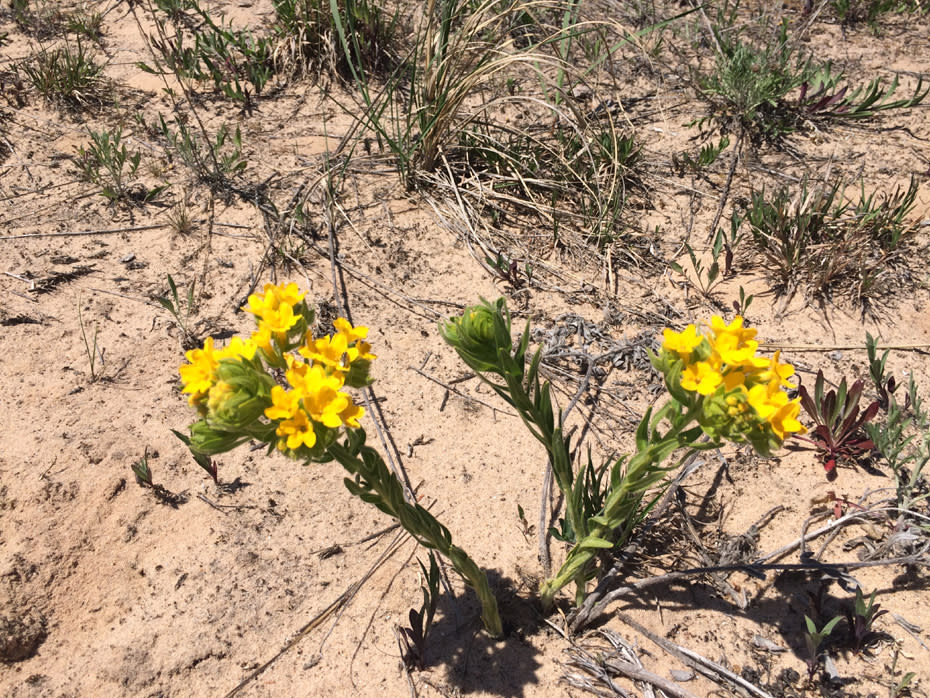 And views of the Manitou Islands like this…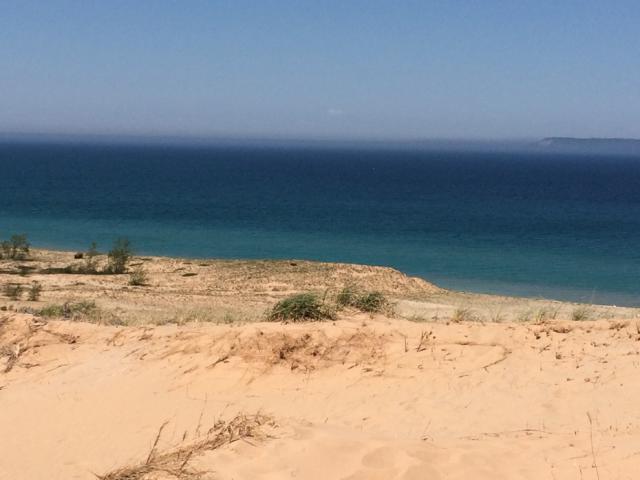 The beginning portion of the trail was great. It was sunny and, yes, and a little hot. But we brought plenty of water for what we thought was only going to be around an hour's worth of walking.
I didn't bring a map, because the trail is a single, solitary loop that—at least in the beginning—was clearly marked by the tracks of other hikers and those ubiquitous wooden trail marker posts like this…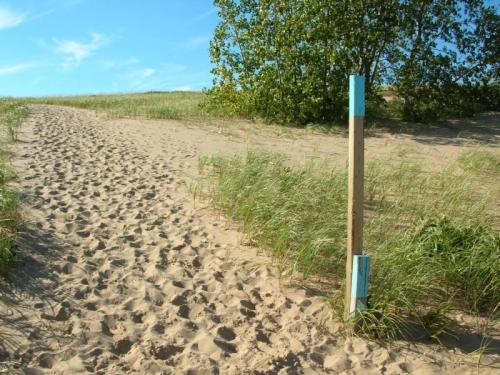 [source: nps.gov]
So everything was jolly and very fine. We were making good time, until it started to feel like we weren't. And just about that time, we came upon a trail marker post toppled over in the sand.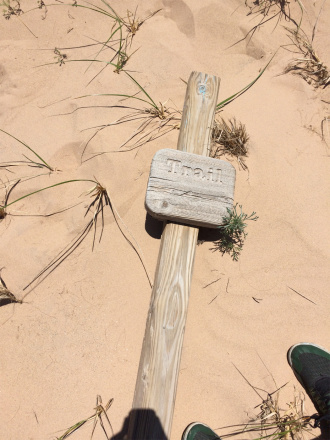 Not good.
I only found out later from a few other people who confessed that they, too, had gotten turned around themselves on Sleeping Bear Point Trail that this situation with the trail markers is not uncommon. The exposed terrain coupled with the constantly blowing, shifting sand causes trail markers to topple over all the time. And, I guess, sometimes they get covered up.
This was probably the reason that—out in the wide open—we saw tracks and trails cut everywhere in the sand from other hikers that I now can only guess were as equally befuddled as us.
We decided the best course of action was to stick to the road MOST traveled. I remembered from the map I left back in the car that the trail was supposed to reenter the woods after a mile or so. But 45 minutes later, we were still headed south and looking at Lake Michigan and miles of sandy coastline.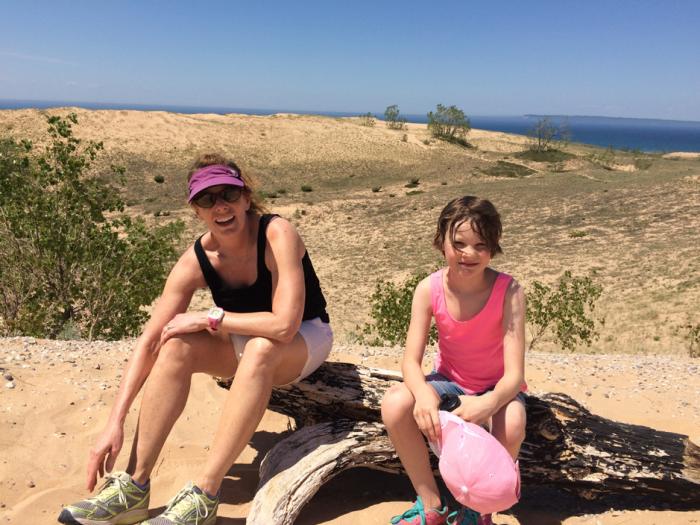 Stopping at one point to dump sand out of our shoes, I checked my phone and found the coverage good enough to bring up a mapping app I use for hunting. In addition to giving the user access to plot maps, maps showing property boundaries on public and private lands, OnXMaps also has a GPS feature and a trail map cache that showed with a click of a button that we had wandered more than slightly off course.
 With Sleeping Bear Point Trail appearing to be a mile or so behind us, the Sleeping Bear Heritage Trail was due East, less than a half-mile away over the barrier dune. As everywhere, there was sign of foot traffic headed in this direction. A half-hour later we made the woods where we hear the sounds of passing cars and could see bikers buzzing back and forth on the Heritage Trail just below us through the trees. It was kinda like this…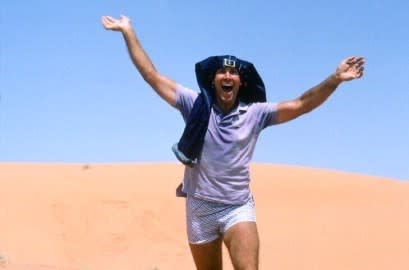 [source: Warner Bros.]
This far north of the Dune Climb, we were the only walkers on the trail headed to Glen Haven. My 9- and 13-year-old took the extra time to periodically complain about how tired they were, how thirsty, hungry and how generally wronged they felt by the injustice of it all. Of course, as their father, I took the opportunity point out how great it was to be spending time together and that nothing worthwhile was ever easy and that real, lasting memories—the kinds of experiences you never forget—are so often made when things don't necessarily go as planned. I also reminded them to look on the bright side…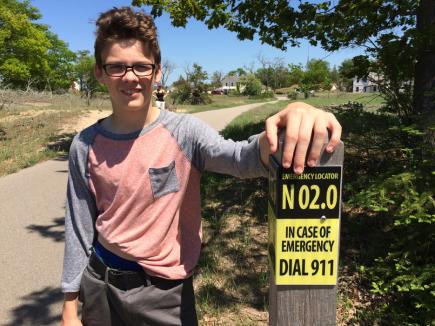 At least we didn't have to call 911.