Do you think you could hike 13 of the Lakeshore's main inland hiking trails in a single year? It's called the Trail Trekker Challenge, and local writer Bob Butz is giving it a shot along with his whole family.
In the first of this ongoing series of dispatches, Bob tells how he roped his wife and kids into doing the challenge with him, what you will and won't see hiking the Empire Bluff Trail with children on a snowy April day and why breakfast at Joe's Friendly Tavern should be on your after-hike plan. Read on.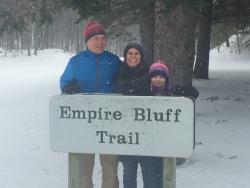 Empire Bluff Trail isn't the longest of the 13 Lakeshore trails you need to hike to complete the Trail Trekker Challenge. But if you're planning to tackle it with a nine- and 13-year-old who think walking down to the driveway to get the mail constitutes a hike—which is to say, most kids—it's probably a good idea to start small.
Oh, and promise them ice cream or a trip out to eat if they manage to push through the whole thing without griping, fighting with one another, or otherwise driving you insane.
Boldly Going Where 45 People Went In 2015
Back in January, this blog featured an interview with Bonnie Ricord offering her advice for people looking to complete the Sleeping Bear National Lakeshore's ultimate hiking adventure. In case you missed it, click here for the link.
Ricord and her high-school friend, Lena Cruz, worked with Lakeshore officials in 2011 to create the TTC as part of their Glen Lake senior project. Their idea was fun and wonderfully simple: just hike, snowshoe or cross-country ski all 13 mainland trails/hikes in the Lakeshore's Trail Trekker Logbook, in a single calendar year, (click here to see a PDF copy or pick up one at the Sleeping Bear Visitors Center in Empire) and you get to add your name to a surprisingly short list. Some 1.5 million people visited the Lakeshore in 2015, but only 45 people completed the TTC in 2015.
While reading the story, my mind vacillated between thoughts of what a loser I was in high school and, "Wow! How cool!" My family and I go to the Lakeshore all the time. But over the years, we've fallen into a sort of recreational rut—always hanging out at the same beaches; always sticking to familiar roads and trails when showing around our out-of-town friends.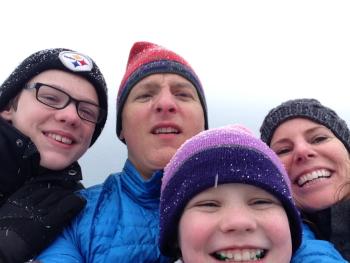 Is this thing on?
The biggest thing I accomplished my senior year was actually graduating. So on top of also reminding me how I had pretty much squandered my youth, Ricord and Cruz's Trail Trekker Challenge made me think about all those places in the Lakeshore I had never bothered to explore. Hiking all of Sleeping Bear's 13 mainland trails would definitely lead to seeing some new country. And getting the kids outside, running around in the woods, and working toward a goal as a family—well, there's definitely nothing wrong with any of that.
"Hey, kids! Remember that time we hiked all the trails in Sleeping Bear?"
I wanted to be the kind of parent who could say that some day. And my wife, a woman who treats hours of weekend "family time" like a drug, predictably agreed.
And Then Came The Snow
I've heard the Empire Bluffs Trail called "the prettiest one mile hike in Michigan." The trail is actually 1.5 miles. But you get the gist.
Here's a view of Lake Michigan from the trail's end in summer: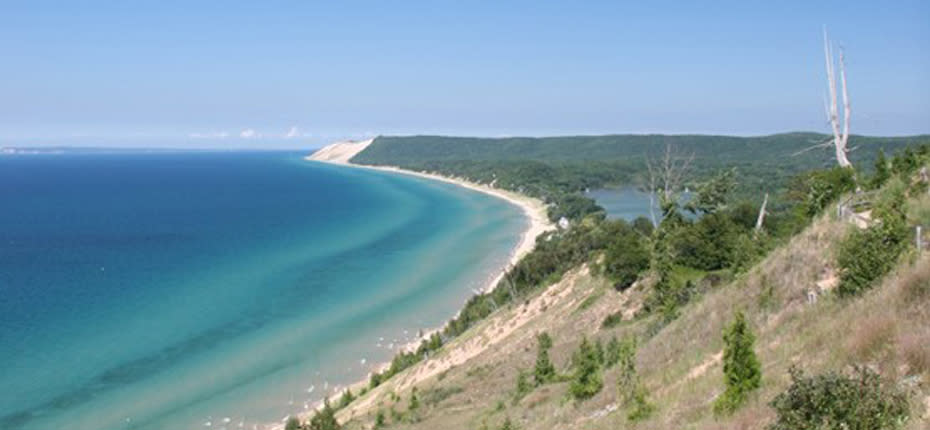 [source: nps.gov]
I knew Empire Bluffs as the one we always hiked with visiting friends and family—being careful to never get off the trail in the peak of summer, since the other thing Empire Bluffs Trail is locally known for is the endless carpet of poison ivy that lines the well-groomed footpath. The stuff is everywhere.
From the parking lot at the end of Wilco Road, just south of Empire, the trail winds its way through a pretty rolling forest of beech and maple trees. On a clear day in summer, Empire Bluff Trail packs a big scenic punch in short order with a wooded bluff looking out over South Bar Lake and, a little further through the woods after you hike up a gentle grade of steps cut into the hillside, a view of Lake Michigan and—if the sun is shining—South Manitou Island.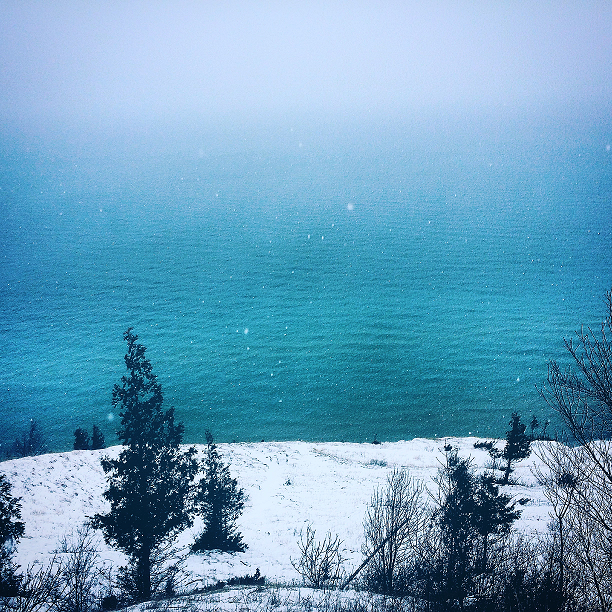 As the above photo shows, it was neither sunny nor clear the day we hiked Empire Bluffs. It was the last day of "spring break 2016," and a not-so-rare April snowstorm had just dropped a couple inches on the ground. There were no deer tracks. No tracks of anything on or anywhere near the trail. It was my daughter who pointed out that we hadn't even seen a bird. But that's not usual when walking in the woods with a couple of kids; especially, in the open forest in northern Michigan come winter…even if it's technically spring.
Eat At Joe's
The only wildlife we did see was after we returned to the car. Turning out of the trailhead parking lot, I spied a gang of deer bedded down on the snowy hillside overlooking Wilco Road, to which my kids replied almost in unison, "Nice. Now where are you taking us to eat?" Given the early morning hour and the weather, we decided ice cream could wait and instead made our way down to Empire and Joe's Friendly Tavern for breakfast. Opened in 1946, Joe's is best known for its burgers around the village. There is also Joe's American Ale (brewed by Old Nation Brewers in Williamstown, Michigan, and if we had arrived after the noon hour I probably would have had one. The service at Joe's lived up to the name. My wife and I opted for coffee and omelets and the kids: bacon, eggs, a couple of pancakes the size of dinner plates and two glasses of Joe's Signature Draft Root Beer. The bill was around $50.