Hang gliding, island deer hunting, catching salmon from a kayak and searching for buried treasure are a few outdoor recreation options at Sleeping Bear Dunes that you don't hear about every day. But all are possible inside the boundaries of the Sleeping Bear Dunes National Lakeshore for anyone with the gear and the skills.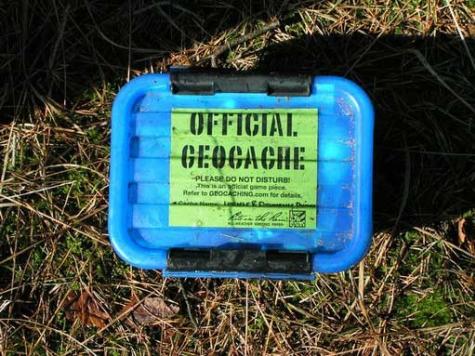 Geocaching
A recreational activity of hunting for and finding a hidden object by means of GPS coordinates posted on a website, geocaching at Sleeping Bear is an activity that doesn't get a lot of press even though there are hundreds of hidden caches to be found if you have a GPS and love to hike on and off the beaten path.
The first step to finding a cache is heading over to www.geocaching.com and plugging in a zip code for the nearest Lakeshore town.  For instance, punching in the zip code for Empire (49630) reveals over 300 pages of nearby treasures. Each has fun descriptions of what you're looking for, a description of the terrain in which its hidden and the level of difficulty in reaching it.

Salmon-A-Rama 2014
Every September during the height of the salmon season, dozens of big-water kayak fishermen from all over the state converge on Sleeping Bear's D.H. Campground for a fishing adventure like no other. Organized by Michigan Kayak Fishing, the largest kayak fishing community on the Great Lakes, this friendly, week long get-together is open to anyone who likes to paddle or fish from their kayak.
Headed into its 9th year, the event is free (and you don't even have to go camping to participate). Just stay at one of the Visitors Bureau member properties, and show up during the get together to fish or simply learn what kayak fishing is all about. While anyone can get involved in a little friendly completion while fishing offshore or in the Crystal River, participants also have the option to just go out and paddle with other kayakers for the love of kayaking and the beauty of Sleeping Bear, all while enjoying the company of other kayakers. Check the MKF website for more information along with upcoming dates for this year's trip.
Learn to Kiteboard
If you've spent any time hanging out on the beaches of Sleeping Bear when the wind is blowing out of the west, you've probably seen kiteboarders ripping over the water and leaping over waves. If it looks like fun and you ever wonder just how they learned to do that, look to longtime supporters of the Sleeping Bear Visitors Bureau and the men behind M-22 apparel, Matt and Keegan Myers (a.k.a The Broneah Brothers).
Since founding Broneah Kiteboarding in 2002, the brothers have taught hundreds of people (average age 35 to 50) the intricacies of this exciting sport. Unlike with skiing or snowboarding, you can't rent kiteboarding equipment just to try it out. The gear — board, foot straps, bar-line, wetsuit and kite — can run anywhere from $800 to $2,500. But with a one or two-day Broneah learning camp (priced $399 and $599, respectively), Matt and Keegan Myers can show you their proven system for getting newcomers up and riding the waves. They can also hook a new student up with gear no matter what the budget.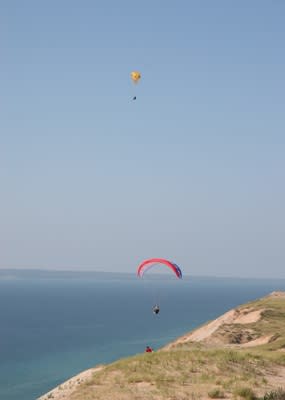 Hang Gliding
Launching and landing of powerless sailplanes, balloons, hang gliders and paragliders is permitted at the Sleeping Bear Dunes at Empire Bluff, Pyramid Point, Dune Climb (November 1st to March 31st) and the Lake Michigan Overlook on the Pierce Stocking Scenic Drive.
Hang gliding and paragliding pilots must have a current U.S. Hang Gliding Association proficiency rating of H-2 to P-2 or greater. A free powerless flight permit must be obtained at the Philip A. Hart Visitor Center Information Desk. The operator must be in possession of the powerless flight permit and a valid Lakeshore pass when launching or landing on the Lakeshore lands. Powerless flight permits are valid for the calendar year. For more information, check out http://www.nps.gov/slbe/planyourvisit/powerlessflight.htm.