Is spring actually here to stay?  Or, is winter still lurking behind what we like to call "fake spring"?  If you have lived in Michigan (particularly Northern Michigan) you'll know what I'm talking about.  If you haven't, well, it basically means we are teased with warm temperatures and sunshine only to be abruptly disrupted by another dreaded, late-season snowfall.  I think it's safe to say we're all crossing our fingers that spring is here to stay.
With temperatures rising, we rejoice in the things we all fondly miss during the frigid winter months. The smell of the crisp spring air or light rainfall, the vibrant shades of green of the leaves and grass, and colorful flowers all begin making their return.
Perhaps the one thing we miss most in Michigan during the winter is the sun. And, lack of sun, unfortunately, means a lack of sunsets. Of all the photos captured of Sleeping Bear, sunset photos of our beautiful region never get old.  We are blessed in Northern Michigan to experience breathtaking sunsets. If you're looking for some of the best places in the area to watch the sunset this summer, you've come to the right place. We revisited with a couple of our area's local photographers to ask them where their favorite sunset spots in the Sleeping Bear region are. 
Here are their top five sunset locations:
Pierce Stocking Scenic Drive at Overlook #9 
Last winter, we saw some of Brady McDonough's captivating winter shots, and you probably won't be surprised to find out that his summer shots are just as breathtaking.  One of Brady's favorite spots is along the Pierce Stocking Scenic Drive, a 7.4-mile self-guided drive located between Glen Haven and Empire. This captivating picture was taken at the #9 Overlook at Pierce Stocking.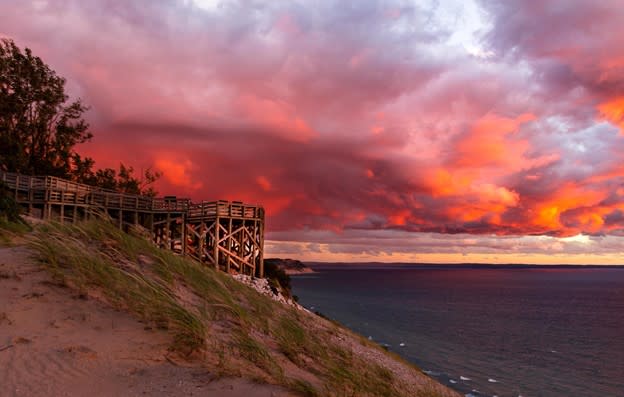 Miller Hill
Miller Hill is a favorite among locals. Even just making your way to the top of Miller Hill is quite the adventure as you pretty much have to go two-tracking on your way up. This adventure makes the experience all the more unique and exciting. At the top, you'll be able to see both Glen Lake and Lake Michigan, so you pretty much get the best of both worlds with this one.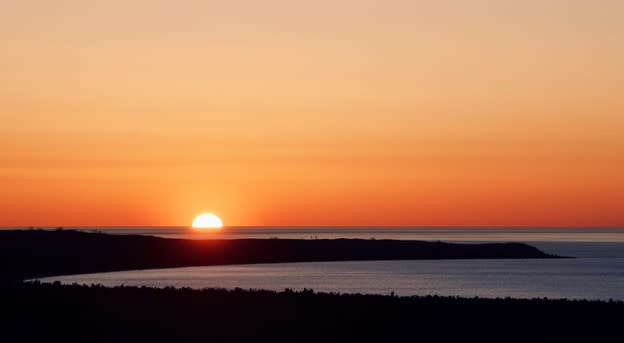 Glen Haven Beach
One sunset spot that you can never go wrong with is Glen Haven.  This once logging Village, turned ghost town has now been restored by the Sleeping Bear Dunes National Lakeshore to take visitors back in time to when the small town and docks supplied fuel to Great Lakes steamers. The beach is an absolute classic and has become a highly visited destination located just south of Glen Arbor. With ample parking, this is a great location to quickly catch the sunset over beautiful Lake Michigan.  You don't have to go far, and there is plenty of beach to immerse yourself in the mesmerizing view.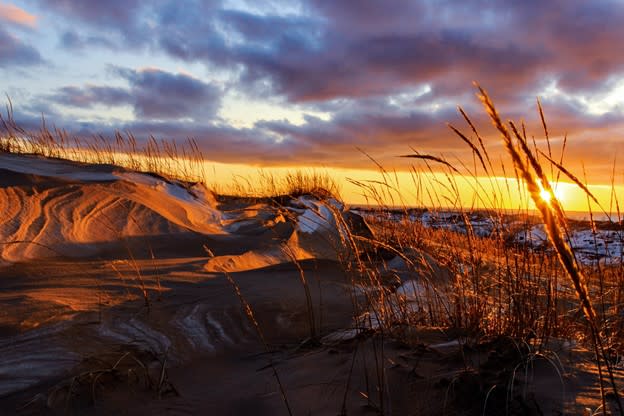 The Beach at The Homestead
The Homestead, the bureau's lodging partner, is a four-season resort located just north of Glen Arbor and sits on some of the most amazing shorelines of Lake Michigan. The resort offers a variety of accommodations, activities, and restaurants.  But, it also offers beautiful views of the fresh body of water, also known as the Sleeping Bear Bay, and both Manitou Islands.  Brenton Wadsworth, another local photographer, chose the beach at The Homestead as his go-to location to watch and capture the sunset.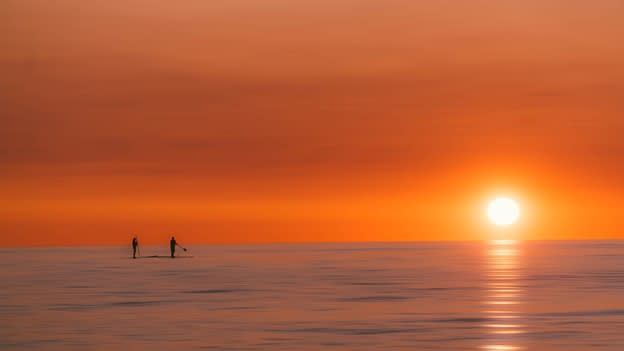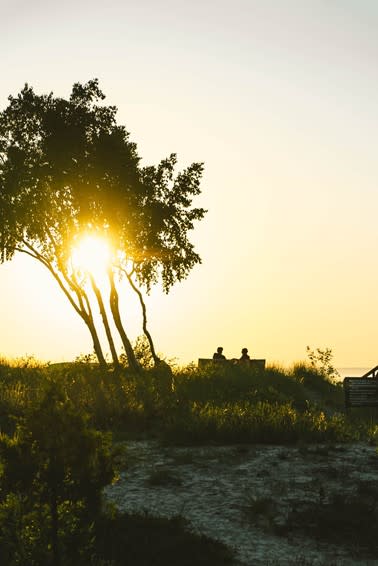 Glen Lake
Glen Lake is notorious for its incredibly clear turquoise, "Caribbean Blue" water. You can always find it filled with every watercraft imaginable on any given day of the summer. But after all of the boats have been docked and covered for the night, you can also expect one of the best sunset views from the middle of the lake. This, of course, is much easier with a boat.  If you do not have one —consider renting a powerboat or pontoon or kayak from local shops on Glen Lake or in downtown Glen Arbor. Watching the sunset from the lake gives you a much more unique perspective and surely will not disappoint. Below is one of Wadsworth's stunning photos captured from Glen Lake.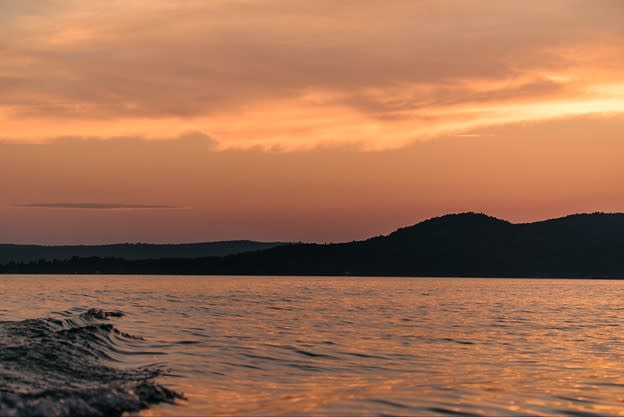 As the weather gets warmer and the days get longer, we all anticipate the return of the warm summer nights spent watching the sun go down. Now you know some of the most picture-perfect places you can do so.
Follow these two photographers:
Brenton Wadsworth, visit his website here
Brady McDonough, follow him on Instagram @brady_mcdonough
Be sure to share your favorite sunset photos on the Sleeping Bear Dunes Visitors Bureau Facebook page.