The Sleeping Bear Dunes had over 1.5 million visitors last year, but only a handful can lay claim to hiking every mainland trail in the park—that's 13 trails and almost one hundred miles. It's called the Trail Trekker Challenge, and we caught up with one of its creators—Bonnie Ricord—to get her advice to help you tackle the challenge in 2016.
Two Glen Lake area high school students, Bonnie Ricord and Lena Cruz, created the Trail Trekker Challenge in 2011. Cruz now teaches English abroad and, Ricord—a Gold Award Girl Scout who also worked as a Youth-in-Parks intern at Sleeping Bear—now works for a river conservancy in California.
"The Trail Trekker Challenge was created to motivate people to see some of the amazing places within the National Lakeshore beyond the Dune Climb," says Ricord. "It's a great way to see Sleeping Bear while also getting some exercise."
Complete all of the National Lakeshore's 13 mainland hiking trails in a single year, and you can add your name to very short and elite list. Click here to see it. Only 33 people completed the challenge in 2015.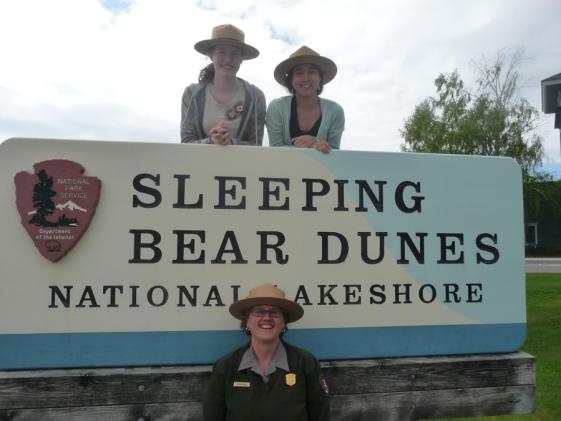 Bonnie Ricord (left) Lena Cruz (right), and then Lisa Myers (bottom). In 2011, Myers was Sleeping Bear's Chief of Interpretation and was also a mentor for Ricord and Cruz, who launched the Trail Trekker Challenge as part of a Glen Lake High School senior project. 
Start Short
There are 13 trails/hikes in the Trail Trekker Logbook (click here to see a PDF copy). To get a few under your belt while also conditioning yourself for some of the longer hikes such as Bay View Trail (7.5 miles) and Alligator Hill (8 miles), Ricord recommends completing some of the smaller in the National Lakeshore first.
The three shortest on the list—Empire Bluff Trail, Windy Moraine and Cottonwood trails—are all just 1.5 miles, round trip. Starting small is also a good idea if you're trying to hook friends into doing the entire challenge with you, says Ricord. Likewise for families hiking with small children. Don't bite off more than you can chew right from the get-go and you pretty much guarantee hours of quality time outdoors all year. 
Give Each Hike A Theme
Hiking can be a bore, especially for children, if you're only purpose in being out there is to rack up miles. Use all your senses, says Ricord, and look for something new every time you go out.  That could mean drawing up a list of items. In other words, turn the hike into a scavenger hunt. Or it could simply mean bringing along a guidebook that will help you learn about songbirds, fungi, animal scat, wildflowers or animal tracks.
Hike, Ski or Snowshoe All Season Long
Ricord likes springtime hiking in the park for bird watching, summertime walks for fabulous sunsets, swimming, and berry picking/flower finding; and fall for all the wonderful colors. But you don't have to wait until the snow melts to begin the Trail Trekker Challenge. Start now on a pair of cross-country skis or snowshoes, says Ricord, who recommends attending one of the ranger-led snowshoe hikes led every Saturday through March 7th at Sleeping Bear. (Click here for more information.)
Time To Reconnect
In the world of digital overload, says Ricord, spending a little time disconnected can allow you to better reconnect with important people and the beautiful world around you. Invite a friend you haven't seen in a while to go hiking with you, she says, or bring along a family member. Unless you're using one of your smartphone for its mapping software or an app to help you identify birds or flowers, try turning it off out on the trail. You'll get exercise, fresh air, and a great way to reconnect all in one! 
Hiking With Kids?
When hiking with children, says Ricord, her best piece of advice is to simply let go of expectations when it comes to how much ground you're looking to cover. Try to relax and be open to stopping for nature discoveries and lots of snack breaks. Bring along some "tools," such as a camera and/or magnifying glass, to help make the experience really interactive when hiking with small children. 
The Toughest Trails
What's the toughest trail on the Trekker list? In Ricord's opinion, that would be the Dunes Hiking Trail (3.5 miles) that runs from the top of the Dune Climb and all the way to Lake Michigan. Many unprepared visitors have tried to tackle this hike thinking Lake Michigan was "just over the next hill." The rolling terrain is pretty deceptive and, without a map or water, most people end up giving up.
The trail can be especially tough in the heat of summer, says Ricord, since there is no shade coverage on the dunes. So bring plenty of water, and try to tackle this one early in the morning or late in the evening well before dark. Wear or bring a swim suit so you can go for a dip once you reach Lake Michigan, she says. Other tough trails are Alligator Hill (especially for cross-country skiing), and the Sleeping Bear Point Trail. 
Never Leave The Trailhead Without It
Beyond packing an ample amount of water, Ricord recommends hiking with sun/bug protection and multiple layers of clothing (and maybe some packable raingear) for the ever-changing weather conditions you might encounter on the trial. Ricord's a big fan of nature guides (What's Doin' the Bloomin', a wildflower guide, is one of her favorites). Free maps are no longer available at the trailheads of Lakeshore hiking paths. Most people simply download all the maps on their smartphones, which is more convenient and cuts down of waste. A good app to try is called "Experience 231" and comes from Friends of Sleeping Bear Dunes. Click here to find out more. 
[banner image courtesy of mymichigantrips.com]