The season change is in full effect and the fall foliage is officially making its return to Northern Michigan. The vibrant hues of red, orange, and yellow leaves make for some of the most stunning scenery. With fall being arguably the most photogenic season, it only makes sense to visit some of the best places in Northern Michigan to enjoy the colors.
Treat Farm Trail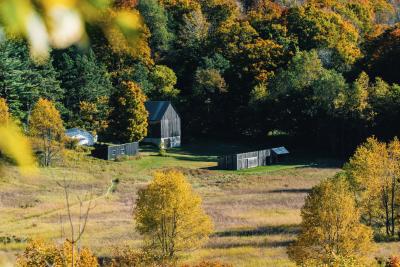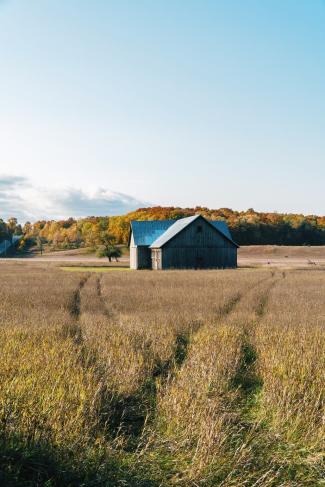 The Treat Farm Trail is unique in the many different views it gives hikers along the way. Around each corner is a new surprise that will leave you stopping every five minutes to soak in what is in front of you. Although breathtaking in the summer, I would go as far as to say this trail is best to visit in the fall. As pictured above, this view gives hikers an elevated view of the changing fall leaves along with the beautiful blue Lake Michigan. What more could you ask for?
The Treat Farm trail is located just south of Empire and is considered a moderate trail that is 2.3 miles long out and back.  
Visitors will also enjoy stepping back in time as they view the historic farmhouse, root cellar, rainwater collection system, and concrete dome garage.  
For more information, the farm's history and a map, visit here.
Scenic Drive off of S. Benzonia Trail
This next spot is one a little more off the beaten path. It is a scenic lookout that even locals might not know about. You can find this hidden lookout right off of S. Benzonia Trail right near Glen Lake. The road might sneak up on you, so make sure you keep a close eye for it.
I actually discovered this lookout on accident while driving one day and I can definitely say I was pleasantly surprised with what I found. As pictured to the right, this lookout gives you a perfect view of the fall foliage and is one of my favorite stops to make each fall. It is perfect if you are looking for something quick rather than a long hike.
  3. Empire Bluff Trail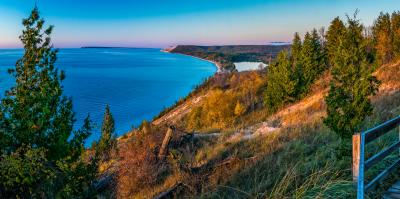 The Empire Bluff Trail may be a bit more familiar to you if you've visited Northern Michigan. It is a must-see as it provides one of the best views of Lake Michigan. With a medium difficulty level, the 1.5-mile hike is just enough to make you feel like you're getting a good workout in all while enjoying the serene nature the trail has to offer.  
For more information on this trail or the 12 other mainland trails that encompass some 100 miles included in the Sleeping Bear Dunes National Lakeshore, visit here.