Ice-skating, cross-country and downhill skiing! The winter has officially begun in Sleeping Bear. Super snow conditions and colder than normal temperatures means lots to do outdoors in the holiday week between Christmas and New Year's Day.
It looks like it's going to be a white Christmas in the Sleeping Bear Dunes this year—very white. Arctic temperatures and lake-effect snow have put the Sleeping Bear region under a winter advisory since roughly December 8th.  And that means good news for anyone looking for a little Nordic fun.
Cross-Country Skiing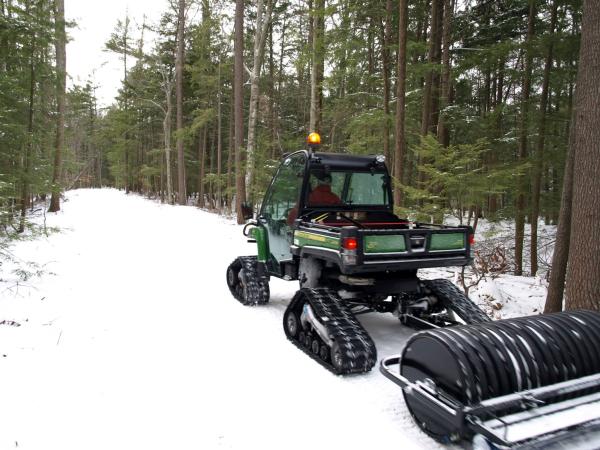 Of the eight designated cross-country ski trails in the Sleeping Bear Dunes National Lakeshore (click here for a complete list), the Heritage Trail has quickly risen to become the region's most popular. Friends of Sleeping Bear Dunes have got an early start on trail grooming and last week announced on their Facebook page great cross-country ski conditions that will only get better as winter weather continues.
Glen Arbor to Empire (9.5 miles)
Groomed December 19th. Excellent Conditions. Groomed with classic tracks. Some open areas around Glen Haven and the Dune Climb where wind has blown snow off the trail.
Glen Arbor to Port Oneida Road (3.5 miles)
Not Groomed. Planning to groom Tuesday, December 20th.
Port Oneida Road to CR-669
Not Groomed.
Friends of Sleeping Bear Dunes were also busy this past week grooming trails at the Leelanau Conservancy's 707-acre Palmer Woods Forest Reserve. In a partnership with Friends of Sleeping Bear Dunes, the Leelanau Conservancy plans to continue grooming 3.5 miles of trail throughout ski season.  Click here for a trail map and directions to Palmer Woods.  
Ice Skating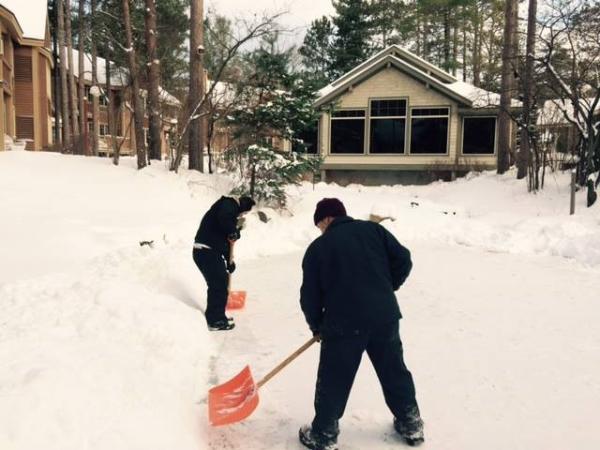 Prepping the ice on Fiddler's Pond, The Homestead. 
Workers at The Homestead began clearing the snow from Fiddler's Pond on December 19th. Located in the heart of the Sleeping Bear Dunes National Lakeshore, The Homestead's outdoor ice rink officially opens Christmas weekend and is free to use. No skates? No problem! Skates can be rented for a small fee from Mountain Flowers (call 231.334.5000 to inquire about equipment availability and pricing). Once you're done, a hot chocolate, sandwiches and/or a warm meal is just steps away at Cavanaugh's Deli and CQ's Cabin.
Downhill Skiing And Snowboarding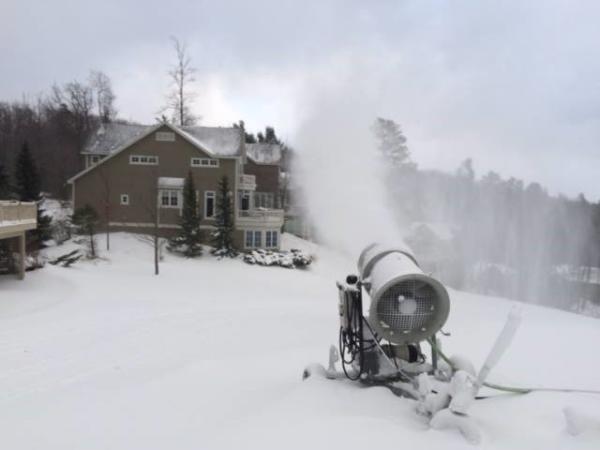 Since the week of December 14th, snowmaking guns have been adding a little extra white stuff to the blanket of snow Mother Nature has been dropping on ski slopes at The Homestead. To kickoff the 2017 ski season, the resort announced this week on their Facebook page that lifts open Friday, December 23rd at 1pm with a special offer for holiday weekend skiers—$10 lift tickets and $10 rentals this Friday and Saturday only. Click here to check out the resort's Facebook page and click the "like" button to get the most up-to-date snow conditions and resort offers sent directly to your newsfeed.