But there's still a lot of outdoor fun happening this month in and around the Sleeping Bear Dunes. From craft beer tasting and skiing to ladies only ski clinics, ranger-led Lakeshore snowshoe hikes to the Glen Lake Winter Fest, check out this shortlist of February's top activities and events.
Ranger-Led Snowshoe Hikes February 13th, 20th and 27th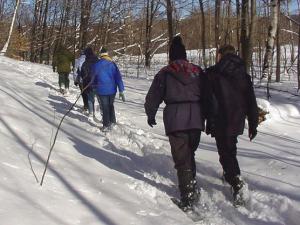 [source: nps.gov]
Come explore Sleeping Bear Dunes National Lakeshore on snowshoes this winter! Join park rangers for a guided snowshoe hike every Saturday in February. Snowshoe hikes are offered every Saturday at 1 pm. Participants are asked to meet prior at the National Lakeshore's Philip A. Hart Visitor Center in Empire. If you don't have your own snowshoes, a pair will be loaned at no charge. Participants need only purchase the park entrance pass or have an annual pass to join in the fun. Reservations are required whether you need to borrow snowshoes or have your own. Ranger-led snowshoe hikes are limited to 30 participants. Please call 231-326-4700, ext. 5010, for details and to make reservations. If you make a reservation but then need to cancel, please call and let us know so we can contact visitors on our waiting list. Click here for more information.
Friday Night BrewSki February 12th, 19th, and 26th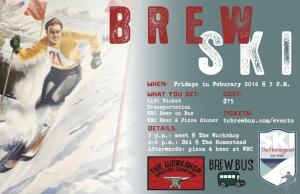 The Homestead, T.C. Brew Bus and The Workshop Brewing Company in Traverse City have teamed up to bring you a fun, new Friday entertainment option in February. Just bring your ski or snowboard gear to The Workshop Brewing Company any Friday in February 5th by 3:00 pm sharp. From there, TC Brew Bus will shuttle you out to The Homestead for skiing from 4 pm until 8 pm. After you're done hitting the slopes, you'll be shuttled back to The Workshop Brewing Company for beer and pizza. Cost is $75 per person, and prepaid reservations are required. Ticket price includes beer on the bus, lift tickets, and pizza and a beer at WBC afterwards. Tour requires a minimum of four people. For more information, call The Workshop Brewing Company at 231.421.8977. Click here to book tickets online.
Glen Lake Winter Fest 2016 February 13th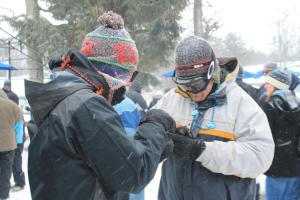 [source:visitglenarbor.com]
Perch fishing, a chili cook-off and lots of winter family fun are on the docket this month at the annual Glen Lake Winter Fest. Festivities start at 7 am on February 13th with the beginning of the traditional perch-fishing contest, which offers prizes for 1st through 4th place catches. All participants will bring their biggest catches from Big and Little Glen Lake to the Sportsman Shop at 1 pm, and winners will then be crowned. Entry fee for this event is $20, and all ages are welcome. The Winter Fest chili cook-off starts at Noon at Boonedocks in Glen Arbor. Entrants will compete to earn chili bragging rights, and all variations of chili will be considered. Popular vote will determine ranking for 1st through 5th place. All proceeds from the chili cook-off go directly to the Glen Lake Chamber of Commerce's Glen Lake Schools Scholarship Fund. If you'd like to participate, the entry fee is $25 per chili. Admission is $10 per person, which includes unlimited chili samples. Admission for kids 12 and under and seniors (over 70) is $5. Click here for chili cook-off and perch fishing competition entry forms.
Ladies Day Clinics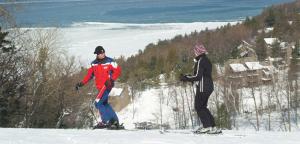 [source: thehomesteadresort.com]
Enjoy learning to ski or improving your technique in an unintimidating, safe and fun environment with women instructors who understand what it's like for women to learn to ski...at any age. You'll participate in three, small group ski or snowboard lessons, rental equipment and lift ticket. After completion of three clinics, participants will receive a Sunday-only season pass to use for the remainder of the season. The format of this two-hour group lesson ensures success by teaching the basics - including dressing for comfort, an explanation of how the equipment works, how to stop and turn, mountain safety and riding the chairlift...all while having some fun and meeting new people. Lessons begin at 10 am. Advance registration required through The Homestead's Snowsports School at 231.334.5249. Please arrive and check in at least 30 minutes in advance to be fitted for equipment.