Glen Lake Community Library re-opens after renovation and expansion.
The Glen Lake Community Library's renovation and expansion is done and the library is up and running – or should we say reading – at 10115 W. Front St. in Empire. The doors opened officially on Sept. 8, 2020 with spacious windows, gray siding, and nautical blue signage, after a stint in the very notable neon green building that temporarily housed the library, known as the "Limebrary."
"The space looks and feels like an entirely new library," said David Diller, library director for the past 23 years. "We have expanded seating and program capacity with lots of room for collections, media, people, and activities."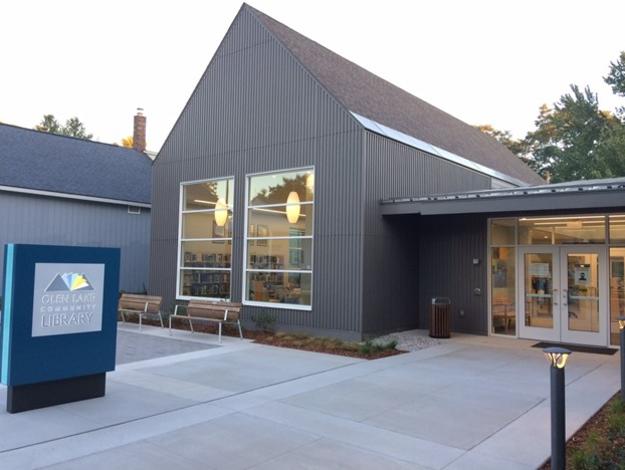 The new library is open Monday-Saturday. (Mon, Wed, Fri, Sat 10-5 and Tue, Thu 10-7.
The new library has a few eye-catching details: a fresh new logo, a gas fireplace, and funky, fun fabric choices that invite cozy sit-ins and quiet meet-ups.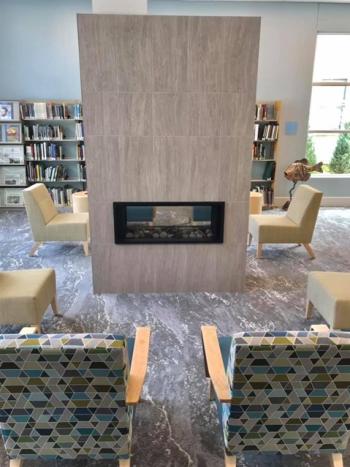 "We have doubled in size from 3,000 to 6,000 sq. feet," Diller said. "It feels much bigger than double due to the openness and the design. It's beautiful."
C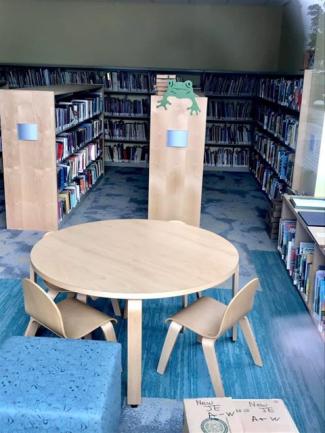 hanges include a more inviting children's section that is 3 to 4 times bigger than before, additional computer resources (including public access computing), more seating, and a lounging area, along with private and smaller tables for solo or small group studies. There is now also a free community room for use by community non-profits that can hold up to 50 people, once Covid restrictions allow.
The changes also include better WiFi, something that is a huge asset in Leelanau County where cell phone reception is spotty.
"We upgraded our WiFi capacity with access points throughout the building," Diller said. "We have strong reception throughout the building and good, speedy service."
The Fund Raising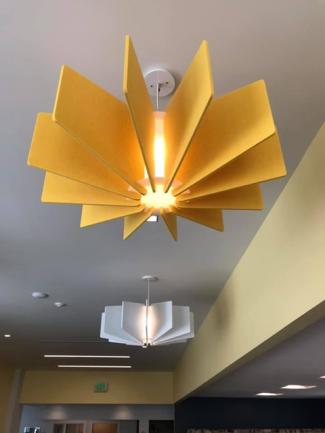 The library serves about 3,600 residents in Glen Arbor, Empire, and Kasson townships. Six years ago, the opportunity to purchase property adjacent to the library presented itself and the library's vision for future growth began.
Since then, the library has raised $1.85M in private donations to fund the building of the library.
"It has been funded all through donations, while the millage goes toward operations," Diller said. "The last stage is to finish our landscaping on the south end of the property with decorative trees and fencing to keep the deer out. In warmer months, the area will be an extension of our space."
Pave the Way!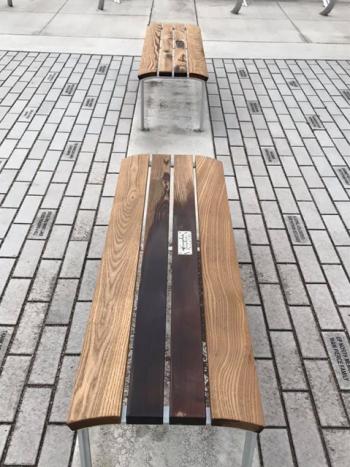 One of the library's fundraisers is to offer the purchase of a paver engraved with your name, names of loved ones, or a library-like quote. Pavers purchased now through next spring will be installed in early summer of 2021 on the front plaza and south entry. Profits go to support the south entry landscaping. Each paver costs $150.
Community Read
The library continues to wait and work patiently with Covid restrictions.
"We'd love to have more community activities when we can," he said. "We will host some fall or winter events mostly online."
In November, the four public libraries in Leelanau County are coming together to host a "Community Read" - a series of online discussions about the book We Hope For Better Things by Erin Bartels.
"The book has regional interest because it is set in Michigan," Diller said. "It's been selected as a Michigan Notable Book and reviewed as one of the best books in the last year."
The library has a limited number of copies on hand, or you might like to pick up the book from your favorite bookseller. Diller says he is looking forward to it as a means to bring the community together, despite Covid restrictions.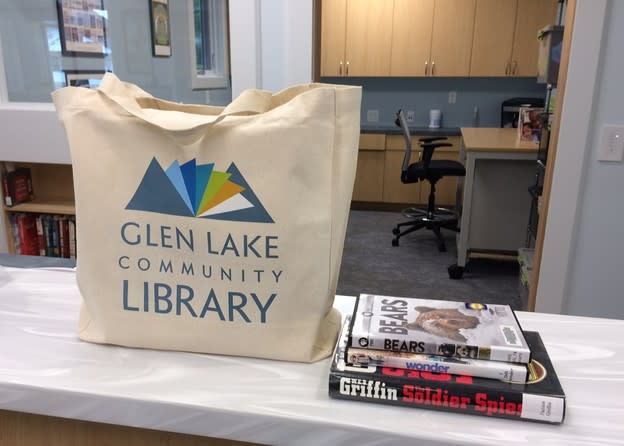 The 2020 edition book bags are available for $7.50. They're made of light but sturdy cotton canvas, with the new library logo and are available at the front desk.
Covid Restrictions
The library and its patrons are cooperative with the Covid mandates, Diller said. Patrons and staff must wear a mask, and the library has installed a new automated hand sanitizer dispenser at the front entrance. When borrowed books are returned, they are put in a plastic bin for a few days before further handling. Once they are checked in, volunteers physically clean each item before it goes back on the shelf. In addition, daily and nightly cleaning has been increased throughout the library.
The Community
"People have been looking for this kind of space," Diller said. "Now more than ever, we are all seeking that community connection. People are coming and going, for the most part, these days, but some are starting to stay and lounge some. Once we get through Covid, people will feel even more comfortable and we will be here!"
Visit the library online at www.glenlakelibrary.net.