Leelanau Peninsula is host to many events year round. But wine events are in a league of their own. Maybe it's the special theme or the buzz of the crowds. Or perhaps it's the addition of food and/or music...the two things wine was practically invented to be paired with. If you're looking for an upgraded wine weekend that goes beyond a routine itinerary of tastings, here are the top 3 MUSTS to add to your bucket list (plus a few extras!)
By Erin Rose | Libation Lover
Spring Sip & Savor - First Weekend in May  
Theme: Spring/Kentucky Derby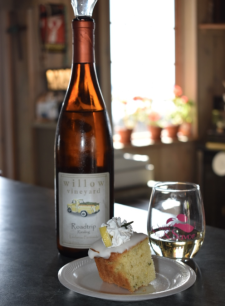 My Pick for: Girlfriends Weekend
Cost: $40 per person (covers both days)
Though the first weekend in May is by all means early spring here in northern Michigan (or at least since I've been here since 2016), it certainly doesn't deter this crowd from shimming into their derby dapper (hats and all) to enjoy wine and food pairings at all 27 wineries along the Leelanau Peninsula Wine Trail.
Pros:
Nice shoulder season lodging deals

Great photo opps with the ladies in your life—especially if you rock your hats!

Excellent pairings. I honestly can't choose favorites here. They're just all delish.
Cons:
The weather could be chillier than where you're traveling from (50s - 60s).

Things might be budding (pretty iffy considering this past winter) but probably not blooming—though it IS Michigan, so you never know…

Probably not the best event if you have severe diet restrictions such as gluten free, vegan, etc. Stick to a regular wine tasting tour so you won't feel tortured.
Other Advice :
Bring a jacket—no matter what your weather app tells you

Don't forget to pace yourself; tickets are good for the entire weekend so you can always head back out on Sunday!

Don't forget your water. Keep it in your car and sip between stops. Trust. Me. On. This One.

Consider stopping for a light lunch at some point in the afternoon. Wine tasting, laughter and exploring makes you extra hungry and the pairings are typically just light nibbles.
Tickets and more info: https://www.lpwines.com/events/spring-sip-savor/
Mothers Day   
This isn't an event per se, but many of our wineries go the extra mile in honor of mom! Think complimentary tastings, deals on wine by the glass, snacks or bottle purchases. Plus, most moms love wine, so this is a no-brainer. My favorite stops for this particular day: Verterra Winery, French Valley Vineyards, Leelanau Cellars, Chateau Fontaine, Aurora Cellars.
Best Bets for Lunch Stop: Rove Estate (nice charcuterie boards), French Valley Vineyards (onsite brick oven pizza!), Leelanau Cellars (there's a great restaurant next door and also on the water). Hearth & Vine Cafe at Black Star Farms is also great but closed until later in May.
(Photo Credit: Rove Estate)
Small Plates (May 30, 2019 and August 15, 2019)
Theme: Intimate, Exclusive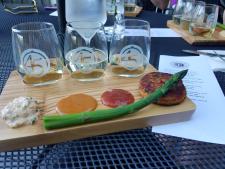 My Pick for: Memorable Date Night or Dinner with Friends
If you're a foodie with an interest in how wine enhances the flavors of various dishes, this is a MUST. My personal favorite trail event, Small Plates is the one time of year these gorgeous trail destinations transform into swank bistros—and I don't exaggerate here.
The participating wineries typically pair up with a local restaurant or caterer and plan this menu months in advance, giving you a tapas-portion meal generously paired with a full glass of wine. While you can't pick them all because you can only enjoy so many meals in an evening, whichever 1-3 wineries you choose, you can't go wrong. They pull out all the stops at this unforgettable event.
Pros:
Focuses on pairing wine with meals (which is really wine's true calling)

Awesome way to enjoy a summer evening in the vineyards with your other half or friends.

Insanely delicious
Cons:
It's not set up for a traditional tasting experience

You do have to choose, and once you see the menu, that's hard!

Tickets sell out pretty quickly so I wouldn't put this off much longer.
Tips:
Plan strategically. Personally, I'd keep no longer than 20 minutes in between stops. Try to plan your last stop close to where you're staying, which in Glen Arbor means Cherry Republic.

Buy a bottle of wine at this one. Plus, now you know what it tastes so delish with.
Learn more and tickets @ https://www.lpwines.com/events/small-plates/
Wine on the Water - Third Saturday in July
Festivals have become rather "meh" in the past few years for many people - myself included. I'm not quite sure whether it's because there are just simply too many of them, the crowds can be exhausting, or they've just lost their general luster. That's why I'm surprised how much I truly enjoy and look forward to Wine on the Water. As do many locals. In fact, I'm probably digging myself a 5'6 wide hole for sharing this one because while the vast majority of people come and go earlier in the month for The National Cherry Festival, this event is what us locals do to celebrate summer. So sssshhhhh….
I was a little bummed last summer when the festival was postponed due to weather, and as a result, I was unable to make it. But the summer I attended in 2017 was an incredibly memorable day. Where else do you get to taste wine and hear live music practically right on the beach??
Pros:
Stay in one convenient place for wine tasting

Located in downtown Suttons Bay, so you can include some browsing and a sit-down dinner or lunch

Music & wine directly on the water in Suttons Bay
Cons:
Gosh - I can't really think of any!
Tips:
Food vendors will set up in between winery stations, making snacking, lunch or dinner very easy

I've yet to see this sell out ahead of time (though I think they day is probably coming as this event continues to gain momentum. For now, you're probably fine to buy tickets the day of)

Don't forget a hat and sunscreen

Bring your swimsuit and beach towel to make it a day - the beach and a nice grassy knoll is right next door.

Suttons Bay is teeming with restaurants as well as a coffee stop if you need to, ah-hem, collect yourself before heading back to your rental in Glen Arbor.
Ticket sales will be announced and offered through the Leelanau Peninsula Chamber of Commerce.  Follow their events here.
Summer events  
If you're up here anytime Wednesday thru Sunday, you'll easily find at least one winery hosting its own unique event. Think happy hours, an evening of great music, food trucks, a special tasting or tour, a shrimp boil or exclusive dinner, and even a potential shopping event or two. My suggestion is to check the events on Leelanau Peninsula Wine Trail's Facebook page while you're here.
(Photo Credit: Blustone)
Cheers!
~Erin