"Talking about oneself is not the easiest thing to do. There are many things in this life that we are uncertain of. But one thing that I will forever be sure of, without a doubt, is that I was meant to be an artist."
I am move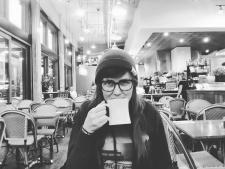 d by this statement as I begin my interview with Lindsey Dell. It's refreshing to hear an artist proclaim they are an artist, and call it their destiny. Too many brilliant creatives suffer from "Imposter's syndrome": Maybe I'm a fraud! Maybe I'm just pretending to be an artist! Lindsey has moved past that and embraced her role in our society.
When she says "Art is something that runs through me with such a force that it is hard to control at times," I don't doubt her, because the number of outlets she has found for her talent reveal her to be a person bursting at the seams with creative energy. She works full-time in graphic design, yet she also finds time to create everything from acrylics (her current specialty), to "photography, to inks, embroidery, to cut out poems, pastels, pens, oils…anything that I am able to get my thoughts out of my head and into the world will do." She'll customize a backpack, or anything, for you. She'll craft elegant drawings for Mother's Day. She'll crochet a winter hat. She'll even design the chalkboard menu at your favorite coffee shop; her work might be what your bleary morning eyes are squinting at. As an artist, she's at the service of the community.
Given that I'm ever on the lookout for electric, original artistic takes on the Sleeping Bear Dunes National Lakeshore, I was initially struck by Lindsey's poured acrylic (think a swirl of different paint colors) aerial landscapes of blazing waters and rolling sands. You're looking down from the heavens at the coastline, as though you were a seaplane or a drone. The churning fluidity of Lindsey's acrylic technique makes for the most convincing paintings of waves and water I have ever seen, I daresay. The music of the surf resonates from them.
What follows is my interview with Lindsey Dell, a young Leelanau artist who's making it happen.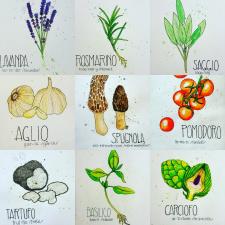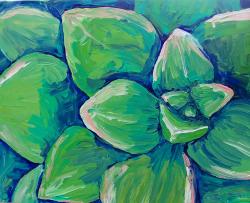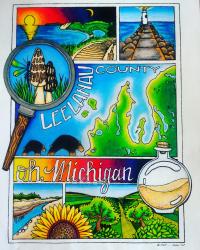 I'll start with a random question I enjoy asking artists. What is your spirit animal or animals, and why?
I would have to say I relate most to a wolf. I am typically inspired at night, Like most artists. I enjoy creating in groups but prefer to create alone, like the lone wolf. I tend to drift from place to place, but always end up coming back to home base.
I love your acrylic pours, especially the ones that look like bird's-eye-views of a shoreline. I feel like I'm looking at a satellite image! For those of us who love the dunes and turquoise waters of the National Lakeshore, your work offers a strikingly fresh perspective. Can you talk about how you got introduced to acrylic pours, what the process of creating them is, and why you enjoy them?
Honestly, I hate to say it, but the internet. I discover many new trends in art via the inter-web ,and that's mainly all I use the internet for, aside from work.
It is a messy process to say the least. I do many live pours at each art fair I attend so people can have a better understanding. Simply put: it is a "magic potion" of paint, then there are literally thousands of different methods to create once you have your 'potion' down. And that is all I'm willing to share on that. My measurements are a secret. I have always been drawn to abstract work throughout my life, and this was one of those things where you really have next to no control over the outcome, and I loved that about it. You could literally do the same exact method, measurements, colors and would never get the same result twice.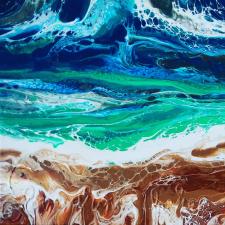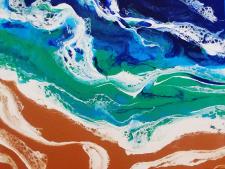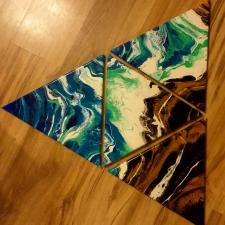 You've found creative ways to make money as a Leelanau artist. I'm fascinated by your gig designing chalkboard art for local business, such as M22 and Pedaling Beans, as well as weddings. How did you get into that, and what do you find rewarding about it? Like, I bet it's fun to walk into a local business and see everyone staring at your work!
It all started out when Mel and Neal [Kokowicz] opened Market 22. Neal had all these chalkboards, knew I could draw and had good handwriting, so they asked if I would help create their look and feel for the restaurant. Then word got out from there. Market 22 is kind of like my own personal chalkboard gallery in a way. I find it very rewarding being able to help someone give their local business a face lift or better branding. And it is definitely amazing being able to make someone's wedding day a little extra special with that personal touch. Being in art has its many rewards in all shapes and forms.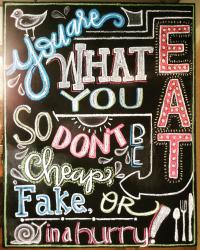 Other ways you've supported yourself as an artist include teaching classes at Painting with a Twist in Traverse City, selling your work at art shows, and producing commissioned work. Which of your revenue streams has been the most lucrative? And which is your favorite?
I would definitely say that art shows can be very lucrative, depending on time of the year, place its held, and the amount of vendors attending. I love doing commissioned work the most though. Being able to create something just for a specific person based on what they want is awesome. I look at it almost as a form of telekinesis in a way. Being able to bring ideas out of another person's head and into the world for all to view is quite a spectacular thing.
You've also supported yourself by working jobs in the service industry, as many Leelanau artists do. In an ideal world, do you think you'd just be an artist, or do you find a different sort of meaning in your "day job" as well?
I actually have a regular 9-5 as a graphic designer. I had gone back to school last year to learn what I needed to for the field and am now a part of an amazing company in downtown Traverse City called Dwalker Studio. It was definitely a struggle having to work in the food service industry for almost ten years, but I wouldn't take any of it back. Working as a bartender and server, I learned how to interact with people in all different settings and am able to multitask like a boss. The industry had taught me a lot, and honestly I am having a hard time letting go of it because I cherish how much I was able to gain, whether it be friendships, clients, social and interaction skills, and how to work well and keep a level head under pressure. But it feels so amazing finally working towards a career that will be consistent with paying the bills year-round.
Tell me about your history in Leelanau County and how Leelanau has inspired your work. I've heard that you left a couple of times, and came back. What drew you back?
Well I grew up in Lake Ann. Being right on the county line, my family spent most of the summer taking my sister and I all over [Leelanau] county. Whether we were beaching it in Empire, shopping in Suttons Bay, or eating in Glen Arbor, they always shared their love of this beautiful area with us. 
The first time I moved, Nate and I went to Detroit. I was so intrigued by College for Creative Studies growing up, so I really wanted to move down closer to campus and to be nostalgic about the times visiting the DIA with my uncle as a kid. It was right around the time that Detroit started to make a come back. They also had an amazing underground art culture that I was fascinated by -- I couldn't get enough. After living there awhile, I honestly felt at home, but knew there was something missing. I longed for my toes in the sand and the clean smell of fresh air, being able to drive five miles in any direction and swim. I felt like something was missing, like I was disconnected from nature, and it started to frighten me what might come of it with spending more time away. So honestly, Nate and I made a rash overnight decision and packed everything up, and left a week later. I love Detroit, but as for living there, I don't think I could mentally handle it again.
Which artists in any medium -- it can be visual art, music, whatever -- have influenced you?
Before Nate and I moved to Hawaii, I hadn't created anything in a few years. I was in kind of a mental rut as far as finding anything to spark my creativity. Once we got off the plane from the twelve-hour flight and I could smell the sweetness in the air, I knew this may be the place to inspire me. 
So after working a few weeks at a Japanese wedding banquet hall, I was on break and decided to wander around Waikiki. I stumbled upon a little gallery and decided to go in. So many amazing pieces covered the walls, and it was like throwing a match in a fire. My head starts racing with ideas. Then I got to the back of the gallery and stopped dead in my tracks. Dimitra Milan. Her work literally took my breath away. I couldn't look away. Later that day I couldn't stop researching her work. She was only sixteen when I first discovered her, but her work was that of someone three times her age: so refined, as if each mark was planned and totally random at the same time. I desperately wanted to know the secrets of her methods. She still, to this day, is my favorite artist, and she and her family of artists continue to inspire me regularly.
I read that you sometimes work alongside your significant other, Nate Sharpe. What is that like?
Nate and I have been together almost seven years. We are a team. We don't get irritated spending too much time together, like most would; in fact, we thrive on it. We work so well together to the point we almost don't need words. We're able to anticipate what the other is thinking, needs, and is going to do. Nate is who I owe the most credit to for my ambition to make something of myself in the art world. He is constantly pushing me and motivating me to show the world my art, and is a constant source of support and reassurance. I honestly don't know if I would be to where I am with art if it weren't for Nate. We are truly meant for each other in this world.
Talk about your artistic training, and also what advice you might've given to yourself as a budding artist, with the benefit of hindsight.
Traverse City West Senior High had a great art program. I owe a lot of my knowledge of the fundamentals to the dedicated art teachers there. The majority of my talent is somewhat natural: my entire family is artistic in more ways than one. I also owe a lot to the internet. I am constantly watching videos on new techniques and mediums. I feel blessed in a way that I am able to see art from all over the world to inspire me without leaving my seat. I also believe that the internet is starting to change our future generation, and that scares me immensely, but I won't get into that now.
If I was able to go back and tell myself any bit of advice starting out, it would probably be this: "Quit dragging your damn feet and just do it! Things will always scare you and intimidate you, but that is life. So deal with it and move forward towards doing things that give you the most purpose in your life." I always struggled with confidence in my work, which made motivating difficult when I was younger. 
Aside from the acrylic pours, where is your artistic imagination leading you these days? What itch are you wanting to scratch? What's next?
There are new things in the many realms of abstract coming soon to my work...I have so many ideas in the mix and not enough time in the day. I do really enjoy pouring because it can be like a quick fix to tickle my much needed art buzz after a long week. But I've been itching to do some more abstract portraits and landscape with big dramatic strokes of color. Also what's next is finding a bigger studio space. My spare bedroom at home is not cutting it anymore!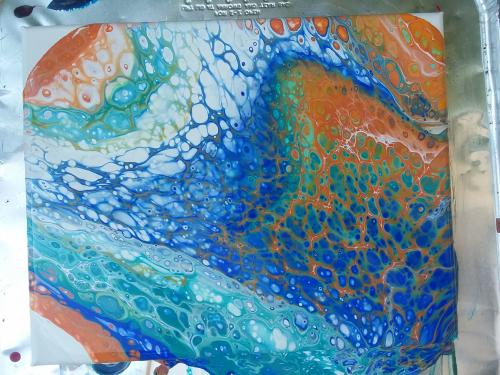 Where can people find your art? And if they'd like to purchase your work or commission a piece from you, how can they contact you?
As of right now, all of my work is all online. I'm currently working on my website. Hope to have that finished this winter. Man, is it a lot of work! Also another goal for me this winter (because we all know that is when things slow down in the county) is to work on getting my inventory together to get into some local galleries. In the meantime, if you would like to view my work or are interested in purchasing a piece, or would like a commissioned work done, you can reach me via social media: 
Facebook - Dell Drawing +
Instagram - @paints.peeling 
Or give me a shout via email - LindseyDell3@gmail.com