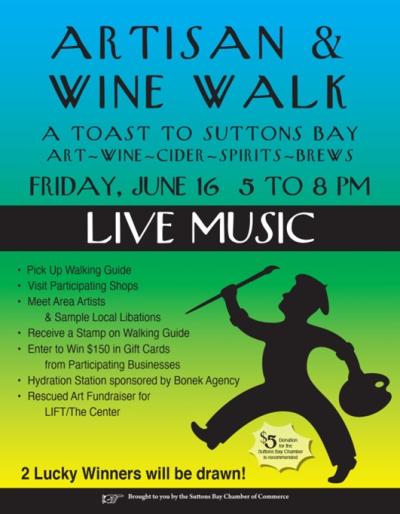 It's one of the best nights of the year – when delicious local brews and talented local makers come together to line the streets of beautiful downtown Suttons Bay. The annual summer (they have one every fall, too!) Artisan & Wine Walk is coming Friday, June 16, from 5-8 p.m., and here's a sneak peek on what's on deck – or should we say on the sidewalk…
First, you'll want to grab a walking guide when you get to town – there are two locations to pick them up on the main stretch, and, from there, let the fun being! All up and down the town, you'll find stores offering food and beverage samples, along with demos and art by local artisans. And the entire night is built with special care given to brews, foods, and art with ties to Leelanau County specifically.
"As of right now, we have over 20 businesses participating with names being added as we speak," says Amy Peterson, president of the Suttons Bay Chamber of Commerce and owner of The Front Porch in downtown Suttons Bay. "Many are hosting an artist and pouring a beverage – local wine, cider, kombucha, cocktails, and more. And they are ALL local makers!"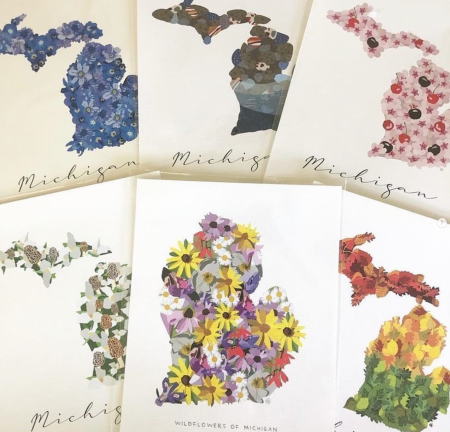 In addition to the buzz and fun of food and wine and art – there will be music in the air! There are several musical acts playing downtown, including Elizabeth Landry, Ted Alan Duo, and Andre Villoch, plus more.
Participants can get their walking guide stamped at the businesses they visit and those with at least 12 stamps can enter a drawing for gift certificates to be used downtown.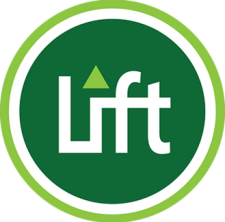 The event has a new feature this year – an "Art Rescue" – at the Community Center. These are pieces of art that have been donated by people who have moved or changed their decor and are being sold as a fundraiser for LIFT (Leelanau Investing for Teens). LIFT is a local program run out of the Community Center that provides support for local teens.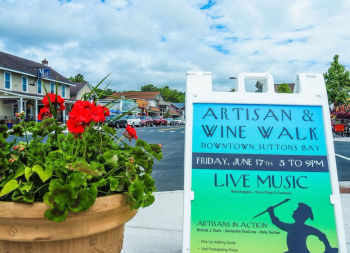 "It's been a wonderful program to help mental health," Peterson said. "For example, LIFT does so many activities for free for area middle and high schoolers - kayaking, going to the beach, biking, all kinds of things. And it's been wonderful for those who don't have the means to get out and about on their own, or those who live in a solitary or unsafe situation. We've added this fundraiser for them because it's such a wonderful program.." All proceeds from the Art Rescue will go to LIFT.
One example of an artist is Lucas Qualls, who will be offering 15-minute portraits outside of Brenda J. Clark Gallery. The cost will be $50 and, given the time constraints, he will offer a looser portrait than his usual work. Here's an example of a portrait he recently completed in about three hours.
There will be several other artists and unique opportunities like this throughout downtown that night.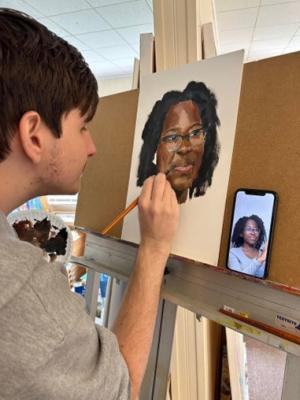 Here's a partial list of participating businesses:
Bahle's
Bay Wear of Suttons Bay
Bayside Gallery
Blue North Arts
Brain Storm
Brenda J. Clark
Enerdyne
Flea/The Exchange
Harbor View Lavender/The Cherry Stop
Haystacks
Le Papillion Designs
Martha's Leelanau Table
Northern Latitudes Distillery
Poppy Things
Schaub Team Premier Realty
The Center/LIFT
The Front Porch
The Happy Woman
The Roost
Wild Lettie
So! Mark off your calendar for Friday, June 16. It's time to have fun and play in downtown Suttons Bay. Visit the calendar for more Suttons Bay area events! This event is free but donations are encouraged and will go toward the Chamber's other events. The Art Rescue proceeds go to LIFT.