Despite cooler than average summers the past two years, "consistent" is the best word to describe seasonal business for hotels, inns and lodges around the Sleeping Bear Dunes National Lakeshore.
Here, local lodging owners give their thoughts on why pre-bookings remain strong along with front-desk insight on the biggest area attractions.
Word-Of-Mouth
Making a year-round living in the summer lodging business is one of the tougher ways to make a buck in a place like the Sleeping Bear Dunes. The season is so short—roughly three months, maybe four in years like this one where spring actually sprung when the calendar said it was supposed to.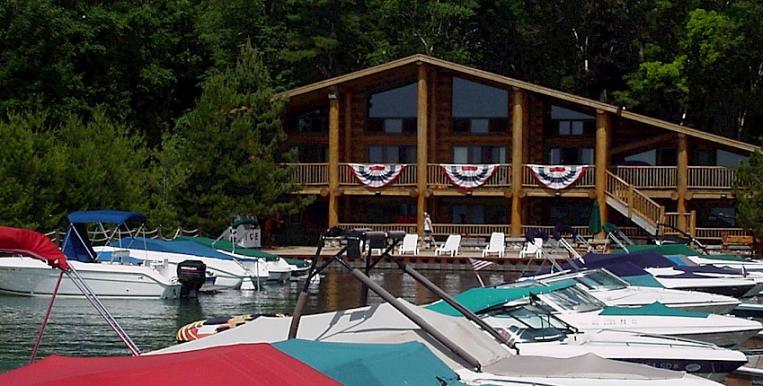 [source: glenlakelodging.com]
"There are also many more private individuals renting their homes by the week but bookings here remain solid," says Kathy Aylsworth, owner of Glen Craft Marina & Resort—Glen Lake's only beachfront renter of lodge-style cottages, luxurious beachfront suites and boat rentals. "We also specialize in weekly rentals (minimum three- to four-night stays), which is why repeat business and word-of-mouth are so important. Visitors choose us because of our private stretch of beach and because we rent, sell and service ski boats and pontoons onsite for those who want to enjoy the lake."
David Gersenson, echoes the sort of insurance word-of-mouth bookings provides area lodging providers. The new owner of The Sylvan Inn, a historic bed and breakfast in Glen Arbor, has looked at all the booking records from previous years   and says the cooler temperatures of the past two summers only seem to have impacted visitors who plan a visit at the last minute.
"Fortunately, people who stay here tend to plan their vacations well in advance and usually book the next summer before they check out this year," he says.
 The Big Three: Dunes, Beaches, Biking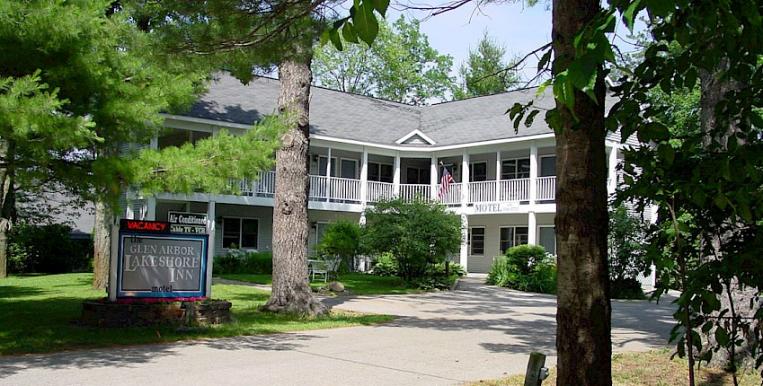 [source: lakeshoreinmotel.com]
Easy access to water and a close proximately to the Lakeshore are top priorities for all these word-of-mouth visitors heading Up North for a summer holiday. But a new favorite, according to Bob Turner—manager for 21 years at New England hotel-style Glen Arbor Lakeshore Inn—is definitely the Sleeping Bear Heritage Trail.
"I would say that after the Dunes and all you can do there—the kayaking, the hiking, the beaches—the bike path is becoming a close second when it comes to reasons people vacation here. Sixty percent of our business is repeat visitors. And since we don't advertise, the rest comes by word-of-mouth. Regardless of how people find us, people who come to stay here now are all bringing they're bikes."
The Sylvan Inn's Gersenson also sees the Heritage Trail as a positive but says list of top-questions-asked-by prospective-renters still revolve around two things: Lake Michigan and Sleeping Bear.
"People always want to know, first, how far we are from the Sleeping Bear Dunes and, two, how far are we from Lake Michigan," he says.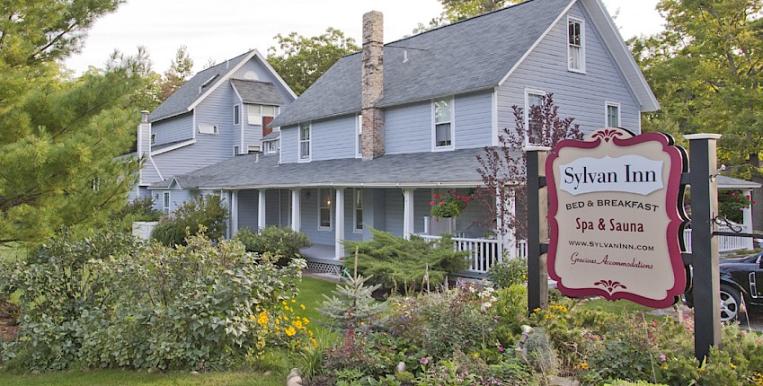 [source: sylvaninn.com]
"I think we're still riding the wave of the Lakeshore being named the 'Most Beautiful Place in America' in 2011," he says. "Right now, we have a twenty-five percent increase in pre-bookings this year, which is up fifteen percent from this point last year.  And we're not just seeing people from Chicago and the Upper Midwest anymore. It's a lot more people from all over the country."
While traditionally a summer and early fall recreation destination, Gersenson has seen the national exposure of late shift to include more awareness of off-season recreation opportunities in and around Sleeping Bear—namely the local food, wine and fine dining scene, which is a year-round draw as well as winter wine shopping. There are also Lakeshore hiking trails that offer the best cross-country skiing options around.
But can winter visitors fill the rooms of small, local lodging providers?  Gersenson is one who has looked at the numbers and believes it can. He's planning to keep The Sylvan Inn open year round this year.