Fall colors updates, the chance to own a historic Sleeping Bear B&B, a stellar Leelanau wine grape harvest, a profile of the local chef making the cut on Fox's Hell's Kitchen and more. Check out this roundup of Sleeping Bear area news stories from around the web.
2016 Northern Michigan Fall Color Map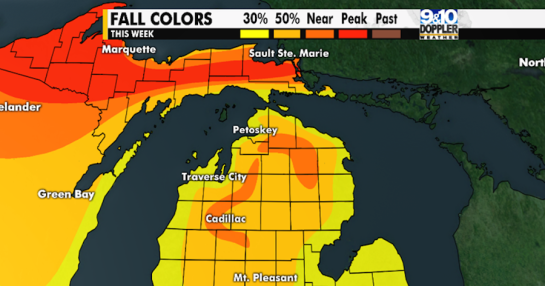 [source: mynorth.com]
Planning a trip to the Sleeping Bear Dunes to check out the gorgeous fall colors? Then be sure to check out the map and weekly updates courtesy of MyNorth and 9&10 News chief meteorologist Tom O'Hare. Click here. Overall, fall colors are a couple weeks behind this year. In the Lower Peninsula, O'Hare reported on October 13th that in higher elevation colors were at 50- to 80-percent, while lower elevations near the lakes were only at 30-percent.
A Chance To Open Your Dream B&B In The Historic Sleeping Bear Inn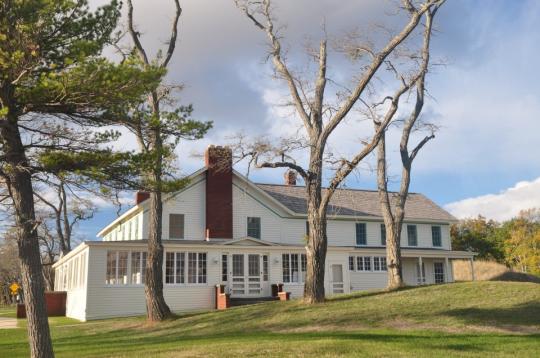 [source: mLive.com]
MLive contributor Tanda Gmiter reported earlier this month on the National Park Service's hunt for a person or group with a great business idea to lease the Sleeping Bear Inn, which sits along the main drag in the tiny historic village of Glen Haven.  Click here for the full story. People look to turn the inn into private residence, gambling or adult entertainment establishment need to apply. Built in 1865 to provide lodging and dining options for lumberman and tourists, the inn remained in operation until 1972.
Aaron Smock, Chef At The Homestead In Glen Arbor, Competes On Hell's Kitchen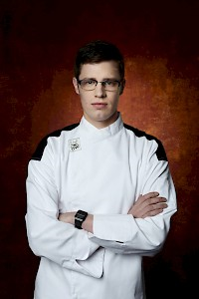 Last month and just prior to the premier episode of season 16 of Fox's hit reality show, The Homestead monthly blog was the first to snag an interview with the resort's most famous banquet chef. Click here to read the full story. According to MyNorth's Lissa Edwards, who followed up with Smock earlier this month, the young chef has been "kicking some serious pork butt" on the show. Edward's interview with Smock—which you can check out by clicking here—covers a wide range of topics ranging from what it's really like to work for Chef Ramsey to what menu items to order the next time your visiting The Homestead and looking for something to eat. 
Wine Grape Harvest Looking Good For Many Leelanau Growers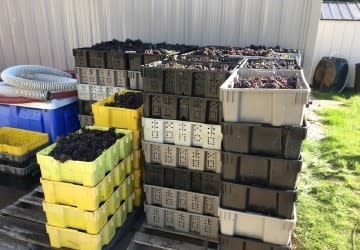 [source: upnorthlive.com]
Wine grapes are coming off the vines this month in Leelanau County and, according to UpNorthLive reporter Allison Scott, growers and wine makers couldn't be happier. Click here to read the full story. Ciccone Vineyards described the harvest this year as huge—"as big as our biggest year, which was 2012."