The makings of a great casual restaurant go well beyond the dress code. Overall atmosphere, unique menu choices and family-friendliness are just important for a memorable dining experience. For this roundup, we looked for the area's top options for couples looking to spend around $50 (without alcohol) for a meal.
From pizza and burgers, soups and salads, and everything in between, check out this shortlist of the seven best casual dining restaurants in and around the Sleeping Bear Dunes.
Riverfront Pizza & Deli
Glen Arbor, MI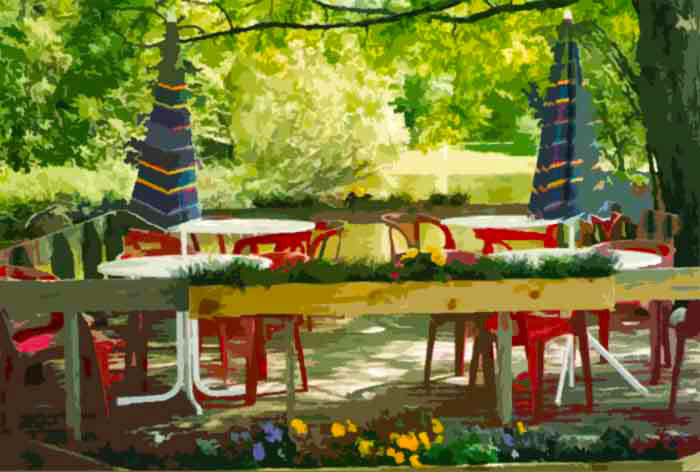 [source: riverfrontpizza.com]
Atmosphere: This family-friendly pizza shop and deli offers outdoor seating along the Crystal River, a lively place to people watch (especially during the summer canoe and kayak season). The patio also overlooks a little, wooden dock, which can be a fun spot for the kids to wet their feet and catch crayfish while you wait for your order.
Standout Menu Items: Try the hand-tossed Thai and Greek pizza, Riverfront spinach salad and anything from the ever-changing and incredible-tasting soup menu.   
Art's Tavern
Glen Arbor, MI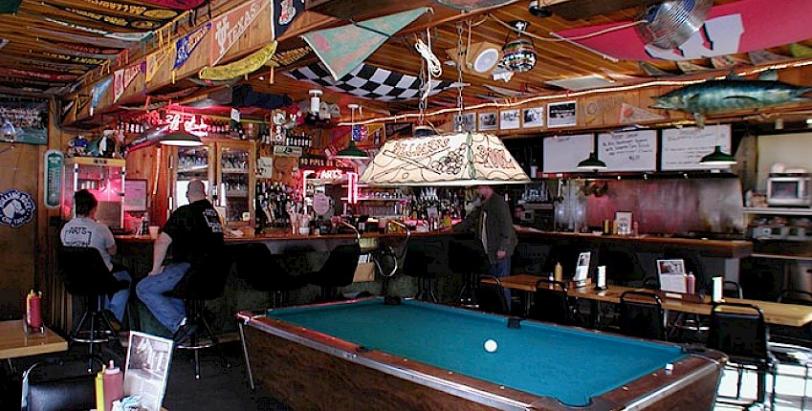 [source: artsglenarbor.com]
Atmosphere: With outdoor seating in summer along Glen Arbor's main drag, Art's is another great spot to people watch. Unpretentious indoors and out with a laidback, small-town pub vibe. There's a reason this place has been around over 80 years.
Standout Menu Items: An uncommon selection of "retro" beers and Michigan micro-brews; locally smoked white fish dip off the appetizer menu; White fish burger with Tater Tots; and the grilled cheese on sour dough for the kids. Awesome.
Martha's Leelanau Table
Suttons Bay, MI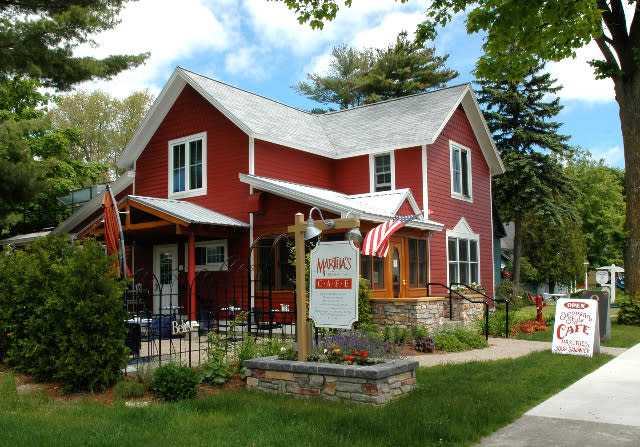 [source: marthasleelanautable.com]
Atmosphere: A delightfully unique, European-style bistro/café where everything is made from the finest and freshest Leelanau County ingredients. Outdoor, garden seating with sheltered terrace gives Martha's a real homey feel.
Standout Menu Items: For breakfast, farm-fresh eggs, blueberry pancakes and Michigan maple syrup. For lunch, the classic pistou (a crusty sandwich piled high with meats and cheeses) and Martha's Caesar salad rules. Also, be sure to try the cheese fondue off the appetizer menu and homemade strawberry shortcake with genuine Michigan berries for desert.
The Cove
Leland, MI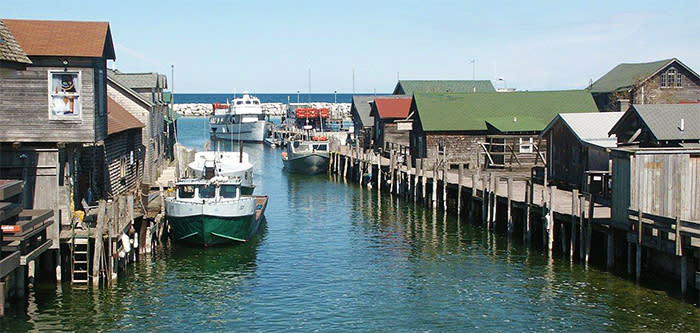 [source: lelandmi.com]
Atmosphere: A laidback bar and grill with the vibe of a Northern Michigan fishing cabin, The Cove overlooks the water and historic Fishtown. A great getaway from the tourist crowd on sunny summer day, The Cove offers indoor and outdoor seating.
Standout Menu Items: You can't go wrong with anything from the fish menu. Fried perch basket and Lake Michigan whitefish and chips are hard to beat. Outstanding seafood chowder, homemade cherry pie and, of course, don't forget The Cove's signature cocktail—the Chubby Mary, with local horseradish vodka and garnished with a genuine smoked chub.
Arnie's
Cedar, MI (at Manitou Passage Golf Club)
http://www.manitoupassagegolfclub.com/food/arnies-grill/

[source: manitoupassagegolfclub.com]
Atmosphere: Arnie's pulls off an elegant yet casual dining experience with a laidback, clubhouse vibe. Named after Arnold Palmer, the restaurant's indoor décor features a collection of memorabilia recognizing Palmer's remarkable career. Outdoors and in, diners get a great view of the 18th green on this signature Leelanau County course.  
Standout Menu Items: High marks for the Manitou Passage salad with Michigan dried cherries, feta, and candied nuts, curried chicken salad, the fresh sirloin Passage burger and the grilled three-cheese sandwich for the kids.
Beppi's
Glen Arbor, MI (at The Homestead)
http://www.thehomesteadresort.com/dining/beppis/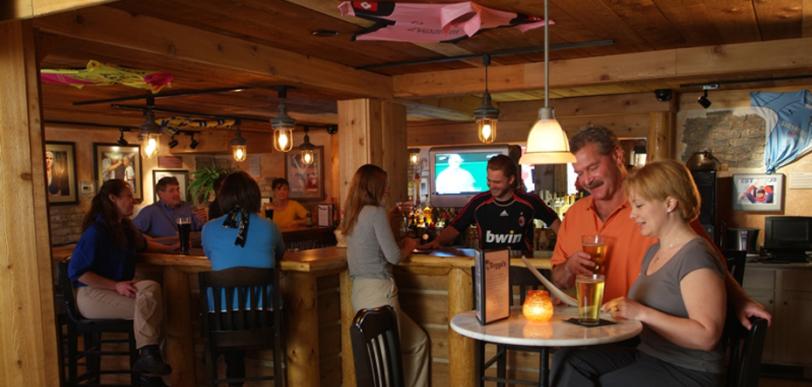 [source: thehomesteadresort.com]
Atmosphere: An old-fashioned sportsbar/pizzeria with a lively and interesting collection of Italian-American sports star photos and memorabilia. Catch the big game on the TVs inside. Or head outside to hangout at night and watch the stars on the newly added courtyard with two outdoor firepits (and an ever-changing lineup of live, local music acts).
Standout Menu Items: Anything that contains the word "pizza," especially Beppi's traditional pie with grande mozzarella, Italian plum tomato, Romano cheese, basil and olive oil. For desert, the s'mores you make at the table is the ultimate in family-friendliness and fun.
Café Manitou
Glen Arbor, MI (at The Homestead)
http://www.thehomesteadresort.com/dining/cafe-manitou/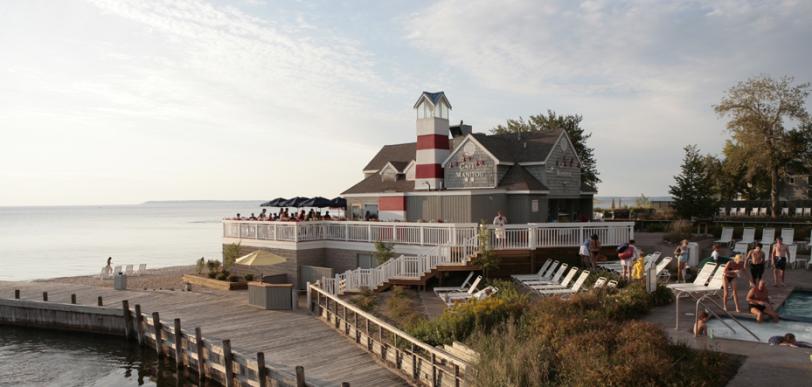 [source: thehomesteadresort.com]
Atmosphere: Located on the shores of Lake Michigan with views of the Sleeping Bear Dunes, the Manitou Islands and the setting sun at dusk, Café Manitou can arguably lay claim to the most breathtaking casual dining locale in all of Leelanau County. With its spectacular outdoor patio and super-friendly staff, the breezy beach vibe will make you want to hangout for hours.
Standout Menu Items: A couple of must-try dinner/lunch items from Café Manitou's new "Coastal Cuisine" menu are: the chili & lime hummus appetizer; the rare ahi tuna salad; and the Michigan grass-fed beef cheeseburger with onion jam and parsley-garlic fries.