Save The Dates: Top Three Things-to-Do In April
From stargazing to trout fishing, the Sleeping Bear Dunes and Leelanau County has a few fun springtime activities you don't want to miss.
Check out this rundown of the dates and links to information on the most popular things to do next month.
Wine And Small Plates
April 13th, 6 p.m. to 9 p.m.

Small Plates is back! In this always popular event, participating wineries offer a full glass of wine with a well-presented and substantial tapas dish in their tasting rooms. Many of our wineries work with chefs to prepare and serve the pairing, and the event is designed to be an upscale, gourmet food offering, catering to culinary aficionados.
Tickets are $15 per seating, and you may get tickets for one, two or three seatings. Seating times are roughly 6:00 p.m., 7:00 p.m. and 8:00 p.m. Tickets must be ordered in advance for this event and always sell out quickly, so be sure to get your tickets, today.
To order tickets at a specific winery and seating time, click here to check out the dedicated "small plates" webpage of the Leelanau Peninsula Wine Trail.
Northport Trout Fishing Derby
April 25th
Hosted every year by the Northport Sportsman Club, the annual Scott Brow Memorial Fishing Derby runs from 7 a.m. to 2 p.m. and typical draws a couple hundred young fishermen and their parents to Northport's Old Mill Pond. The fishing contest award trophies for landing the largest trout based on length, and the pond is usually stocked with more than a few whoopers. There is a five-fish limit, and ribbons are given away to anyone who catches a fish.There's also coffee for parents, hot chocolate and donuts in the early hours and hot dogs by mid morning. Make sure to bring your own fishing gear and bait. And dress warm.
Exploring Sleeping Bear Night Sky
April 25th, 9 p.m. to 11 p.m.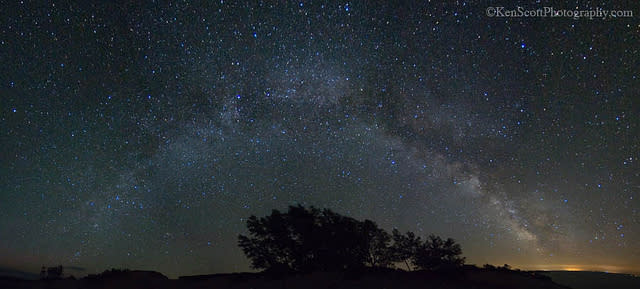 Check out the night sky and learn about planets, stars and other celestial bodies with the Grand Traverse Astronomical Society and park rangers. You only need a park pass to participate in this weather-dependent event. If the sky is clear, the Lyrid Meteor Shower is guaranteed to be the highlight of the evening. Sleeping Bear's Lisa Griebel is anyone who would like to attend to call 231-326-4726 well in advanced to get your name on the list of attendees.