The Homestead in Glen Arbor is open and, more importantly, safely open. The four-season resort is perched on Lake Michigan and surrounded by the Sleeping Bear Dunes National Lakeshore. It is, in a word – gorgeous. You can dine overlooking the lake, swim in the pool or Lake Michigan and enjoy spa services on a bluff overlooking blue water as far as you can see.
But what's different this year? Well, everything.
We asked two team members of the "Covid Strike" team to give us insight on the latest procedures. Here, a Q&A with Leah Moskovitz, manager of guest services, and Kevin Grubb, clubhouse manager at Manitou Passage Golf Club.
Are masks required in the pool (everyone's first question!)?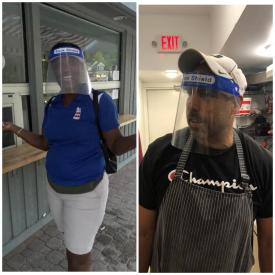 Guests can take off their masks in the pool or once they're seated at their restaurant table or pool chair, but must put them back on if they're moving around the area. (The only exception to this rule is if a guest cannot medically tolerate a face mask.) 
Otherwise, we require masks to be worn whenever a guest or an employee enters a building. We also require our team members to wear masks whenever working indoors or when working within six feet apart of each other outside. We require our guests to wear a face mask when entering any building or when they enter a heavily populated outdoor area.
How has the pool area changed?
The Village Pool and the Beach Club have both been reduced to 50% occupancy. We have reduced pool hours, as well. Equipment rentals at the Beach Club have been staggered to 10-minute intervals and lounge chairs have been separated into groups of two, at least 6 feet apart to encourage more social distancing.
Is the spa as relaxing and rejuvenating (and gorgeous!) as ever?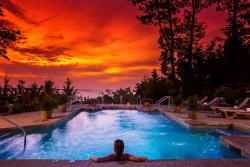 Yes! Spa Amira is open from 9 a.m. to 6 p.m. Monday through Saturday by appointment only. Only two guests at a time are allowed, and appointments have been reduced to 50-minute sessions. (There are limited services now. Spa Amira offers 2 kinds of massages and 3 different kinds of facials.) We take 25 minutes between each service to sanitize each room. We also take temperatures of each guest and have them fill out a COVID-19 consent form.
What's different in the guest rooms?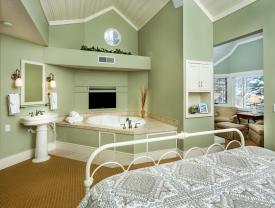 All hotel rooms that do not have dishwashers have disposable glassware, and we have removed high touchpoint items that are hard to disinfect such as pens, paper, ice buckets, coffee makers, pillow shams, and bedspreads.
All bed linen and laundry is changed and continues to be washed using our o-zone laundry system. Laundry machines are be disinfected before and after each load and cleaning rags are treated as hazardous laundry. We clean with products that are approved to kill COVID-19 such as Quat-Stat 5, AF315, and Green Earth Peroxide Cleaner. When inspecting the rooms, the housekeeping inspector will use an electrostatic sprayer that contains Hillyard Soft Surface Sanitizer.
To promote social distancing, we have halted housekeeping stayover services and have asked guests to call the front desk or stop by the Welcome Center if they need any more towels, soaps or blankets. If a guest has a maintenance request, we ask the guest to let us know when they will be out of the room so that way maintenance can promote social distancing and fix the issue when the room is vacated. 
Feed me! What's the scoop for dining?
Café Manitou is open daily from 5-8 p.m. for guests of The Homestead. It is reservation-only dining, with limited seating. The maximum number of guests that can dine in a group is 6 people. We also have single-use menus, and condiments are served in single-use containers that are disposable or disinfected between each guest.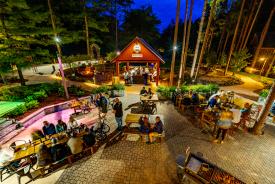 Whiskers has ample outdoor seating and indoor seating, and capacity has been reduced to follow the current executive orders. It is open every day from 3-10 p.m. with socially distanced live music on Fridays and Saturdays from 7-10 p.m They offer a diverse menu that allows guests to order takeout as well.
Are the shops open (and tempting as ever)?
Yes! Shops have had their maximum capacities reduced and sneeze guards have been installed at all points of sale. All high-touch points are disinfected every two hours. Hours of our shops have been reduced to allow time for extra cleaning protocols.
How are your employees handling the changes?
Our employees have been doing a great job of working through the difficulties during this time. Most team members have kept a positive attitude and have done their best to keep things as normal as possible for our guests while following the mandates set forth by the state. Every day is a new challenge for our staff, but it has been made much easier by the flexibility and understanding of our team here at The Homestead.
Behind the scenes, management has created stringent protocols for employees when on the property. We have worked to "isolate" as many staff members as possible to reduce the risk of shared spaces, and for staff that must work in close contact with one another, we have mandated the use of PPE.
Are guests complying?
Guest compliance has not been a major issue for us at the resort. Most compliance issues that we encounter seem to be honest mistakes by guests, who forget their masks or social distancing rules. For the most part, our guests have been very understanding and follow the guidelines in place without much issue.
How are b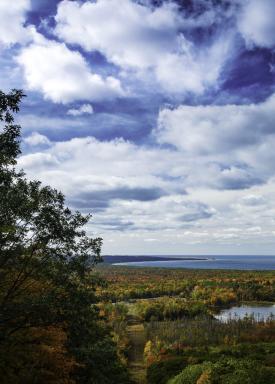 ookings? Are guests coming? 
Our bookings have been very strong this year. Since early June, we have seen an increase in demand on our property and guests seem to be getting more comfortable with travelling under our current circumstances. As a standard protocol during booking, we have begun providing our guests with all the required information and what safety measures we currently taking to prepare them for their arrival. It has been our experience this year that if the guests know what to expect when they arrive on property, we can eliminate some of their hesitation or nervousness about traveling away from home.
With fall weather and colors on the way, The Homestead continues to welcome guests. For more information, visit www.thehomesteadresort.com.