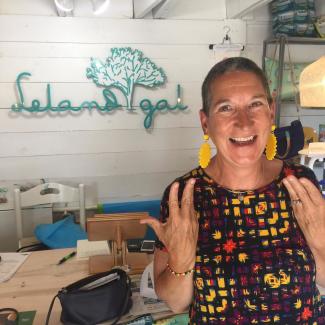 From a little, a bounty. That, to me, is the theme that connects Michelle Vidergar White's artwork with her humanitarian work. I was trying to figure out the through-line between her Girls series — countless minimalistic images of a woman's face — and her leadership of 5Loaves2Fish, a food program based out of a church kitchen in Leland that provides meals and groceries to those in need.
And then it hit me. The clue is in the name, 5Loaves2Fish. In that biblical parable, five loaves of bread and two fish miraculously feed thousands of people. The through-line, then, is multiplication. From one humble thing, an abundance.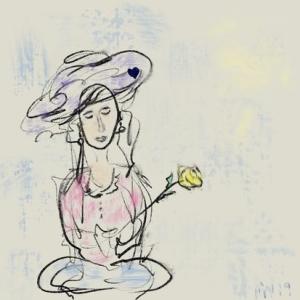 For months, I've been following Michelle's posts of her art on social media. And I'm not alone. Word has gotten out about her Girls series in the Leelanau artistic community. People are paying attention — because these are compelling images.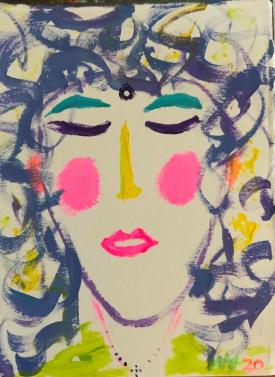 Let's break down the elements. A sphinx-like oval face, often with closed eyes, a slender nose, full lips, and rouge on the cheeks. Peace-sign earrings. A "third eye" spiral on the forehead. A tangle of hair. Sweeping, elegant lines, sometimes recalling Al Hirschfeld's caricatures.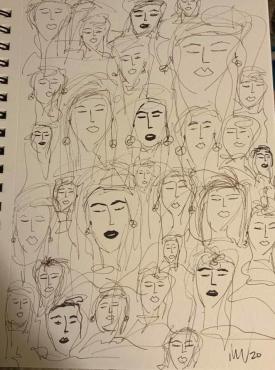 Michelle's Girls are all similar…and all quite different. They're variations on a theme. Sometimes the third eye (symbolizing "clarity," Michelle tells me) is missing. Sometimes the earrings are hearts rather than peace signs. Sometimes the eyes are open, not closed. Sometimes it's just a subtle change in mood that you can't totally nail down — the face is anxious rather than serene, or confident rather than insecure. These faces run the gamut of emotions, in their own quiet way.
There are a ton of them. Michelle has been creating at least one "girl" per day for several years, in the form of drawings, watercolors, acrylics, and digital images. She can't stop. She has journals full of them. She's, well, obsessed. And I think obsession is a sign that an artist is on the right track: scratching an itch, not bored whatsoever, endlessly fascinated by their own work. Which, in turn, fascinates the consumer of the art. It's a contact high. Fascination breeds fascination.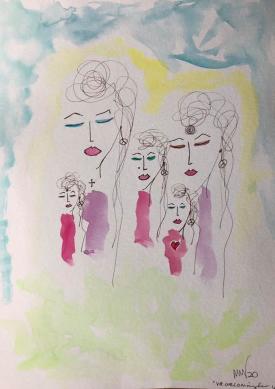 "I don't know where they're coming from," says Michelle. "I don't make an eye; the eye makes itself. It's more feelings, and less thought. I'm not even thinking when I'm painting them. I don't even know where I go. Wherever I go, it's in a place where I can touch that moment of whatever time, space, meaning. It may be of anger, fear, frustration, happiness, peace, how I see things, how I'm healing from things. We're all healing from something. They're peace warriors, is what those girls are."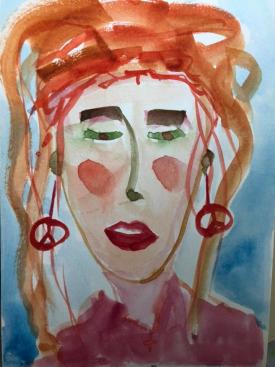 Michelle wasn't always headed down the rabbit hole of her artistic imagination — her third eye, if you will. Art came in mid-life.
"I think I was born to create art. And I was always super interested in it. For whatever reason, I skirted around it. Then in 2012 — the Mayan Calendar, the world was gonna end! — well it did kind of end for me as I knew it. For whatever reason, things started to get clearer. And I started getting fascinated with time, and how much we spend on not ourselves, but like we're a slave to time, we're a slave to our checkbooks. I went back to my journals from years ago, and there was this common theme about how I'd kept talking about how I wanted to be a writer and an artist. And it was like, 'Why would I write all that and never really listen to myself?'"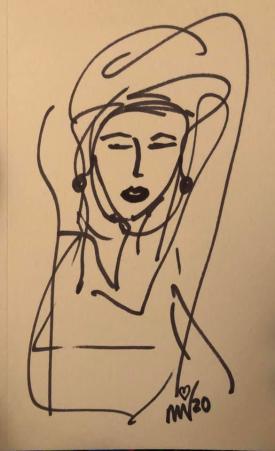 She took classes with Brenda Clark and Royce Deans. At first, Michelle was trying "to paint like everyone else, and I was trying to paint all the beach scenes and capture the Leland 'whatever.' And I really wasn't very good at it! And I started getting discouraged." The turning point came when she was inspired by her friend's art show. "Her art, to me, was so wild, so different, that I thought 'You know? I'm just gonna keep going with the Girls.' I noticed people have their thing. They do the same thing over and over, and that's how they get better."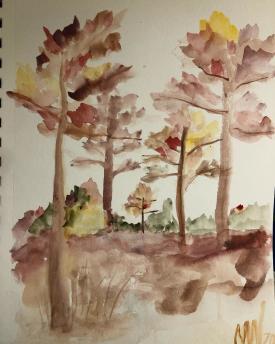 Michelle's landscapes and still lifes are beautiful too, but that itch to create another "girl" is never far from her mind. "I'll go landscape painting, and I'll do two landscapes, and they're gorgeous — all this color and everything — and the next thing I know…I'm back with my friends! All these people!" She holds up her journal, showing one of the Girls.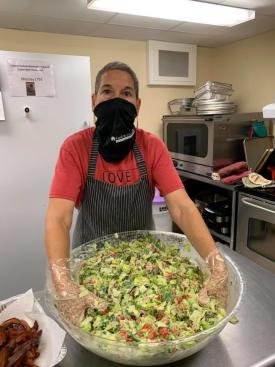 Things are clicking for Michelle. Her art is on fire, and so is her community outreach. When the pandemic started, she organized 5Loaves2Fish in order to reach food-insecure individuals and families in Leelanau and beyond. From the kitchen of Leland Community United Methodist Church, the charity organization has been whipping up mouth-watering meals, mostly from scratch, and delivering them to those in need. Local businesses quickly got behind it. Donors include Island Thyme Catering, Epicure Catering, The Leland Mercantile Exchange, Second Spring Farms, MI Market, and Sisson's. On Mondays, 5Loaves2Fish serves the homeless in Veterans Park near Grand Traverse Commons.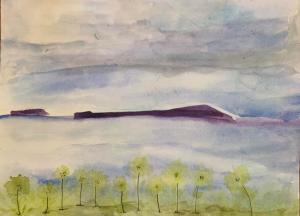 No questions are asked, of anyone. "The big thing for us is to maintain dignity. You are in a circumstance. I don't need to know your circumstance. I just want to be there to help you. I don't care what your problem is," Michelle says.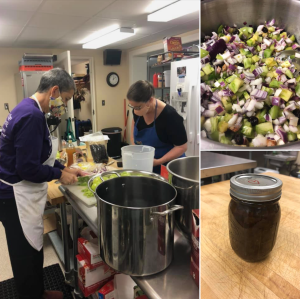 What perhaps distinguishes 5Loaves2Fish from "your average church kitchen" (to quote a recent news article) is the serious attention put into the food. The folks at 5Loaves2Fish aren't just trying to feed people. They're providing fabulous meals which come from love. Recent offerings include beef roast, butternut squash soup, pizza bread, green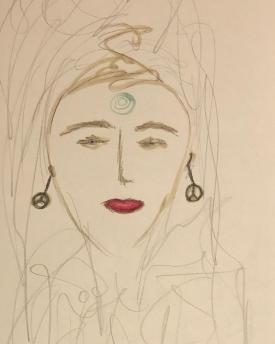 tomato chutney, brownies, lemon bars…and on, and on. 
All contributions are welcome, but fresh fruit and vegetables are the big thing that's always needed.
"I think food is art, and I think love of art or food is your love gift," Michelle offers. 
"For me, this is that same feeling of a painting. That amount of love that goes into a painting is the same amount of love that would go into a meal for somebody. Food doesn't just feed your stomach. It feeds your soul, it feeds your mind. It's a connection, because somebody made it. Even if you don't see them, there's still that energetic connection. We can portray that love, and maybe pass on that peace. [A chef] said to me years ago 'I don't like it if we get tense and that goes into the food.' And I never forgot that. So if I'm kneading dough, and I get frustrated, I'll back off for a second, because I don't want to put that frustration into somebody else."
In other words, intention matters — with art and with food. If it springs from a heartfelt place, it'll turn out better. And it will be more nourishing for all.
Michelle may be reached at
michelleleewhite1965@gmail.com.