It's Leelanau County's favorite new trail: Palmer Woods. And this coming Friday, Feb. 17, 2023, you can go and explore it to your heart's content with docents to tell you more and lanterns to light the way after dark.
Here's their lineup for the upcoming Winter Trails Day, hosted by the Leelanau Conservancy – do a lot or do a little!
Day: Friday, February 17, 2023  
Time: 2 pm-6 pm
"We are doing the event at Palmer Woods because it is such a four-season recreation destination," said Claire Wood, LC Communications Director. "This is our only property with groomed ski trails and mountain bike trails in the summer, too, which is why it is the perfect place to celebrate all the ways folks use trails year round."
This event is the Conservancy's official kick-off for their 2023 Trail Challenge "35 Miles for 35 Years" to celebrate their 35th year of conserving Leelanau County. They will announce details about the trail challenge during the Trails Day event.
"Attendees at our trail events are typically a mix of new folks to the organization and also our long-time supporters," Wood said. "It is family-friendly and we see people from ages 5 to 80!"
If you haven't been to this particular trail yet, the parking lot is long and narrow – keep driving in and you'll keep finding more places to park! Come ready for the weather. Skis, snowshoes, and warm winter gear are recommended. Headlamps, a water bottle, trekking poles, and ice cleats/spikes may also be a good idea. (If winter snow levels aren't ideal for snowshoeing, you'll want to hike on the hard-packed snow with spikes or Yak-Trax. You can find these at local outdoor shops. Fingers crossed for fresh snow that Friday!)
Palmer Woods has a large firepit area and is a perfect place to gather and meet others who love the outdoors. We recommend visiting the cool boardwalk in the Fern Gardens  (about 1.5 miles one way) -  it's gorgeous and fun.
"I love seeing families and little kids in the woods, laughing and being happy in the outdoors," Wood said. "There's nothing more heartwarming and affirming in our work than that!"
Check out the schedule below and register here. (Events are free but they would like a headcount.)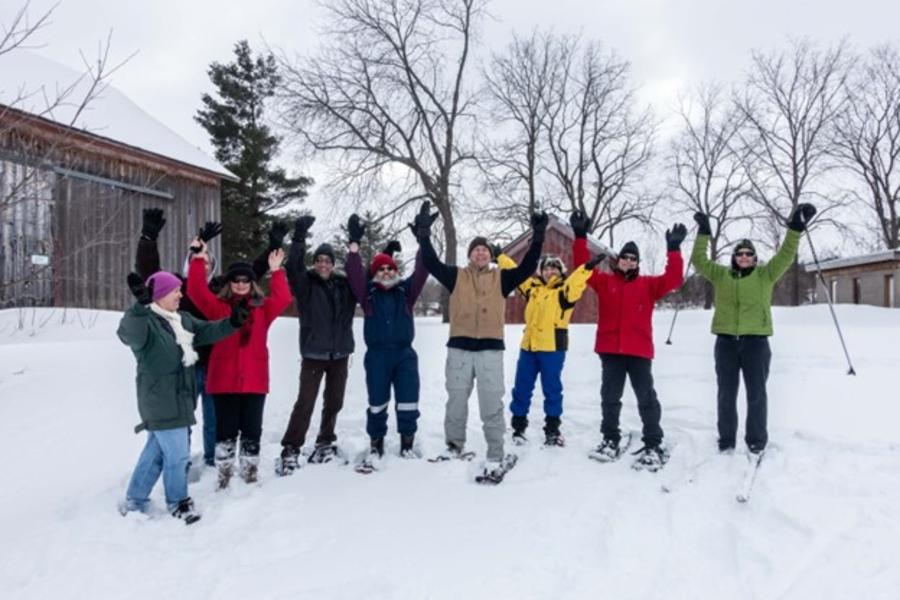 Photo courtesy of Leelanau Conservancy.
Schedule
2:00 pm – Ski the Price Valley Trail – Bring your cross-country skis and explore the Price Valley Trail out to the fern garden and back to the Hub. LC staff will be out on the trails too, so say hello or ask a question! 
2:30 pm – Docent Guided Snowshoe – This moderately paced 1–2-mile snowshoe with our knowledgeable docents will get you looking and thinking about the forest in new ways. This will start and finish at the Hub in the main Palmer Woods parking area in time to join the Fireside Chat.
4:00 pm – Fireside Chat – Join others at the Palmer Woods hub to warm up around the fires and join in an interactive discussion on all things trails with Executive Director Tom Nelson and the Conservancy's Stewardship Staff. They will have refreshments and hot cocoa! BYOM (Bring Your Own Mug) is preferred to help reduce waste.
4:30 pm Staff-led Snowshoe – Following the Fireside Chat, join stewardship staff on a guided snowshoe to some of the newest trails at Palmer Woods.
Dusk – Lantern-lit Snowshoeing – Take a self-guided snowshoe/hike on the lantern-lit Ursa Minor trail. Ursa Minor is a 1-mile loop trail, starting and ending at the hub.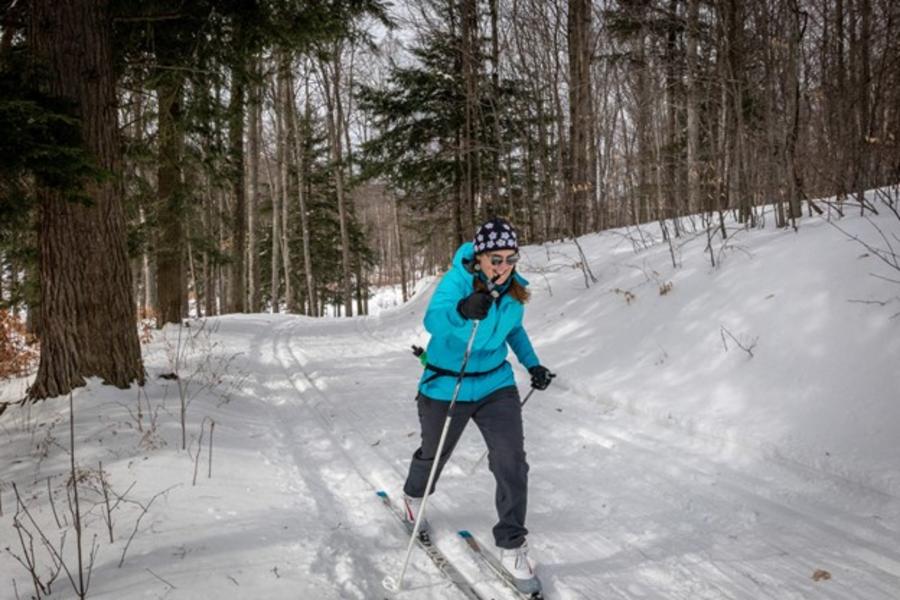 Photo courtesy of Leelanau Conservancy.
Things to remember:  
Trails are multi-use. 
Do not hike on the groomed ski tracks.
Benches are located at #6 called the Mid-valley Hub, in the Fern Garden, and in between #14 & #15 (Download Map Here).
Restrooms are located at the main parking area / Hub / #1 on the map.
The main gathering will take place at the Hub with warming fires and refreshments.  
It is best for pets to stay home for this event.
BYOM – Bring your own mug for hot cocoa to help reduce waste. (They will have cups too!) 
Please register in advance here.
Check out other Docent Guided Hikes: Events – The Leelanau Conservancy
Look for more Trails Days events later this year!