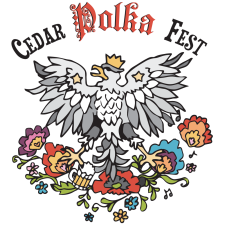 Roll out the barrel, Pani i Panowie (that's "ladies and gentleman" for those Babcia didn't teach): The 40th annual Cedar Polka Festival is rolling up the golobki, pinching the pierogi, and ready to pour a bounty of beer in celebration of the town's Polish heritage—and all those who love it.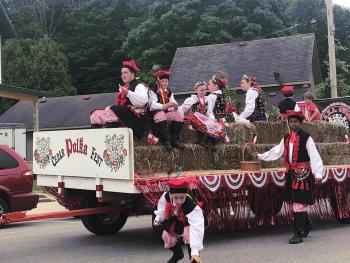 And what's not to love? Starting with the raising of the Polish flag at 5 p.m. on Thursday, August 25, and running through 5 p.m. on Sunday, August 28, the infamous fest attracts thousands to the big tent in this tiny central-Leelanau town for four crazy days and nights of near-nonstop polka dancing, polka music, and more family fun than you can shake a kielbasa at.
Like any good Polish party, it doesn't matter when you arrive—you and everyone you know are welcome and fully expected to eat, drink, and polka your dupa off—but if you want to target some truly unforgettable traditions, here's what we recommend: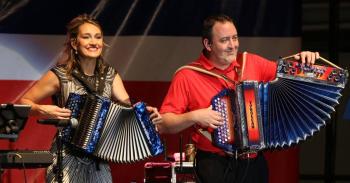 1. Mollie B and Ted Lange, America's favorite polka duo and International Polka Hall of Famers (yup, it's a thing) are bringing the Squeezebox band—and their own squeezeboxes—from Wisconsin to rock the dancefloor from 5 pm's open til midnight's close on opening night. (Tip: Ask them to play NoMi Polka favorite, Northshore, and the dance floor will fill up faster than Dziadek can down a beer.) Loads of other award-winning polka bands and live Polish music will play all weekend long.
2. No Polish meal can be considered complete without a hefty dose of butter and dough, and the Lion's Club makes both the main course with its annual pancake breakfast and fundraiser, 8:30 a.m.–11 a.m. Saturday, August 30.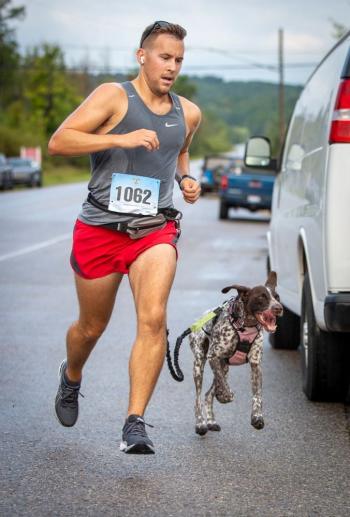 3. Before you belly up to breakfast, sprint first to the Run 4 The Kielbasa Race, a 4-miler that begins and ends in downtown Cedar and not only earns you the coolest commemorative running T-shirt in the County—tag line: "You Never Sausage A Race"—but also includes free entry to the pancake breakfast, with a side of kielbasa. (Can't make the mileage or the event itself? A 2-mile Pierogi Fun Run and a Virtual 4-mile Kielbasa run, which can be run anywhere you are, are options too! Click here to register.)
4. If you can play Polish only one day, make it Saturday: Post-pancake and run, you've got Hagerty's PolCar Fest Classic Car and Motorcycle Show (9 a.m.–noon), the sweetest little hometown parade you've ever seen outside of the Hallmark Channel (1 p.m. downtown Cedar), Polka Fest's Kids Day (games, activities, and entertainment, including the giant, red-nosed Scottville Clown Band), and free entry all day long for any veteran or current member of the military.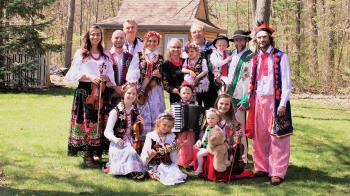 5. Prefer a slightly less crowded, more local ode to the old country and its descendants? Bring Babcia and Dziadek in their Sunday best to the unforgettable Catholic Polka mass (10:30–11:30 a.m. August 28) under the tent. Pan Franek's giant family polka band will make it a service like no other—then he, wife Zosia, their five kids, and grandkids will raise spirits ever-higher every other hour afterward as they alternate the stage with Polish-American music favorite, Dynabrass. If you can keep Babcia off the dancefloor long enough, take her for a twirl through the fest's phenomenal Polka Arts and Crafts Fair (10 a.m.–3 p.m.) while Dziadek, in true Polish grandpa form, sits back with a beer and heckles the Cornhole Tournament players (noon–4 p.m.).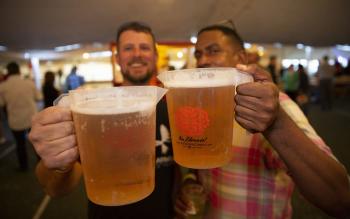 One tip before you go: Polka Fest parking is on a first-come, first-served basis, so expect to walk a ways to the action at 3075 E. Sullivan St., or skip driving entirely: Park at the Meijer U.S.-31 in Traverse City and catch a BATA bus, which will offer free rides and a continuous loop—between Meijer, the BATA main transfer station on Hall St. in downtown TC, and Cedar—5 p.m. to 11:30 p.m. Friday and Saturday.
Learn more about the festival, its schedule, and all the events and details at cedarpolkafest.org.