Leelanau wineries are famous for… their wine, of course. But there are many wineries that are making sure they have non-alcoholic (N/A) choices, too, now. And they are just as delicious! Here's a rundown of some of the alcoholic-free choices you'll find if you treat yourself to a wine tour in Leelanau County:
Try their homemade ginger ale – a recipe that co-owner Dan Young developed at a brewery he owned in Massachusetts. For a more unusual N/A choice, try their Lemon Switchel – it's made from house-made apple cider vinegar, lemon juice, honey, and soda water. It's carbonated and tastes along the lines of an exotic iced tea. On a recent post on the "Overheard in Leelanau County" Facebook page, the Lemon Switchel got tons of mentions from the N/A drinkers!
Two K a few different N/A choices: Mexican Fanta (In Mexico, Fanta is made with sugar, whereas the U.S. version is made with high fructose corn syrup), Cola, Sprite and Fruitbelt (see more on these tonics below!).
45North also carries Fruitbelt tart sparkling tonic and uses them to make wine seltzers - delish! Try with or without the wine, ha! This is a Grand Rapids-based company that uses Michigan fruits.
45North also carries Northwoods sodas, juice boxes for kids (parents, rejoice!), and their own N/A Pomegranate Seltzer.
This is where it gets fun for the kids or kid-in-all-of-us. Here, you can enjoy pop tastings (try Cherry Root BEAR!), while the others can enjoy wine or cider tastings (try the Cherry Adore wine or Loaded Lug hard cider).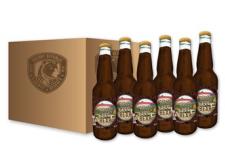 The Cherry Root Bear is root beer flavor enhanced with real cherry juice and makes for an excellent Cherry Root Bear Float. It's also the secret ingredient in Cherry Republic's Root Bear BBQ Chicken Wings (see the recipe here).
Another favorite is the Boom Chugga Lugga Cherry Soda, which is often compared to a "Shirley Temple" with a light cherry flavor and crisp finish. This soda is made with the real deal - Northern Michigan cherry juice!
There are also bottles of Sparkling Cherry Spumante that are non-alcoholic and a perfect fizzy toast for all. The great thing about Cherry Republic is, regardless of your choice of bevy, you get to sample their cherry goodies, too. Try their chocolate-covered cherries before you leave! (Milk chocolate is a crowd fav.)
Their Cherry Lemonade Slushee is N/A and quite popular. (For an extra $5, you can add a shot of brandy to your slushee!) BSF slushees are only available on Saturdays in the summer. They also offer a N/A sparkling raspberry juice, which hits perfect on a hot day!
As non-alcoholic options have become more popular at area wineries, you can expect to find other choices like these throughout Leelanau County. Whether you are out to see the gorgeous views of wine country or your friends have dubbed you the DD, everyone can enjoy!