Driving storm rains, hail and winds clocked at over 80 MPH on the August 2nd were just the latest in a series of unfortunate events to impact Leelanau Peninsula wineries and fruit growers over the past year.
But here's the scoop:  It might come as a surprise to anyone in Northern Michigan who experienced the wicked early August storm, but most Leelanau winemakers are still looking forward to some great wines to come after the upcoming October harvest.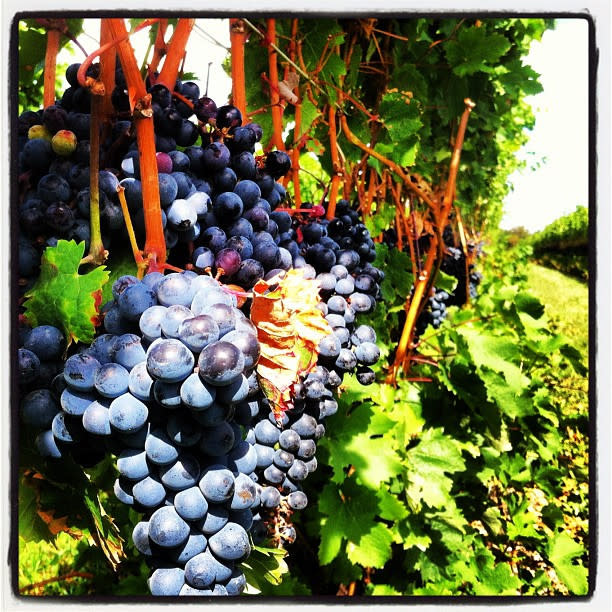 [source: lpwines.com]
Chalk it up to the record-breaking cold of the past few winters and late frost that hit the region this past May, but most Leelanau Peninsula winemakers are unexpectedly ho-hum about the impact of the epic storm that ripped across Northern Michigan in early August.
"We certainly saw the effects of storm," says Shady Lane Cellars tasting room manager, Rick DeBlasio. "But we were already dealing with the effect of last winter's severe cold and the late frost in May. After the storm, we had some hail damage. There was also some minor wind and water damage to our tasting room. But we certainly fared better than some, and we're still optimistic headed into the fall harvest."
While Glen Arbor and the Sleeping Bear Dunes took a direct hit from the August 2nd storm, a fruit industry damage/assessment report by Traverse City Record Eagle in weeks after showed that the storm's main and most destructive path was confined to "a very narrow band" from the Bingham area to south of Suttons Bay.
Here, fruit orchards were particularly susceptible to storm damage from hail AND high winds that blew bark from trees, tore away leaves and tossed ripening fruit. Grapes proved not as impacted by strong winds, only by hail, which was scattered and reportedly not falling as heavily over Leelanau as it was in some portions of Grand Traverse and Antrim Counties.
"The wineries on the Leelanau Peninsula wine trail are located outside Glen Arbor and Sleeping Bear Dunes," says Leelenau Vintners Association's Lorri Hathaway in explaining why wind was not so much a factor. "The extant of damage to grape crops was confined to mostly cluster and leaf damage due to hail."
According to Hathaway, other Leelanau wineries to report some hail damage were Bel Lago Vineyard and Winery, Chateau Fontaine, Boathouse Vineyards and Willow Vineyards, which also reported some bruised canes, as well. This explains why her message to Leelanau wine lovers is upbeat.
"Overall, the vineyards fared well," she says, "and we're looking forward to some great wines from the vintage."