I decided to bring my 16-year-old brother Will. If there's one thing we can be sure we'll be able to enjoy in the midst of all this uncertainty, it's a really good burrito.
We're in sunny Sutton's Bay, MI at the Bay Burrito CO.  Suttons Bay is one of those towns that looks like a model of one of those picturesque villages you'd see in the toy catalogs. The Bay Burrito Co. was opened by a married couple, Seth and Jennifer Friedman. Seth discovered the area vacationing up north as a kid.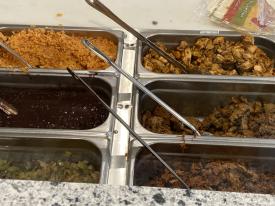 Inside the restaurant, I can smell the carne asada cooking and the meat searing with the Mexican spices over the hot flat-top griddle.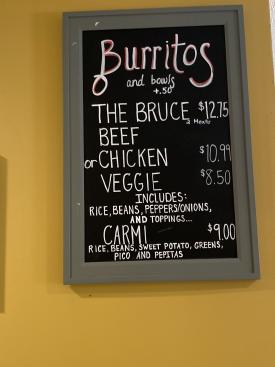 As you order, you can choose between the "Bruce" burrito or a bowl. With the "Bruce," you can choose a choice of two types of meat, beef, chicken, or pork. Or you can choose the veggie option, priced at, $8.50, which comes with rice, beans, peppers, onions, and other toppings, which we'll get to later. The "Bruce" burrito is priced at $12.75 with your choice of beef and one other meat, and for $10.99, you can just get the chicken burrito with your choice of add-ons for no additional cost.
You can also order the "Carmi", a vegan option that comes with rice, beans, sweet potato, greens, pico, and pepitas, priced at $9.00. To turn any burrito into a bowl is an additional .50 cents.
"We make all of our guacamole, Pico de Gallo and the rest of our food fresh every day," says Seth. "We don't carry food over at the end of the day, whatever's left, we give over to the kids who work at the restaurant."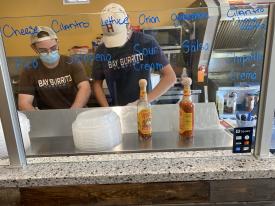 When you get to the second part of the burrito ordering station, you see a menu of all the available "extras" to add to your burrito or bowl. They include Pico de gallo, shredded cheddar cheese, cilantro, jalapenos, lettuce, onion, sour cream, guacamole, salsa, chipotle crema, and my favorite, cilantro-lime crema, made by Seth's wife, Jennifer. During the off-season, people ask her if she can bottle the crema for them to take home.
As I order my burrito, I keep listing off ingredients and waiting for the server to tell me to stop but he never does.
"We've had the same employees here for three years," says Seth. "We spoke with their parents and met their families. We wanted them to understand what the task was at hand. The biggest thing I tell them is to have fun, if you use fresh, high-quality ingredients, the food will carry itself. It's about experience when you eat here. "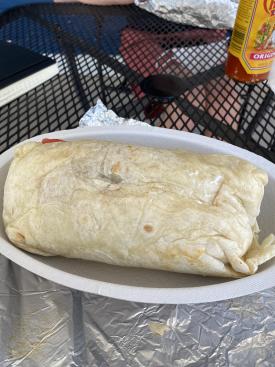 Eventually, the burrito gets so big, the burrito artist throws another tortilla shell on the griddle and re-wraps it. When I sit down outside and open the tinfoil, it's the size of a pop-warner football.
"I want people to feel welcomed when they eat at our restaurant and let that be someone's first experience into feeling welcomed into the community here, either as a local or a tourist," said Seth. "I want this restaurant to be a people place, not just a place where people get something to eat."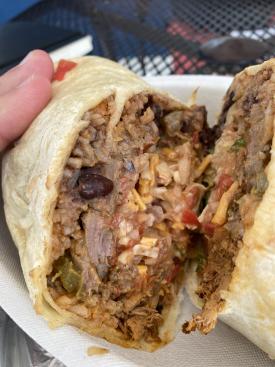 I dig into my burrito. The crisp, yet soft texture of the pork greets me in all of its Mexican-spice glory. The cilantro lime is creamy and does not overwhelm. The interplay between the seasoned, red rice, cheese, meat, and sour cream meet in a crescendo that would put any Chipotle burrito to shame.
When thinking about what kind of restaurant, Seth wanted to create, he wanted a "quick-serve location with a beautiful view" and according to him, "it checks all those boxes". I couldn't agree more. The blue, sunny sky shines down on us, and the sunny patio, painted white, provides a perfect ambiance for this south-of-the-border dish.
"Our emphasis is around family." Says Seth. "We have a ten-year-old daughter. We know that as families go out, it's not always the easiest to keep them entertained. We're happy to give these families something that they like, and their kids can enjoy the experience as well.  Kids and parents won't have to sit at the table for an hour and a half waiting for dinner or lunch."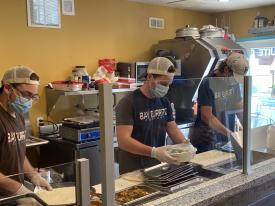 When asked about what steps Seth and his wife Jennifer are taking to limit exposure to COVID-19, Seth said that "(he) is dedicated to everyone wearing a mask, we limit the number of people who can come in. We monitor our employees. They limit their exposure time outside of work to just their family and immediate friends, and they aren't out running around town."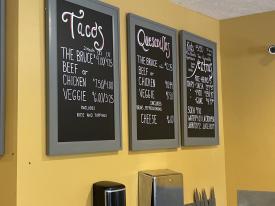 Suttons bay Burrito Co. will be open until mid-October.
My brother and I sit outside in the gorgeous Northern-Michigan, August weather. The patio is covered, and we look into the restaurant, the exterior painted a beautiful, navy blue. Beside us tables chat and laugh, and I look across the table at my brother. He is sixteen now, and we don't always agree on everything and I'm glad we'll have this memory together. Seth set out to form a restaurant, to bring people together, and this is proof of his success.
Suttons Bay, MI is sixteen miles north of Traverse City and is also reachable by the Tart Trail. While in Sutton's Bay, you are only a hop, skip, and a jump away from discovering, Leland, Glen Arbor, Northport, and the rest of the beautiful places the Leelanau Peninsula has to offer. Summer is coming to an end slowly but surely, so get to Leelanau County while it's hot.