Let the hordes have the mayhem of those big box stores on Black Friday. Along the snowy sidewalks in our quaint Up North towns, we fire up the holidays with a somewhat brighter approach: We let there be light.
From Cedar to Leland, Glen Arbor to Northport and back to Suttons Bay, Leelanau hosts several tree and town-lighting festivals that shine bright on Black Friday and beyond:

NOVEMBER 25 EVENTS

Cedar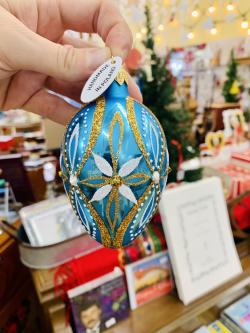 The single-stoplight town with a storied Polish heritage welcomes everyone like family for an unforgettable entrance to the holidays: Light Up Cedar. First, Santa arrives by firetruck to light up the town, then he'll listen to the little ones' Christmas wishes and pose for photos.
A few of his trusty reindeer will be at his side—hooves on snow; no flying allowed before the big night, of course—and area business will stay open for shopping, activities, and even some make-and-take-home crafts. A DJ will spin Christmas melodies as a big bonfire crackles and kids can roast marshmallows for s'mores. 5pm–8pm Friday, Nov. 25.
Leland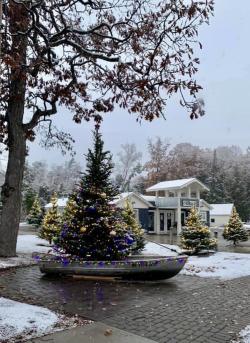 Here's the plan: Be on the lawn of the Old Art Building in Leland by 5:30 p.m. Friday, Nov. 25 to stroll its always-artful OAB Festival of Lights, and then—sometime between 6 p.m. and 8 p.m.—make your way up to the harbor town's postcard-perfect Main Street (you'll know and amble north to the Village Green, all part of Light Up Leland. Caroling is welcome and encouraged, holiday cheer, mandatory.
Glen Arbor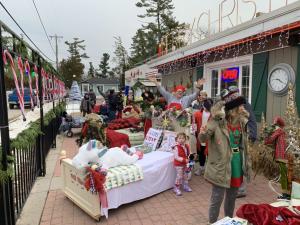 The wee town of Glen Arbor goes big—actually, HUGE—for the holidays, so it almost doesn't matter when you show up in the weeks before Christmas: You're practically guaranteed to see something ho-ho-happening.
The morning after Thanksgiving, the shops of Glen Arbor open early for their "Better than Black Friday" Pajama Party shopping extravaganza. Early birds who attend the 7 a.m.–9 a.m. even are invited to stay in their PJs while enjoying special sales at participating shops in the township's business district. At 9 a.m., be on the curb of Western Avenue for another GA tradition: the fun and quirky Bed Parade, where festively decorated beds on wheels will roll past.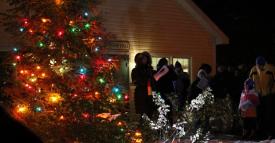 If it's lights you're after, plan to be at the white clapboard Glen Arbor Town Hall at 6:15pm Friday, Nov. 25. That's when you can carol alongside GA locals and Glen Lake Church members as they herald the annual lighting of the township Christmas tree, and—from 6:30 p.m. to 8 p.m.—be among the first to get inside the township hall to shop the artisan goods at Holiday Market Preview Party, which runs until 8 p.m. (Can't make the preview? The Holiday Market re-opens from 10 a.m. to 4 p.m. Saturday, Nov. 26.)

NOVEMBER 26 & BEYOND

Crystal River Outfitters Recreational District
Glen Arbor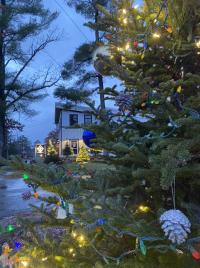 Follow the curve of M-22 through downtown Glen Arbor, and you'll find 22 pre-lit Christmas trees already aglow, part of CRO's Strolling Light Festival. By Nov. 26, however, every last one of them will be "adopted" and adorned in a singular way by a local sponsor; their sponsorship fee and any additional donations go to the Glen Lake Student Assistance Fund, which helps to meet the various needs of Glen Lake School PreK–12th grade students and families.

Expect gorgeous, silly, sporting, and wild style to be on display until the new year, but if we had to pick a day to stroll among these uniquely decorated trees, we'd vote for Nov. 26: That's when Santa will be on the M22 Glen Arbor Wine Patio (from 11 a.m.–1 p.m.) to meet your kids, hear their holiday wishes, and pose for family pictures—free!
Suttons Bay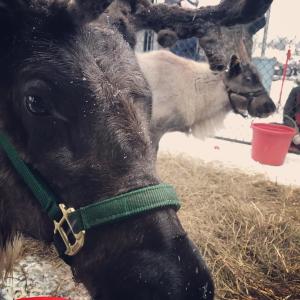 Those who aren't lucky enough to be Up North over Thanksgiving weekend have another shot at seeing a small town shine. On Dec. 7, Suttons Bay springs to luminary light. The warm-up begins between 10 a.m. and noon at the Suttons Bay Bingham District Library, where kids can help decorate for the holidays, eat cookies, make crafts, and write a letter to Santa. The Polar Express plays—free—at the Bay Theatre at 1:30 p.m. At 5 p.m., kids and grownups alike will gather at the corner of Jefferson and M-22 to sing loud for all to hear … until Santa swings into town aboard a firetruck to light the village tree. Afterward, kids can sit on Santa's lap at the V.I. Grill or hit the luminary-lined streets for some late-night (OK, til 8 p.m.) shopping with Mom and Dad. 
Northport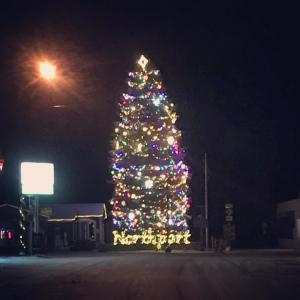 To put it mildly, Northport goes nuts for the holidays. Starting Nov. 26, the town takes tree lighting to a new level by hosting an entire day [https://www.northportnutcrackers.com/tree-lighting-festivities] packed full of activities before the illumination hour (6 p.m., just after Santa's 5:30 p.m. arrival) and after!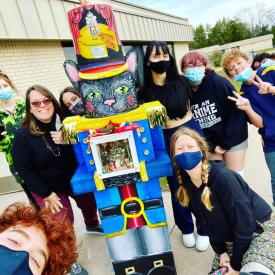 There's brunch with Mr. and Mrs. Claus (ticketed; reservations here [https://www.northportnutcrackers.com/book-online)]; opportunities to make-your-own-snow globe, decorate gingerbread cookies and houses, make wreaths, meet Santa's reindeer, take a horse-drawn carriage ride, hunt the town for kid-sized nutcracker statues; and much, much more.
Grand Traverse Lighthouse
Starting Friday, Dec. 2, the Grand Traverse Lighthouse in Northport hosts a little light show of its own: a Scavenger Hunt and Holiday Lights Hike. Part indoors and part outside, the hike wends around the lighthouse grounds with illuminated displays that are beautiful as is but even more spectacular when view with 3D glasses (an optional $2 purchase).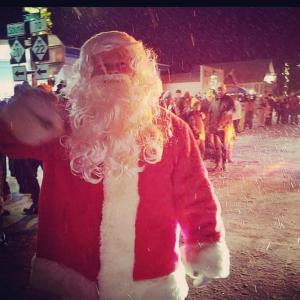 The hike ends at the lighthouse with a bonfire, hot cocoa, and s'mores, but the fun continues inside with an ornament-making craft, a North Pole Post Box ready for letters to Santa, and a sing-along with the 1899 organ inside the keeper's living room. The adjacent gift shop will be open for shopping, too. The event is free, minus the 3D glasses, but all entrants will need a State Park Pass to park on the lighthouse grounds at Leelanau State Park. Each hike happens 4 p.m.-7 p.m. Dec. 2, 3, 9, and 10.