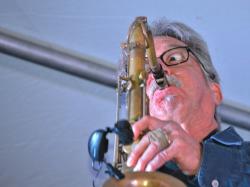 A single day. Six stages. And, along three closed-to-traffic streets in the wee town near the tip of Leelanau County's pinkie, dozens of exhibiting artists, 40 live performances, and oodles of opportunities to gorge on locally made food and beverages.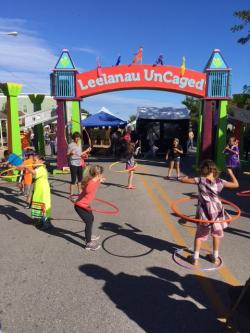 That, in a nutshell—and far outside of the proverbial box, of course—is Leelanau UnCaged, the annual free-for-all festival that draws nearly 7,000 kids and adults to celebrate the avant-garde life and work of John Milton Cage Jr.
Who is John Cage?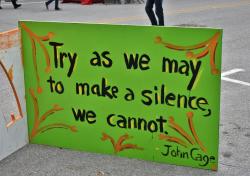 The nation's Percussive Arts Society calls him one of the most influential composers of the 20th century, a pioneer who created an immense body of scores, compositional "procedures," and theories that revolutionized contemporary music—something he described as "the all-sounds music of the future."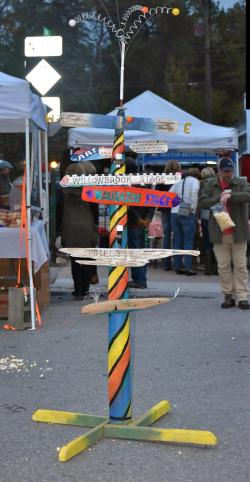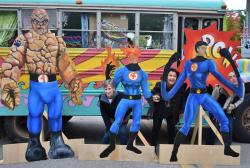 (An example of one famous work: 4′33″, aka Four Minutes and Thirty-three Seconds, which required its performers to stand on stage, utterly silent, for that amount of time. Nevertheless, he said once, silence doesn't actually exist; audiences of that piece could still hear the wind.)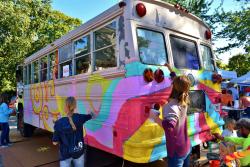 Cage's zeal for environmental music and unconventional instrumentation—and the just plain unconventional—inspires dozens of volunteers to turn the village of Northport into a jubiliant celebration of life, artistry, creativity, and color each September. 
And, after a long two-year break brought by the long shadow of a not-so-sunny global  pandemic, this year's Leelanau UnCaged, happening September 24, promises to be un…forgettable. 
What You'll See, Hear & Do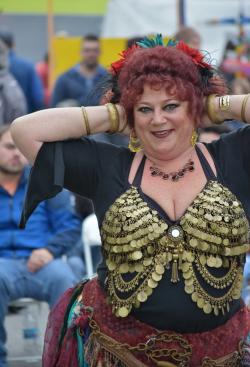 Starting with an 11 a.m. water blessing at the little pavilion on Northport Municipal beach (find the beach just south of the Marina, along Bay Street), the party moves into parade mode. Belly dancers and drummers will lead the way to the on-street festival downtown, where kids and adults alike can dance, create, sing, shop, and listen to music of all kinds—from bands like Deep Water Samba, the Ukulele Orchestra, and ever-popular rockers the GoRounds, to Interlochen cellist and chamber-music master Chris Crispen, whose voice on the cello is said to live somewhere between the classical art song and Stephane Grapelli, with a dash of Frank Zappa.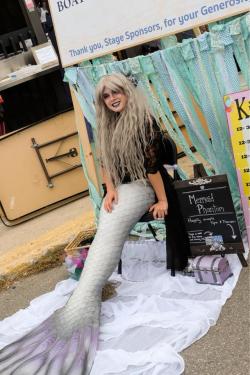 Oh, and you'll also hear Blues, jazz, StoneFolk, Irish Dance, Grupo Folklorico Xóchiquetzal, and more than two dozen others until about 10:30 p.m. Hint: Wear your dancing shoes.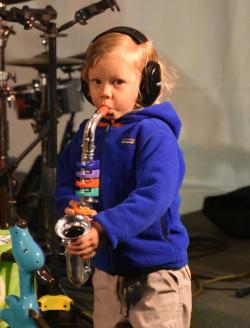 As for shopping, expect slews of artisan vendors selling their handmade beads, jewelry, fine art, pottery, knitted and crocheted wares, fabric art, photography, soaps, and more. There'll be food trucks aplenty, plus several downtown shops and restaurants joining in with special deals and meals.
Got kids? Don't miss the corner of Mill and Third, where they're invited to meet a mermaid, paint a nutcracker, bedazzle an instrument, paint a car, make wearable art, and more between noon and 4 p.m. (Check the schedule; some of the above activities run for two or three hours only.)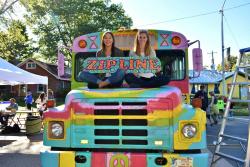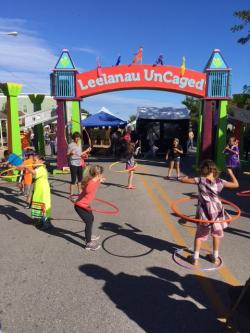 As beautiful as the ride up M-22 to Northport is in late September, gas prices are high, and parking in the village isn't plentiful. You can avoid both by catching the BATA bus from Traverse City, Suttons Bay, or Peshawbestown to downtown Northport (and back); it'll run every hour during the UnCaged festival. (Check Bata.net for specific bus stop location and times).
For a detailed schedule of each music and dance performance, a list of attending artist vendors, and other info, follow Leelanau UnCaged on Facebook. For other details and information on volunteering at Leelanau UnCaged, visit www.LeelanauUnCaged.com.