Piping Plover season is in full swing, and our Sleeping Bear Dunes birds are out and about throughout the park. But they aren't alone. They are protected by an unlikely ally – dogs. Yes, that's right, one of their biggest threats is actually there to help.
The park's BARK Rangers are dogs  – and their owners – who patrol the beaches to keep all dogs on leash and out of closed areas, in an effort to reduce stress on these endangered birds.
The team of BARK volunteers is around 15 dogs, and you'll find them outfitted with an orange patrol vest, BARK badge, and BARK bandana, according to Carly Maki, BARK program volunteer. Their number one job is to remind visitors of the park's dog policies and educate them on the Piping Plover in the park.
Maki has been with the program since it started in 2016 and often patrols with Biscotti, her cockapoo. As of mid-July, she says the Piping Plover numbers stand at:
84 adult plovers made the dunes their summer home
31 nested in the park, both mainland and islands
121 eggs in nest
104 chicks have hatched
46 birds have fully-fledged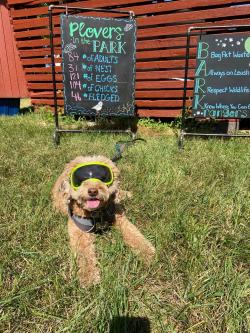 "Our BARK rangers will continue to be on the beaches modeling the principles of the Bark program all season," Maki says. "While plovers are active and the chicks are learning about their new world, it's even more imperative we give them space to explore and hunt. We will continue to provide education, and we invite park visitors to respect wildlife while also enjoying the beach. We love when visitors say hi!"
Biscotti and the team usually receive a warm welcome, but not always Maki says."One of the common responses I receive is that there aren't people nearby and their dog is well behaved," she says. "Unfortunately, the birds are not aware that our dogs are pets and not there to make a meal out of them!"
She says that one of the things Piping Plovers do best is camouflage.
"It may seem like a wise choice to let your dog run for a few minutes off leash or go for a swim in a closed area, but if you are in a closed area, it is highly probable there are plovers nearby," she says. "We have highly trained monitors that sight birds daily and even with scopes and binoculars, do not always see the bird immediately."
A complete list of pet-friendly beaches in the park is online here.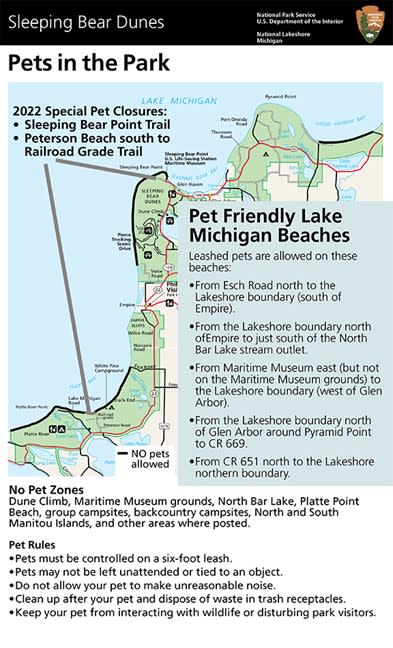 "The pet-friendly areas, as well as the closed beaches, remain that way year-round, with the exception of Peterson Beach and the Sleeping Bear Pointe Trail which can be expected to reopen to pets and their humans on Aug. 15, as all of our plovers will have returned to their wintering grounds around that time," Maki says.
Piping Plovers are in the park from April to August and come here to breed before flying back down to the southern Atlantic Coast or the Gulf Coast. The endangered species had just 13 nesting pairs in the Great Lakes in the 1980s and is slowly recovering. There are three types of Piping Plovers, and the park is home to the federally endangered Great Lakes Piping Plover. The Sleeping Bear Dunes is home to over half of these Great Lakes birds.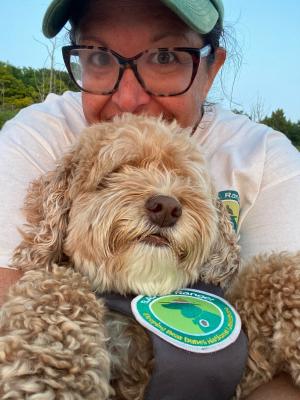 Once a nest is located, the park ropes the area off and protects the nest with a metal enclosure to keep out predators. Maki says the birds make nests by scraping little holes in the sand and laying one egg a day, for several days, making an organized nest that generally holds 4 eggs. The male and female then rotate brooding. When the birds hatch in 27 days, about two are expected to survive and fledge.
The BARK Rangers help give the birds space to nest, brood, and fledge without the stress caused by dogs. As a federally protected species, Maki says that you can get a ticket for violating park policy. In addition, if a dog damages a nest, owners can face jail time.
"We want to talk to people before that happens," she says. "It's actually a great way to meet a lot of people from all over the world – and their pups! Everyone wants to say hi to Biscotti, whether they have a dog or not!"
Those interested in volunteering for the program can visit: https://friendsofsleepingbear.org/programs/bark-ranger/