From ranger led snowshoe hikes starting January 9th to great news about the reopening of Alligator Hill hiking and cross-country ski trail, here's a roundup of the month's top news stories culled from around web.
Ranger Led Snowshoe Hikes Begin January 9th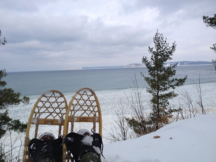 [source: nps.gov]
Now that a little snow has finally come to the Sleeping Bear Dunes, one of the most popular winter activities in the park can finally commence. The Sleeping Bear Dunes National Lakeshore will host its first ranger led snowshoe hike of the season on Saturday, January 9th, at 1pm. Click here to read the news release. The hikes will be offered every Saturday at 1pm through March 5th.
Participants should meet at the Philip A. Hart Visitor Center in Empire where park rangers will provide basic snowshoeing instruction before traveling by car to the area selected for the hike. Hikes are mildly strenuous and approximately 1.5 miles in length. Participants should plan to be outside until 3pm, dress in layers and wear waterproof boots.
No snowshoes? No Problem. Participants can borrow snowshoes at no charge. Individuals need only purchase the park entrance pass or have an annual pass to join in the fun. Reservations are required and can be made by calling 326.4700, ext. 5010.
Alligator Hill Hiking and Ski Path Reopens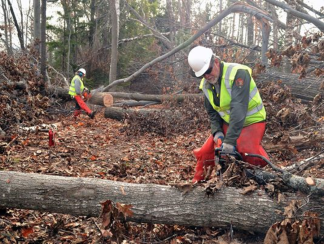 [source: detroitnews.com, John L. Russell photo]
Thousands of downed trees blocked access to Sleeping Bear's Alligator Hill Trail after the August 2nd storm packing winds estimated at 100 mph left a path of destruction through Leelanau County northwest of Traverse City. Now most of that trail is reopened, just in time for the cross-country ski season. The Detroit News covered the story earlier this month. Click here to read the full report, which also revealed some interesting facts. For starters, did you know the nine-mile trail was so devastated by fallen trees that there was doubt that the trail would ever reopen? In three weeks, three crews working 10-hour days managed to remove 2,800 trees blocking six miles of trail.
Guided Kayak Tours Coming To The Sleeping Bear Dunes in 2016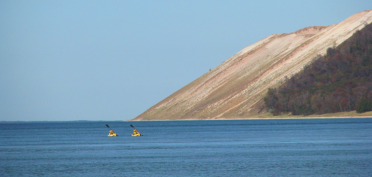 [source: michigan.org]
Guided kayak tours will be available next year along the shoreline at Sleeping Bear Dunes National Lakeshore, according to an article this month in the Traverse City Record-Eagle. Click here to read the entire story.
Jeff Gagie owner of All About Water, an online kayak and paddleboard rental company that offers deliveries in the Traverse City region, received authorization from the National Park Service to begin conducting guided tours starting in June 2016. Customers will be able to choose from routes led by credentialed guides going around Pierce Stocking, Pyramid Point or Good Harbor Bay. Gagie tells the Record-Eagle that the cost of the tours will be $60 per person, which includes kayak rental and equipment such as life jackets, paddles, dry bags and wet suits.