October has been a busy month for news in and around the Sleeping Bear Dunes National Lakeshore. From an admission fee hike coming to the Lakeshore in 2016 to and update on wildfire risk stemming from thousands of downed trees caused by the devastating August 2nd storm, here's a roundup of the month's top news stories culled from around web.
Experts Access Fire Risk From August 2nd Storm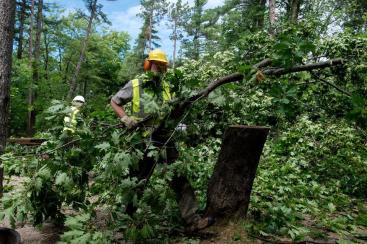 [source: mlive.com/Neil Blake]
Believing in a policy of "natural recovery," the National Park Service has no plans to remove or salvage any of the thousands of trees toppled during the August 2nd storm that hammered the Sleeping Bear Dunes National Lakeshore. But all that fallen timber poses no fire danger yet, according to fire professionals. Experts said the trees are still too "green" to pose any immediate risk, according to the MLive report, but suggested homeowners should take precautions for when the trees dry. Property owners in storm-damaged areas are advised to keep their lawns mowed, not store firewood near homes and create a "defensible space" around structures.
Sleeping Bear Celebrates 45 Years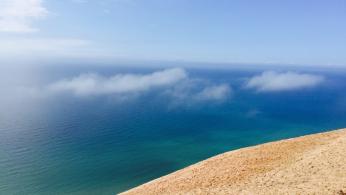 [source: upnorthlive.com]
Last week, UpNorthLive gave a shout out to the 45th birthday of the Sleeping Bear Dunes National Lakeshore. An act of congress established the Lakeshore on October 21, 1970. Today the park draws over 1.4 million visitors every year. According to the most recent economic impact survey from the National Park Service, these visitors spend $132,774,000 in communities surrounding the park and support 2,347 jobs in the local area.
Avian Botulism Counts Low So Far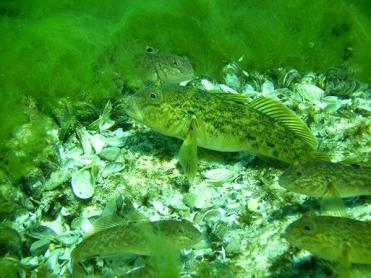 [source: nps.gov]
According to surveys from the National Park Service, there has been an increased incidence of bird deaths in Lake Michigan due to Type E avian botulism. Over the past decade, some 6,500 dead birds have been documented within the Sleeping Bear Dunes National Lakeshore alone. October is typically a peak month for dead shorebirds washing up on Lakeshore beaches. But not this year, says a 20-person volunteer team that picked up only 164 dead birds from June through September. According to an October report from the Traverse City Record-Eagle, this is a sharp decline from 2012 when an avian botulism outbreak led volunteers to tally 362 birds in those months. Avian botulism is an algae-born toxin that is ingested by insects and fish and makes its way up the food chain until it reaches fish-eating birds including ducks, cormorants, gulls and loons.
Admission Fee Increase Coming In 2016
[source: MLive.com]
"The view of Lake Michigan from the dune overlook along the Pierce Stocking Scenic Drive is undeniably magnificent," says MLive's Garret Ellison . "Unfortunately, it's going to cost a bit more to see next year."
Starting January 1, 2016, the per-vehicle entrance fee will climb from $10 to $15 and the per-person entrance fee for hikers and bicycle riders will climb from $5 to $7. Both passes are good for 7 days.
UpNorthLive also reported on the rate increase, which stems from the nationwide review of park entrance fees in 2014. Park officials hope that the extra money (estimated at anywhere from $500,000 to $700,000) added to the Lakeshore coffers will go toward funding more park projects and programs as well as increasing the number of custodial staff.