Hiking and biking aren't the only outdoor activities to enjoy in and around the Sleeping Bear Dunes National Lakeshore come spring. The Lakeshore's fields, forests and streams are teeming with game, fish and wild edibles—namely morels—that lure many locals and visitors outside and off-the-beaten path once deep winter snows disappear. From wild turkeys to trout, here's a few guided and unguided options to get you started.
Turkey Hunting
May 1st-31st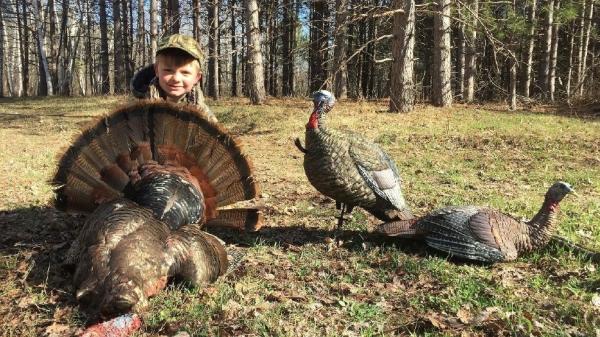 [source: michigan.gov/dnr]
You probably think turkeys are pretty are pretty dumb if you're only experience with them happens when you're in the car, late for work and they're doing their little puffed-up mating dance in the middle of the road. Wild turkeys encountered by non-hunters on their morning commute give the pastime of turkey hunting a bad name. How hard could it be hunting these goofy-looking birds that only gobble back when you honk the horn?
Out in the woods, however, a wild turkey is frustratingly cunning bird. According to the Michigan DNR, only one out of three hunters manage fill their tag in the spring. Coaxing a thundering adult gobbler into close-range is one of the most difficult and thrilling experiences in the outdoors. And there are few places more perfect for pursuing the birds than the rolling forested hills, beautiful farm and orchard country of Leelanau County and the Sleeping Bear Dunes.
The Lakeshore is open to public hunting, year-round, and that includes the annual spring hunt for wild turkeys. A park-issued entrance pass and state-issued hunting license are all that's required. Click here for information on special restrictions for hunting within the Lakeshore. For state regulations and hunting license costs and information, click here for the most current edition of the Michigan DNR's annual Spring Turkey Hunting Digest.
Trout and Steelhead
April 27th (Opening Day For Designated Michigan Trout Streams)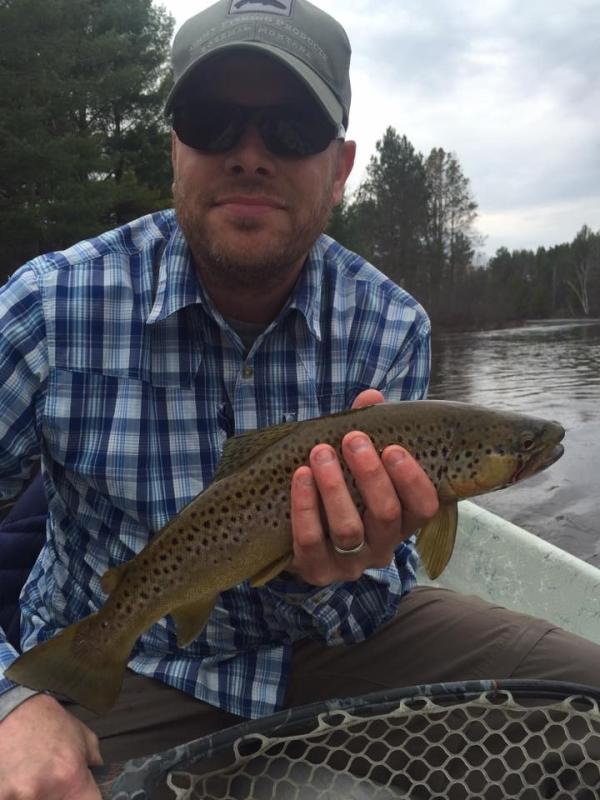 [source: streamsideorvis.com]
The last Saturday in April—the traditional opener of trout season in Michigan—is something akin to a holiday here in Northwest Lower Michigan. The perfect cure for Cabin Fever, catching a trout and/or lake-run steelhead—otherwise known as "The King of Michigan Sport Fish"—is a true sign that winter is officially over.
Inside the boundaries of the Lakeshore, the Crystal River (running through The Homestead and downtown Glen Arbor) gets a small but reliable run of spring steelhead. The river also has a small but stable population of trout. But it's a tough river to fish because it's so clear (hence the name). Your best bet is to hit the stream during the week (when road and visitor traffic is light) and early in the morning before the sunlight on the water makes fish extra line-shy and spooky.
Whether you're a "newbie" to fly fishing or an experienced angler looking for some local knowledge to point you in the right direction, the Orvis Michigan Fly Fishing School at The Homestead can help. At Orvis Streamside (click here to check out their website), you can learn the art of fly fishing with regular spring classes and clinics or even hire a local guide who can show you an exciting day on the water.
Hunting Morels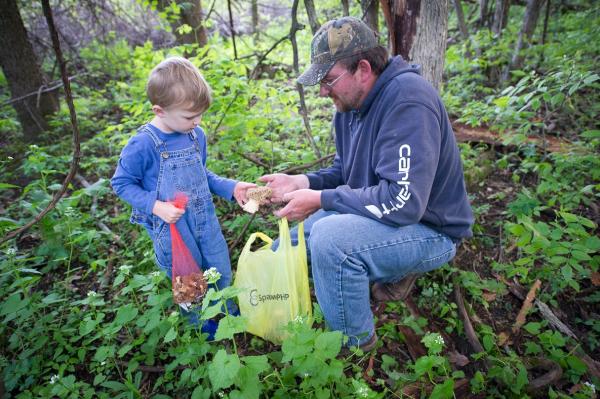 [source: Michigan.gov/dnr]
While there are many wild edibles growing in the woods within the boundaries of the Sleeping Bear Dunes National Lakeshore, morels definitely get the nod when it comes to the most coveted wild delicacy in the woods. (From leeks to dandelion, click here for the Visitors Bureau's shortlist of other "forager favorites" for Lakeshore locals.)
Exactly when morels begin to pop, as they say, depends on a witch's brew of weather conditions—namely ever-warming days and gentle rain. While serious morel hunters are sometimes scouring the woods for the elusive mushroom by the end of April, morel mania typical comes to a head in Northwest Lower Michigan around mid-May.
Great morel hunting depends on great habitat and a soil conditions. Sandy soil and swamp. Ash, maple, elm poplar and apple trees—commonly referred to as "host trees." The Lakeshore has it all. But still the question: Where to go?
If you're an experienced morel hunter, you can tool around the Lakeshore and identify a promising location from the driver's seat of your car. But if you don't have those kinds of mad-morel-hunting skills, why not hire a guide? Until recently, finding a local guide willing to show you his best morel hunting spots was something of a fantasy. But Glen Arbor's Eric LaPaugh is willing to share.
Remember back in the winter of 2015 when a video of the Lake Michigan "ice caves" formed off the coast of Sleeping Bear caused a minor stir in the media and had thousands of visitors flocking here to see them from all across the state? LaPaugh shot that 30-second clip. An experienced outdoor guide, LaPaugh now guides hiking and camping trips inside the Lakeshore. He also guides morel hunters in the spring. To get in touch with Leelanau Adventures and get your springtime morel-hunting trip on the books, click here to check out Facebook page.