Or maybe just celebrate him with hot chili, games, live music, and a free movie.
There's an abominable rumor afoot: Kids these days are claiming that the Yeti—you know, that furry white ape-like snow-"man" who roams the winter wilderness?—eats spaghetti.
Not true—at least not on Saturday, Feb. 18, in the Village of Suttons Bay. That's when hordes of Yeti-seeking folks hoping to lure the elusive creature from Leelanau's snowy forests will gather with more suitable winter-warming bait: Chili, and lots of it, expertly crafted by area restaurants and Hansen's Foods, available all around the walkable town for hungry Yeti hunters to taste and vote for the best of the bunch (assuming the Yeti doesn't show and eat it—or them—first, of course).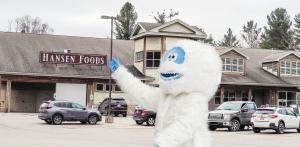 The Chili Cook-off (2 p.m.– 4:30 p.m.; $10 tasting tickets here) is just one of many hot events planned for  "The Best Yeti Fest This Side of the Himalayas." Can't wait for 2 p.m.? From noon til 2, you'll find $2 hot dogs cooking in front of Northern Latitudes Distillery's new satellite location in Suttons Bay, 310 N. St. Joseph St.

Attendees can also team up to join the interactive Scavenger Hunt, happening 12pm–4pm in the Village—and on an app that can be downloaded to each team captain's phone. The app will send the team on local missions; those who compete and complete the missions will be rewarded with prizes (perhaps a snow-white Yeti-skin rug to lay in front of their fireplace?). To join the hunt, click here or visit Yeti Central (that's the VI Grill, 201 St. Joseph St.) the day of the event.
FREE FAMILY FUN
For those who, like the Yeti, lack deep (or really, any) pockets, worry not. Yeti Fest offers oodles of free activities, too: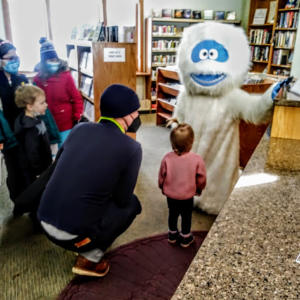 Hands-On Crafts: The Suttons Bay Bingham District librarians invite kids and their families to step inside the library's blue building by the bay (416 N. Front St.) between 10:30 a.m. and noon to create some take-home Yeti crafts, play yeti games, and—if they're lucky—meet a real … live … Yeti.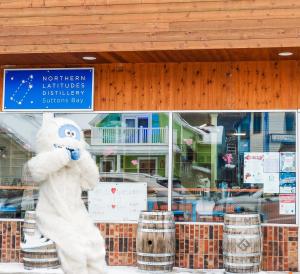 Silver Screen Cinema: Waddle your way over to the vintage Bay Theatre by 2:30 p.m. where the red curtain will rise at a free screening of the 2006 computer-animated comedy Happy Feet, a romantic on-ice adventure tale of a penguin named Mumbles. He can't sing to save his life, but he might just have what it takes to save his colony—and win the heart of his penguin crush, Gloria, in the process.
Play Zone: The parking lot next to 5/3 Bank (120 N St Joseph St.) will be transformed into a mini playground for kids with energy to burn. Also burning there: a small bonfire for cold moms and dads standing around while the kids play.

Face Painting: Some say the best way to catch a Yeti is to paint your mug to look like one, but most kids find their faces are just as fabulous when butterflies, fish, unicorns, and flowers adorn them. Kids can choose their transformative look between noon and 2 p.m. at The Center, 201 W. Broadway.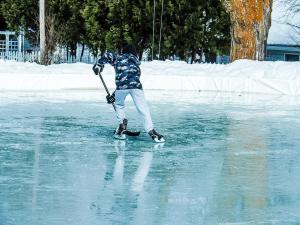 Hockey Tourney: Move over, Stanley Cup—the hottest ticket in this town is the Yeti Cup—when teams of up four to five players face off in a series of games running 10 a.m.–5 p.m. at the village's outdoor ice rink (111 Lincoln Ave.). Want to play? Gather your crew and $50 (per team), then email suttonsbaymichamber@gmail.com; as of press time, there was still some room on the roster.

Want more details about any of the Yeti Fest events listed above? Visit the Suttons Bay Chamber of Commerce's website at  www.suttonsbayarea.com or visit the Yeti Central headquarters (the VI Grill event space, adjacent to the bar) the day of the event for maps, Yeti merch, and chili and hunt tickets, and more.  
Lynda Wheatley is an award-winning writer and editor who has worked with dozens of magazines, book publishers, and corporate clients around the nation. Happily, the last two decades of her career have been spent back where she began at age 27—in Traverse City, Michigan—writing mostly about northern Michigan travel and recreation, lifestyle past and present, and the passionate folks who make this place so extraordinary.  LTWriter.com