Easy to learn, inexpensive (compared to other winter sports), calorie scorching and a very low risk of injury—snowshoeing is a great winter sport, especially if you like running.
Check out this rundown of important things to know before you buy.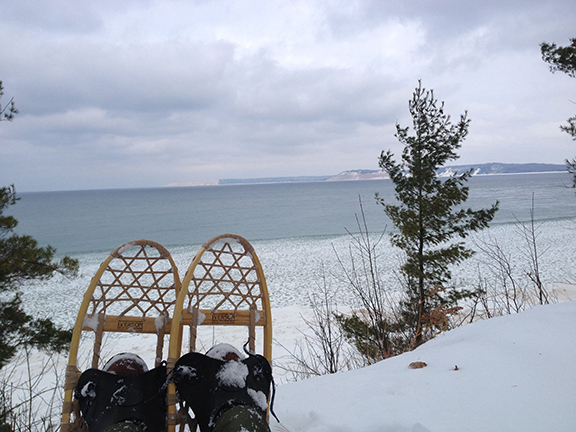 [source: nps.gov]
Living or frequently recreating in a place like the Sleeping Bear Dunes means that eventually you will come around to owning certain pieces of outdoor gear. Stuff like fishing poles and hiking boots for summertime. And for winter a pair of snowshoes.
As the old saying goes, if you can walk you can snowshoe. Strap on a pair, take a dozen steps through some soft powder, and you're instantly transformed into a master. No lesson required. Walk, hike or run—one of the fastest growing subcategories of this growing sport—and you're burning calories like crazy; some reports say over 600 per hour.
Narrowing Your Options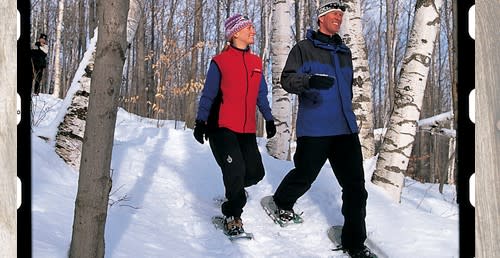 [source: tubbssnowshoes.com]
The right pair of snowshoes for you depends on a couple keys factors: how much you weigh; the type of terrain and snow you'll be using them in; and if you're looking to hit the trail for a leisurely hike or an all-out run.
For most hiking in the Sleeping Bear Dunes, the best all-round choice for snowshoes is the rolling/flat terrain models found at most rental shops. What size you need depends on your weight and the density of the snow you'll normally encounter. Generally, the heavier the person or the lighter and drier the snow, the more snowshoe surface area is required.
Common design features of flat/rolling terrain models include easy-to-adjust bindings and less aggressive traction systems (meaning a toe or instep crampon or cleat that pivots and dig in as you climb). Aluminum-framed and compact, modern flat terrain snowshoes are designed for hiking on packed trails or off-trail in gently rolling country where the snow is not too deep and powdery and where tight brush and trees requires easy maneuverability.
Click here for some examples of flat terrain snowshoes.
Cross Training/Running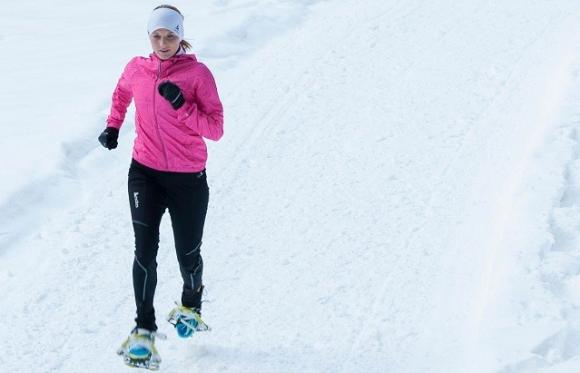 [source: salomon.com]
A new frontier in the world of running, snowshoe running has grown in popularity primarily because of its fitness benefits—running on snow is tough—and the fact that it's super low impact compared to running on pavement. Organized snowshoe races are becoming popular, too, which has prompted the snowshoe industry to come up with lighter and sleeker snowshoes designs that allow competitive and casual runners to extend their enjoyment of the sport into the winter months.
Click here for some examples of running/cross-training snowshoes.
Do You Need Poles?
In snowshoeing, poles are for balance. A lot of snowshoeing "starter packages" sold at pro shops will come with a set of poles. Poles definitely come in handy when negotiating steep hills in deep snow, but on flat ground—which is to say, most ground you will cover around Sleeping Bear—poles are just something else to carry. Consider a collapsible pair that easily stow in your pack when you don't need them.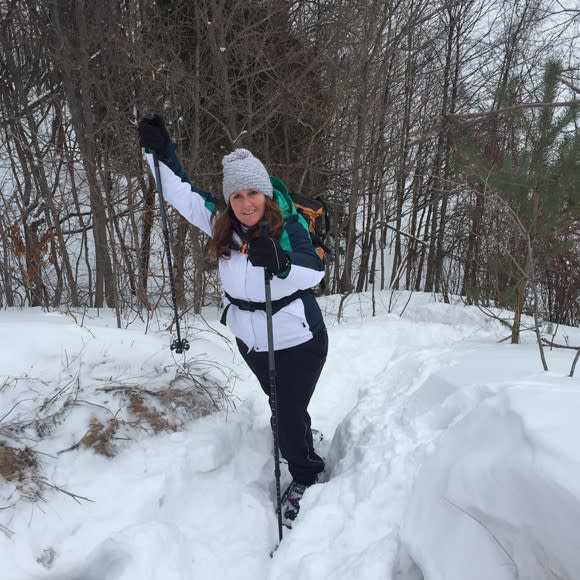 [source: tubbssnowshoes.com]
What About Wood?
Those classic wooden snowshoes your grandfather used to wear are wonderfully retro and aesthetically pleasing. But finding a functional advantage over modern plastic/aluminum composites is really a hard thing to do. Wood shoes are heavier and require regular maintenance. The bindings on most—made from either neoprene or leather—are harder to fit, prone to breakage and simply wearing out. Modern snowshoes, on the other hand, are virtually indestructible.
Try Before You Buy
Cost for a basic pair of rolling/flat terrain snowshoes is anywhere from $89 to $150. Running/cross-training shoes run in the neighborhood of $150 to $250. That's no small chunk of change until you consider that one pair of snowshoes is probably all you'll ever need to buy. To find the ones best for you, take the time to rent a pair this winter at area shops like Crystal River Outfitters. There is also a free option in the ranger-led snowshoes hikes that happen every winter at the Sleeping Bear Dunes. Click here for more information. Lakeshore snowshoe hikes are free and are offered every Saturday during winter beginning the first weekend of January.