The 2014 edition of Manitou is here. This 50-page, full-color magazine is packed with amazing photos, personality profiles, and service articles directing you to the best dining, attractions, and recreation opportunities in and around the Sleeping Bear Dunes.
Check out this sneak peek of articles covered in the new issue along with information of how you can get your FREE copy by mail or in person, today.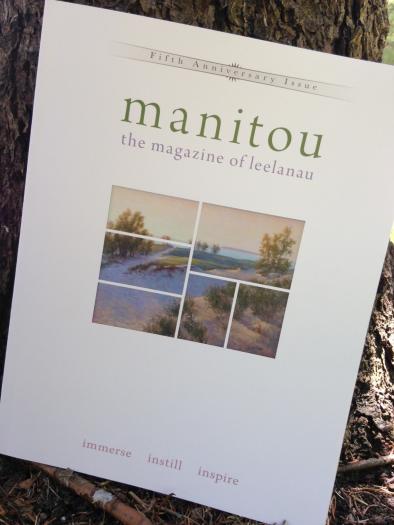 Every year, the Sleeping Bear Dunes Visitors Bureau brings together a talented pool of writers, photographers and artists to help produce a magazine that captures what life in the "Most Beautiful Place in America" is really all about.
This year's lineup of Manitou: The Magazine of Leelanau, founded by the Sleeping Bear Dunes Visitors Bureau in 2010, offers page after page of striking photography, useful service articles, and inspired feature writing on everything from the region's unique history to the amazing personalities who call this region home. Here are just some of the articles you'll find inside:
Uncovering The Dunes: From its glacial beginning to a brief history of the Native Americans and French fur trappers who first settled the region, freelance writer David Lemieux takes a look at the captivating history of the Sleeping Bear Dunes.
Wings of Renewal: Writer Eva Cameron takes a look at the plight of the Lakeshore's most lovable little shorebird—the piper plover.
Flavorful Memories: Antique apples and what just might be the largest old bottle collection in the world…Pat Stinson profiles the delicious tastes and curious sights visitors will encounter at LeelanauCounty's Christmas Cove Farm.
Coming Back Together: Lisa Luckow-Healy's short essay about traditional family getaways opens a detailed list of the best lodging options in LeelanauCounty.
Wedding Day: Jaclyn & Chad: Want to know why "tying the knot" in Northern Michigan—and specifically the Sleeping Bear Dunes National Lakeshore—has become so popular with modern brides throughout the region? Check out the photos of the fall wedding at The Homestead from Grand Rapid's photographer Amy Carroll.
Pieces of Beauty: In 2013, Frankfort quilter Ann Loveless took home $200,000 as the Grand Prize Winner of ArtPrize 2013. Her 20-foot long quilted masterpiece, a panoramic scene of the Lake Michigan shoreline she calls  "Sleeping Bear Dune Lakeshore," captured spectators' attention and earned her this Grammy-like award for artists.  Jon Osborn tells the story.
Manitou: The Magazine of Leelanau is available for free at all Visitors Bureau-member lodging properties, galleries and supporting businesses. Copies are also made available to all resort guests at The Homestead's Reception Center, or by mail. Just click here to get your copy delivered to your door.