For some, it was haircuts. For some, travel. For some, hugs. For me…it was restaurants. They were the thing I missed the most during the lockdown. They were the big hole in my heart.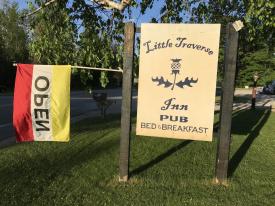 With restaurants having been closed for months, and now reopening, I'm pondering the question: what does a restaurant mean? Is it a mere indulgence? A temple for the worship of food and drink? A community gathering place? A friend who's there for you through good times and bad? An employer?
Of course, it's all of those things. But it also can be a crucial home for art in a community.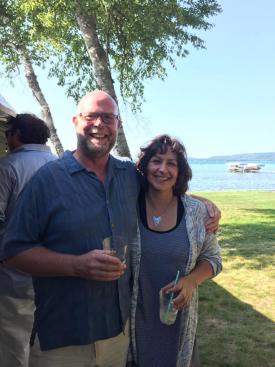 There's a "gastropub" in an old atmospheric inn, halfway between Glen Arbor and Leland, on M-22, that embodies everything a restaurant can be, including a place to perform and experience art. The ruddy owner stands ready to welcome you at the door with a "Good evening, handsome!" or "old chap" or "old bean" or (you get the idea). A feeling of warm cheer surrounds you, even during a chilly evening on the expansive patio, as you imbibe a fine draft beer and inhale an order of scotch eggs or fish & chips — to the sounds of live music, or a stand-up comic, or a group of poet-bards. It's called the Little Traverse Inn (LTI to the locals), and there's always something going on there.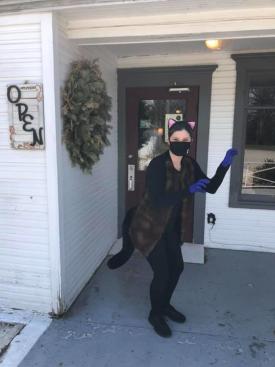 Or at least there was, until the lockdown. That's when the merriment took a partial pause. I say "partial," because the LTI merry-go-round never really stopped. Owner Graeme Leask; his lovely, welcoming, engaging partner Michelle Schulte; and his seasoned, tight-knit team served curbside pickup with generous portions of affordable specials. Patrons were often greeted at the door by a server in a silly costume (and mask)…just for the sake of putting a smile on someone's face during a difficult time.
On top of that, Graeme decided early on to start a "Feed the Community" initiative to provide free meals to any local family who needed them. He posted a message on Facebook inviting anyone in need to contact him. And people did.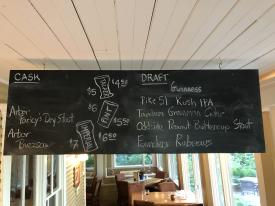 "As soon as it was obvious that we were going to get locked down and people were going to get put out of work, there was a need to look after folks who didn't have the means. And, I dunno, call me a bleeding heart, but I just wanted to help," Graeme tells me, as I sit with him and Michelle at the end of dinner service. Graeme is munching on one of the LTI's famous burgers. "We fed 287 families over the 10 weeks we were shut down." 
He belches. "Excuse me! You can even print that too."
Michelle explains "But I think it was as much a community cooperative project, too, because there were a lot of people who were offering donations to support it as well, to keep it going."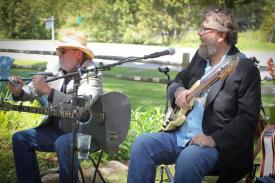 Now that the LTI is in full swing again, art is returning too, with live music by performers such as André Villoch, Uncle Z, The True Falsettos, The Wild Sullies, and many others. The LTI offers live music four nights a week: Thursdays, Fridays, Sundays, and Mondays. That's even more than they were doing before the lockdown.
"We're doing a [new] 'industry night' on Monday, so anyone who works in the hospitality industry can come in and get a 10% discount on their entire bill, and enjoy music in the sunshine in our beautiful beer garden," Graeme says.
My favorite day at the LTI is Thursdays, when a local Irish music ensemble performs. Sometimes there's an Irish dancer, as well. It's hard to feel glum when your belly is full of ale, and jigs are tripping through the air. Your mind is put at ease. And you think, "I need more live music in my life." As I said in a recent blog post, art is particularly essential during challenging times.
I ask Graeme what it's been like to welcome back musicians to the LTI.
"Fun! it's what we're all about. And they have jumped at the chance. Everybody's so happy to be back out playing. They had a hiatus just like the rest of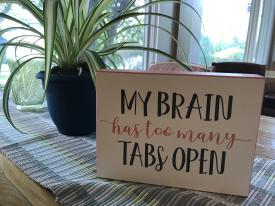 us.
"It's about being part of a community," he adds, "and offering a home for those artists to do what they do best. All I do is cook and tell bad jokes!"
Michelle cuts in with a wink. "So it's nice to bring in real talent!"
"It's a fun venue," Graeme continues. "I think everyone who comes here to play has an audience who enjoys it. They know the music's going on. They're out for a good time. They want to sing along. Our mantra when we opened was 'The Community's Living Room.' And we always want to have something that will entertain you while you're here. Cornhole leagues, comedy nights, poetry nights, music nights."
But it's not just the musicians and patrons who enjoy the music, according to Michelle. "I think it's a little self-entertainment too, because Graeme's not taking many days off. And so, we don't get time to watch TV, so we have to enter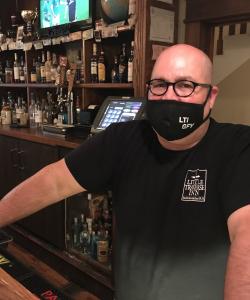 tain ourselves somehow!"
Of course, we're all in a "new normal" during these times, and the LTI is taking due precautions. Every other table is purposefully vacant, with flowers and witty signs sitting on top. The staff wear gloves and masks. Hand sanitizer is abundant. Patrons are asked to wear masks when they're not seated. But the heart of the restaurant hasn't changed.
"People are so excited to be able to get back out and enjoy life," Graeme says. "It may be a wee bit different, but you still get out a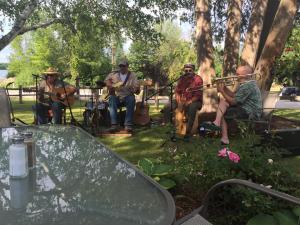 nd socialize, and have a drink, and eat, and enjoy each other's company."
Add some tunes to the mix, and you've got a recipe for mirth. Because song and ale go together like…well…fish & chips.