You can't believe everything you read, especially on the internet. And therein lies the rub. When was the last time you read anything about the Sleeping Bear Dunes and Leelanau County that didn't make it sound like the best vacation place on Earth—even in winter? Can that possibly be true? Read on and decide for yourself.
Myth #1: "There's So Much To Do"
Wow. Really? Let looks at some facts. Leelanau County gets an average annual snowfall of 119 inches. That's more snow in a year than Vail, Colorado (107.6 inches). So what could people possibly be doing when there's so much snow when the Sleeping Bear Dunes National Lakeshore ONLY has 100 miles of trails for cross-country skiing and snowshoeing? There's downhill skiing, too. Snowmobiling. Ice fishing on one of Leelanau County's 27 inland lakes. Even winter surfing on Lake Michigan!
If you're not the outdoorsy type, you're probably stuck indoors next to a nice cozy fireplace. Or at spa. You could get your own private chalet at a fine resort like The Homestead in Glen Arbor, stay at a B&B or rent a winter cottage or cabin complete with a crackling fireplace and your own private lake. If not, your stuck touring distilleries, artisan cheese shops or checking out one of the over 25 award-winning wineries in Leelanau County OR—if you're really bored and head over to Traverse City—one of over 300 restaurants. So you probably get the picture. But just know that's only the tip of the iceberg when it comes to how little there is to do Up North in winter.
Myth #2: "Sleeping Bear Is 'America's Most Beautiful Place'" 
Here's one that just won't die—not even in winter. This whole myth got started back in 2011 when tens of thousands of Good Morning America fans voted the Sleeping Bear Dunes National Lakeshore the "Most Beautiful Place In America." Here's the link. Sleeping Bear beat out places like Aspen, Colorado, and Grand Teton National Park. GMA called Sleeping Bear's 64 miles of Lake Michigan coastline, two islands, 26 inland lakes, and more than 50,000 acres of land "one of the nation's best-kept secrets." But how does that claim hold up in winter? With views like this, the answer is pretty clear: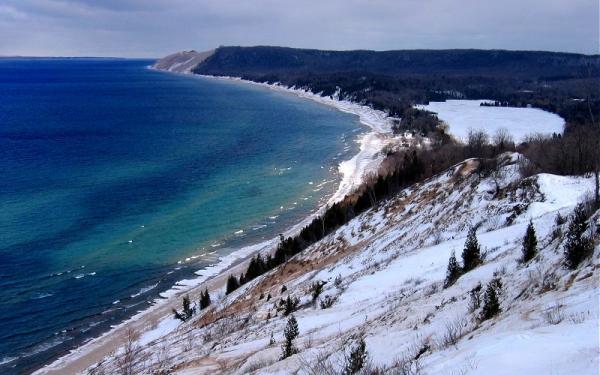 [source. umich.edu]
Myth #3: "A Hidden Gem Of Midwest Dining And Wine"
And while we're on the subject of "hidden gem" destinations…how about this business of Leelanau County (and nearby Traverse City) being the top region in the state for producing wine. And talking about food, earlier this year, Midwest Living named the latter as one of the "Midwest Best Food Towns."
What's to like about farm-fresh menu items, local meat and fish and everything from locally brewed, award winning wine and beer on every menu? Are you impressed by the culinary stature of a region that attracts ambitious and creative chefs from all over the country? What if you found out that Mario Batali—one of the nation's best-known chefs—was so impressed by the food scene here that he bought a summer home in Leelanau County. Batali's been all over the world and still considers a number of Leelanau restaurants like Sutton's Bay 9 Bean Rows) and specialty food shops such as Carlson's Fishery and Leelanau Cheese as some of his favorites. 
Myth #4: "An Inexpensive And Easy-To-Get-To Destination"
Airline travel is so much fun. Those security lines! The constantly delayed flights! The racing from one gate to another really gets the heart rate up! Who wants to spend a couple hours of undisrupted time with their family on a road trip?
If you're driving from a big city like Detroit or Chicago, you should know that you're going to be in the car for at least five hours. Yeah, you read that right—five whole hours! Fly here from just about any big city in the Midwest and you'll be in the air at least an hour. The idea!
If you are driving from any location to the south or west of Lake Michigan, you should also know that Lake Michigan car ferries provide an alternative form of transportation. One, the Lake Express, is a newer, high-speed, catamaran style ship that sails between Milwaukee and Muskegon in 2 ½ hours. Riding on a ferry across Lake Michigan with your car? Now, that doesn't sound exciting, at all.
Then you get here to the Sleeping Bear Dunes and the place is all quiet and snowy. Everywhere you look it's small-town charm and winter wonderland scenery. The average price of a room in peak season is like $120. A lot times, it's even less! And at ski resorts like The Homestead, kids ski for free. And get this—you don't even have to stand in lines at the lifts, which means by the end of the day you're super tired from skiing and snowboarding so much. No, that doesn't sound like any fun at all.
If this isn't enough to set you straight on what you can expect on a winter vacation in Sleeping Bear, the Sleeping Bear Dunes Visitors Bureau has an entire website devoted to clearing up all the bad information out there. Check out the facts and decide for yourself by clicking here.