The chilling winter months are upon us once again. Although Northern Michigan holds some of its most captivating scenery, the below freezing temperatures of winter can make this slip our minds. If you're someone that dreads these seemingly endless winter months, these images captured by Brady McDonough may make you appreciate the chilly season a bit more.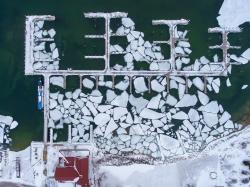 McDonough—only a senior in high school has shown he holds quite the eye for capturing the stunning scenery in Northern Michigan. Some of his favorite things to photograph are the Carribean blue waters of Glen Lake, the awe-inspiring lighthouses of Frankfort, and the famous Fishtown and its harbor. A drone is one of his staple pieces of equipment. The aerial view he captures of Glen Lake with his drone shows an incredible bird's-eye view of the lake. A perspective even locals are not used to seeing.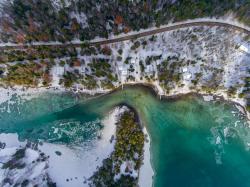 McDonough first discovered his passion for photography when he was gifted a digital Canon camera in the fall of 2018. Shortly after, he purchased a previously owned drone after being intrigued by aerial images from other local photographers. One photographer he particularly admires is Brenton Wadsworth. The style of his photography and many video edits are what McDonough believes wholly represents the beauty and experience Northern Michigan has to offer.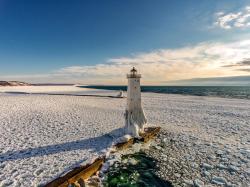 Although McDonough began taking photos and videos just for fun—he has grown to see it as a potential future for himself. He said people often ask to buy prints of his images, which opened his eyes to true potential for a career in the field.
Whether he decides to pursue photography more seriously or continue it as a hobby, I think we all can agree that his work is absolutely stunning and shows incredible perspectives of Northern Michigan. Pictures and videos rarely do Northern Michigan justice but I would argue these ones come pretty close.