Taking advantage of a ski season pass at The Homestead or hitting one of the Lakeshore's many wooded trails on a pair of cross-country skis or snowshoes are definitely the most popular ways to have winter fun Up North. But what if you don't  like skiing and snowshoeing?
Check out this shortlist of alternative ways to enjoy the snowy outdoors in and around the Sleeping Bear Dunes in the months to come.
Drill A Hole In The Ice And Drop A Line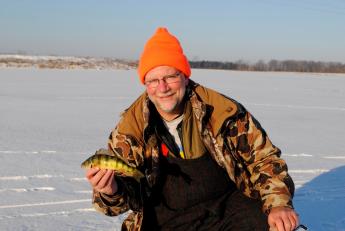 [source: Michigan.gov/dnr]
Ice fishing is something that's pretty close to religion for many Lakeshore locals. The first time you pull a pile of panfish or huge pike through a hole you bore into the ice, you'll understand why. There are 21 lakes within the boundaries of the Sleeping Bear Dunes National Lakeshore. If you have a current fishing license and a park pass, you have open access to all of them—a venerable ice fishing paradise when freezing temperature hit. Some popular places to seek out perch, panfish, pike and bass are Bass and School lakes in Sleeping Bear's northern area. North Bar Lake outside Empire can also be good along with Loon Lake in the southern area.
Click here for full details and access information for all Sleeping Bear inland lakes.
Dashing Through The Snow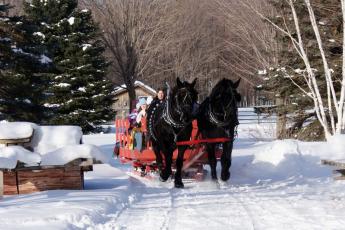 [source: blackhorsellc.com]
Black Horse Farm in Empire offers sleigh rides all winter long on trails running through Leelanau County's wooded, hilly terrain. Rides take about an hour and a half with a stop midway at a warming house for hot chocolate. The sleighs can carry up to 12 people. (Six-rider minimum.) For larger groups, Black Horse Farm can provide up to four sleighs. Dress warm, sit back, and enjoy the winter scenery and the sleigh bells as you take in the scenic lookouts over Glen Lake and Lake Michigan.
Click here for Black Horse Farms sleigh ride prices and booking dates.
Grab Your Skates
[source: thehomesteadresort.com]
There are a couple great Lakeshore-area options for outdoor ice-skating when weather conditions allow. And the best part: all are totally free. First, the outdoor rink at The Homestead is a professionally maintained, so the pond ice is always super smooth, well lit and lots of fun. Skates can be rented for a small fee from Mountain Flowers. Once you're done, a hot chocolate or a warm meal are just steps away at one of three restaurants located in The Village.
In Glen Arbor most years, local businesses and volunteers rally to provide an outdoor ice-rink with a quaint, small town family vibe. The outdoor rink is located at the Glen Arbor Township Park. If you don't have skates, no problem. Ice skate and hockey stick/puck rentals are available all season at The Cyclery in Glen Arbor, located within Crystal River Outfitters on M-22.
Last, in Suttons Bay, there's free outdoor skating at the Suttons Bay outdoor rink, located on the corner of Broadway and Lincoln Street. In mid-February, the site hosts an all day competitive pond hockey tournament, too. The area is lighted, has picnic benches and porta-johns. Check out the Suttons Bay Parks & Recreation website for more information.
Sledding Bear Dune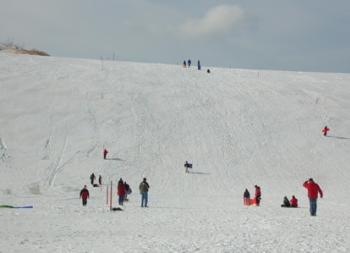 [source: nps.gov]
Sledding is permitted at the Dune Climb in the designated area when it is covered with snow only. Sleds, toboggans, saucer sleds, inflatable tubes or similar equipment as well as downhill skis and snowboards are prohibited at all other sand dunes in the National Lakeshore.
Winter Canoe Or Kayak Trip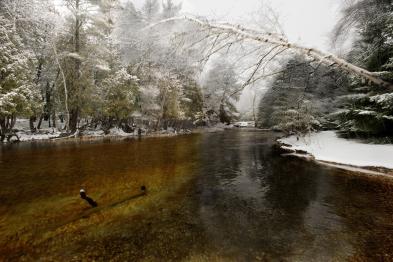 [source: visitglenarbor.com]
There is no better time than winter to take in the tranquility of river. No crowds. Scenery like something out of a Christmastime storybook. And wildlife that almost seems tame for how close you can often get to deer and waterfowl when drifting silently along in a kayak or canoe. Winter is probably the most romantic season of the year to explore a winding river. And there's arguably no better place to float than the Crystal River outside Glen Arbor. The Crystal is a great winter canoe and kayak river because it's so shallow and slow moving. There are no rapids to worry about, and even though the current snakes through some delightfully forested scenery, you're never very far from the nearest road.
Contact Crystal River Outfitters for more information.